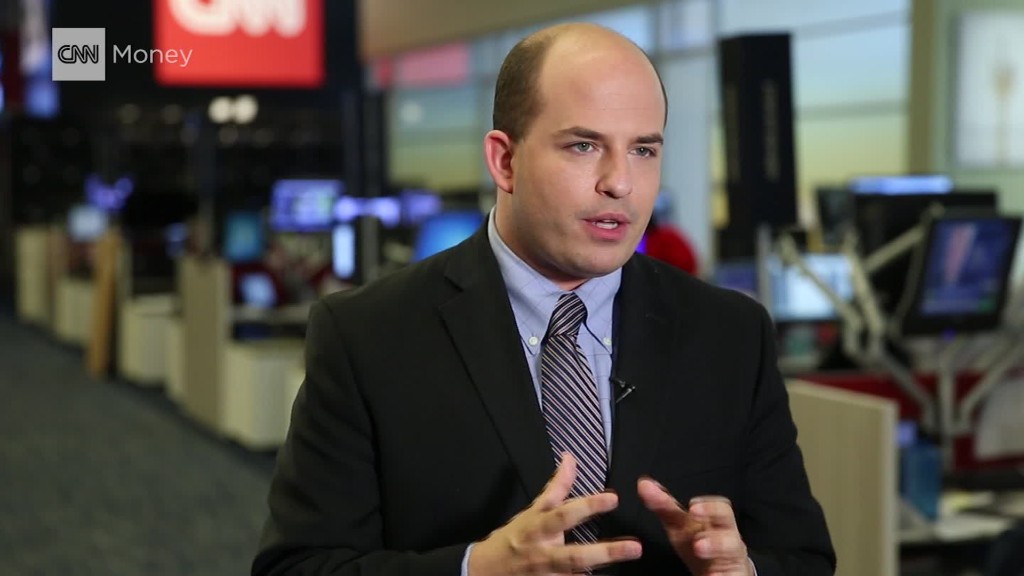 Media giant Time Warner, a little more than a week after announcing a deal to sell itself to telecom titan AT&T for $85 billion, reported earnings and revenue for the third quarter that topped Wall Street's expectations.
Strong results from the company's cable networks and movie studio drove the gains. Time Warner also boosted its outlook for the full year.
Shares of Time Warner (TWX) were flat in early trading. But the stock, trading around $88 a share, is still well below the $107.50 per share that AT&T (T) has offered for the company. Time Warner owns CNN.
The discrepancy between the stock price and what AT&T has proposed to pay is a sign investors fear regulators may not approve the deal.
Time Warner CEO Jeff Bewkes didn't address those concerns in the company's earnings announcement.
"Combining with AT&T is the natural next step in the evolution of our business and allows us to significantly accelerate our most important strategies," Bewkes said. The company added that it still expects the deal to be done by the end of 2017.
Related: What the AT&T and Time Warner deal will mean for you
Although regulators ultimately approved a deal between a cable operator and a media company when Comcast (CMCSA) bought NBCUniversal from GE (GE) in 2011, there are concerns the Justice Department, the FCC and others may take a tougher look at AT&T and Time Warner.
Analysts had other questions, too. On a conference call with investors, Omar Sheikh of Credit Suisse asked Bewkes whether Time Warner's creative culture would be preserved under AT&T. Sheikh said it was a "big focus of investors."
Bewkes dismissed concerns that there would be big changes, and added that AT&T's focus on mobile will lead to more exciting video and virtual reality programming.
"That's why we're doing this merger, and that's why creative partners are going to find us an even more attractive place to come to in the future," he said.
Doug Mitchelson of UBS wondered whether there had been other suitors for Time Warner. Rupert Murdoch's Fox (FOXA) tried to buy it in 2014, but Time Warner turned the deal down.
Bewkes didn't address whether other companies made offers for Time Warner.
But he said that one of the main reasons AT&T made sense is that AT&T owns DirecTV, which Bewkes said was the "strongest distribution partner" for Time Warner's cable networks.
Anthony DiClemente of Nomura Securities wondered whether Time Warner and AT&T were underestimating regulatory risks and concerns.
But Time Warner general counsel Paul Cappuccio said he was not overly worried that the deal will be shot down. He stressed, as Bewkes has since the merger was announced, that combining with AT&T would not be anti-competitive.
Despite some of the concerns about the AT&T deal, investors had reason to cheer Wednesday. Time Warner reported sales of $7.2 billion for the quarter, up 9% from a year ago and ahead of analysts' forecasts of $7 billion.
The company's adjusted operating profit rose 12% to $2.1 billion, or $1.83 a share. Wall Street was expecting earnings of $1.37 a share.
Sales at the company's Turner unit rose 9%, led largely by higher subscription revenue for the company's cable channels, which include TBS, TNT and the Cartoon Network as well as CNN.
Ad revenue also rose at CNN because of high interest in the U.S. presidential election.
Related: AT&T-Time Warner is not AOL 2.0
Time Warner said that expenses at its cable networks rose 5% from a year ago, mainly because of programming costs related to covering the election. But those higher costs were more than offset by the increased revenue.
Time Warner's movie and TV studios also had a solid quarter, with revenue up 7% and profit rising 11%.
The box office success of "Suicide Squad," which features DC Comics villains The Joker and Harley Quinn, was the main driver behind the strength at the Warner Bros. studio.
Time Warner's HBO unit posted sluggish growth, though, with sales up 4% from last year and operating profit rising only 2%.