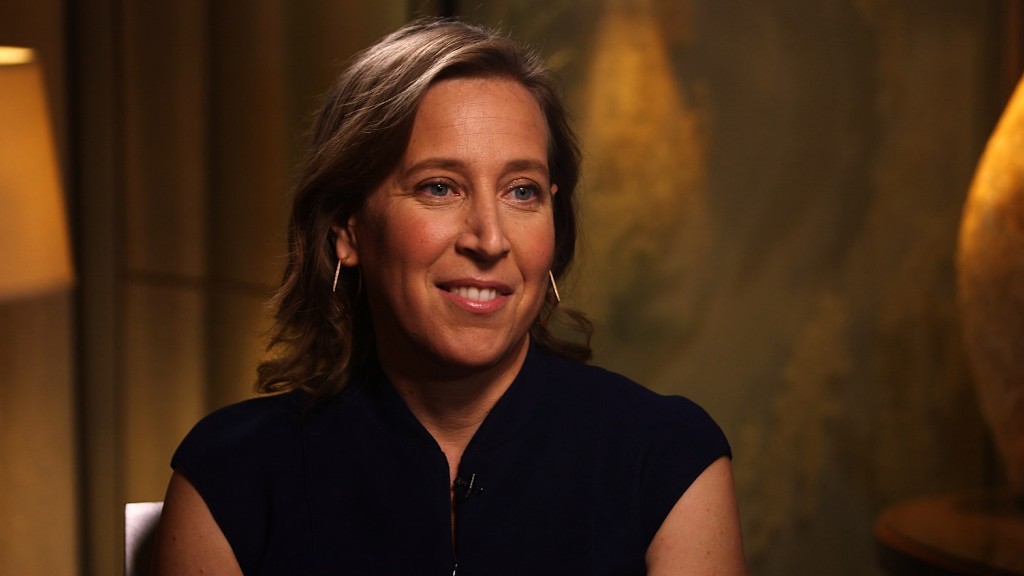 She was one of the first women hired at Google (back in the day when no one had heard of it).
And you can thank her for helping lead the way to a pretty hefty parental leave policy at the tech giant.
"When we increased our maternity leave to 18 weeks, we saw the number of women who left Google cut by 50%," Susan Wojcicki told CNNMoney in an interview at Fortune's Most Powerful Women Summit last month.
That data was enough for Google to make the argument that paid leave is well worth the cost.
"We wanted to retain women, we wanted to show them that Google cared, that they can be a mother and they could work at Google," she said.
As CEO of YouTube (now with over 1 billion users a month) Wojcicki has her eyes on changing TV as we know it -- while advocating for more women in top roles at tech companies.
Oh, and in the meantime raising her five children.
Related: Push for more women on tech boards gains steam
Wojcicki was one of the first woman hired at Google -- and now she's the only female CEO under Google's behemoth umbrella.
In 1998, Wojcicki left her marketing job at Intel and became employee number 16 at Google. Larry Page and Sergey Brin had been running the fledgling company out of Wojcicki's garage in Menlo Park, California at the time. She'd agreed to rent it to Brin and Page (then PhD students at Stanford) to bring in some extra dough. "It was truly because I needed help paying the mortgage."
Eventually, Page and Brin convinced her to join their team.
Wojcicki was the first woman to take maternity leave in the nascent days of Google.
"When I first started I don't think we really had an HR department. So it wasn't really clear." She said, "'Hey Larry, hey Sergey, I'm going to take a little time off ... Nobody had ever done it before at the company.'"
Fast Forward nearly two decades and she's helped lead the charge on family leave at Google -- for men and women -- which now offers new mothers 18 weeks of paid leave and new fathers 12 weeks.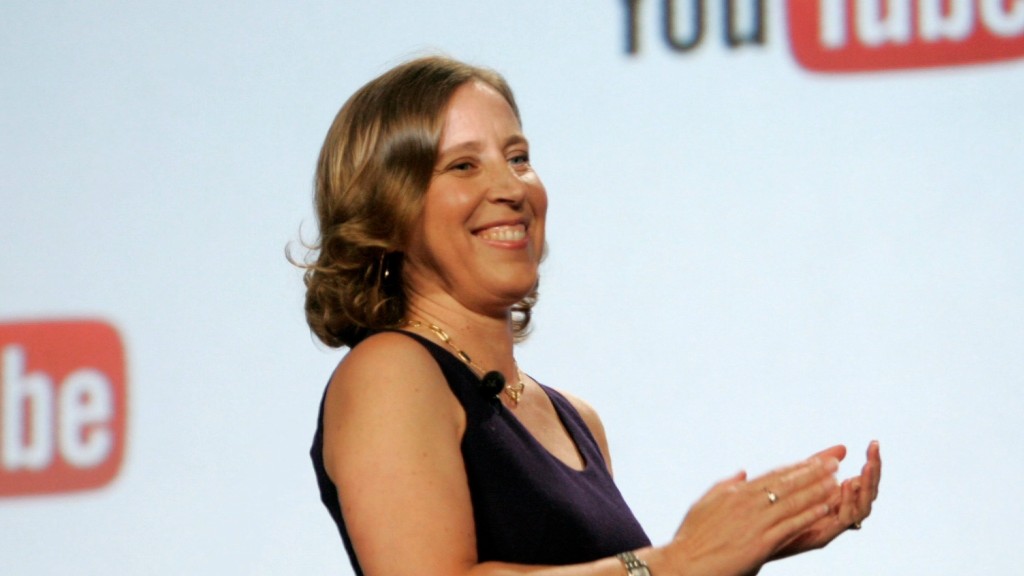 Related: Melinda Gates is doubling down on this issue
Google certainly isn't the only company in Silicon Valley offering lengthy periods of paid time off for new parents. Companies like Microsoft, Adobe, and Netflix all generous new parental leave policies last year. Facebook now offers four months paid leave to new mothers and fathers.
In making the announcement, Facebook's VP of People, Lori Goler, posted: "Studies show that when working parents take time to be with their newborns, outcomes are better for the children and families."
So why have tech companies seemingly led the way on parental leave?
"I think Silicon Valley has led on this because Silicon Valley, at the end of the day, is really focused on talent," Wojcicki said. "It's a talent business, getting the right engineers, the right leaders ... And Silicon Valley is also focused on having more women, more diversity."
But there's still a long way to go.
Wojcicki is perturbed by the dearth of women in top technology jobs in Silicon Valley. Only 26% of all tech jobs in the U.S. are held by women.
At Google, 31% of global employees are women. And just 24% of leadership positions and 19% of tech roles are held by women.
"I see tech as ... a force that is changing pretty much all parts of our society," Wojcicki argues. "It's really sad for me that we don't have enough women that are part of that. I compare this to the revolution where people were able to read and write for the first time, and the printing press. I think it is that big, in terms of how much our society is being changed."
Related: Why women in tech are outraged
Last year, Time Magazine dubbed Wojcicki "the most powerful woman on the internet."
Like so many working parents, Wojcicki is juggling a big job -- and a big family. And she says that being a mother has actually helped her do her job better. She credits her children with priceless user feedback on what YouTube is doing well -- and where the platform could improve.
"I try to watch my kids behavior, and I try to get insights from that, and understand how are they thinking about media, what are they watching. Then I try to marry that with quantitative data that we have in the office."
And she feels a responsibility to change the narrative, and the statistics, on girls and women in technology across the country.
"One of the things that I'm trying to do is use the position that I'm in ... to encourage the next generation of girls to think about the internet as a career opportunity."
Her gender has in no way held Wojcicki back from excelling -- but she sees the path that she took as far too narrow for too many women. "You see a lot of powerful women on the internet," Wojcicki said, "but I wish there were more. I think the internet really could use a lot more women."
And Wojcicki wants everyone to remember the contributions women have made to technology.
"I think people have forgotten the role that early women played in computer science and [the first computer programmer] Ada Lovelace is a great example of that."