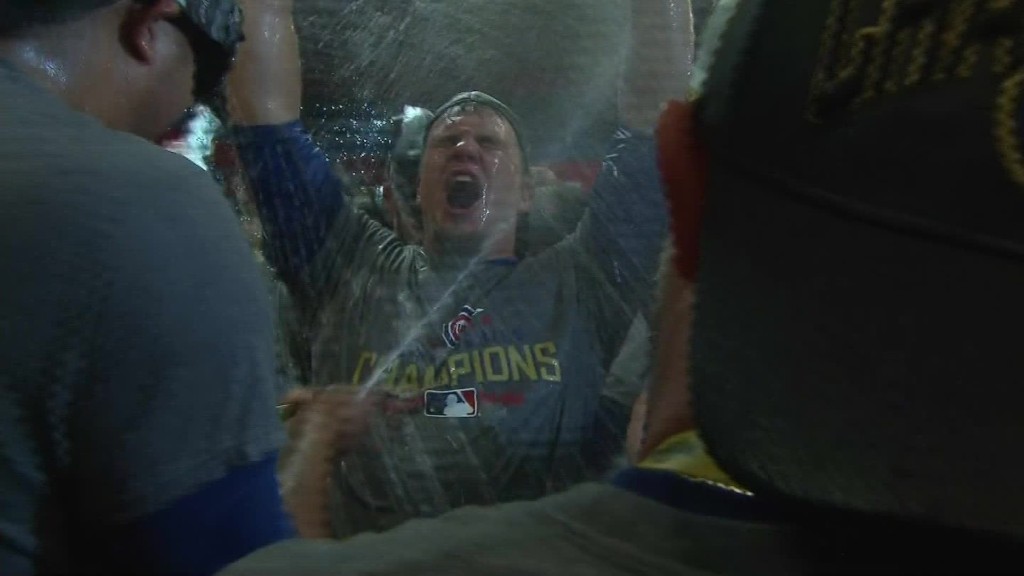 Who said print is dead?
After Chicago's big World Series win, fans rushed to snap up newspapers -- the only kind of mass media that was around back in 1908, the last time the Cubs won.
The Chicago Tribune and Chicago Sun Times printed about a million extra copies of the Thursday editions that heralded the win late Wednesday night. That's triple their normal output. And the copies were selling quickly.
"This is by far the most copies we've ever added," said Stew Erskine, the product supervisor in the Chicago pressroom that prints both papers. "We printed a lot of extra copies for Obama's win in 2008 and for the Blackhawks championships. But we've never seen anything like this."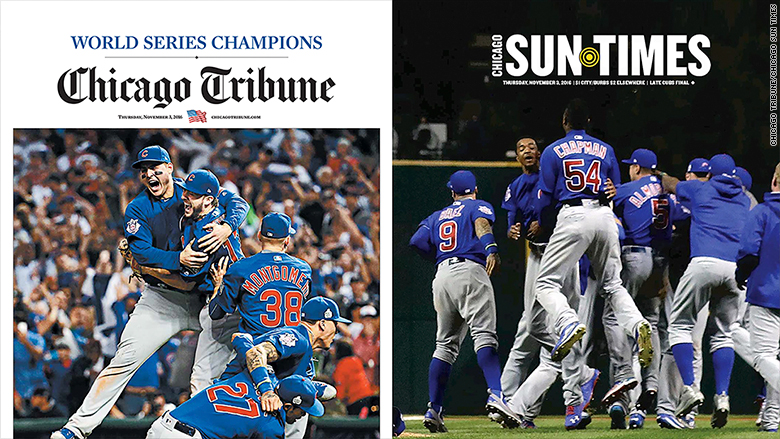 The Tribune added 400,000 copies on top of its normal run of 300,000 papers, Erskine said. The Sun Times added 550,000 copies on top of its normal 150,000. And it wasn't enough.
"I just got a call from transportation. The newsstands are running out of papers. We're going back to print more copies," he told CNNMoney midday on Thursday.
Related: Hershey bar cost 2 cents when Cubs won 1908 World Series
The papers generally start rolling off presses at around 11 p.m. local time. But at that point Wednesday night the game was in rain delay, tied 6-6 after 9 innings. And the papers weren't going to print a thing until they knew who won the championship.
Finally, after the Cubs' long-awaited win, the presses started rolling around 12:30 a.m. central time. The press run is usually finished by 2:30 a.m., but on Wednesday the presses kept running until 8 a.m.
Related: World Series Game 7 is a massive home run for Fox
The jump in demand was a nice bright spot for Chicago's fabled papers, which have struggled in recent years.
The Tribune Co., which once owned the Cubs, filed for bankruptcy in 2008. It sold the team a year later, and the Cubs' value has more than tripled since then. Earlier this week, Gannett (GCI) walked away from talks to possibly buy Tronc (TRNC), the holding company that owns both the Tribune and the L.A. Times.
The Sun-Times filed for bankruptcy in 2009. While both companies have emerged from bankruptcy, they have only a fraction of their former circulation. The average weekday circulation of the Tribune is 492,000, down about 40% in the last 50 years. The Sun-Times is down nearly 75% to 145,00 during the same period.