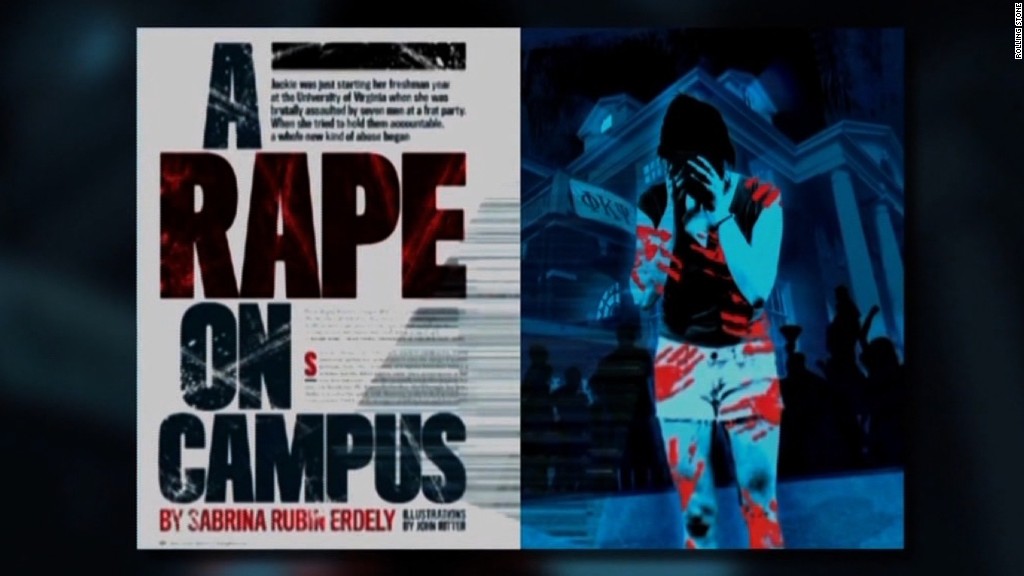 Jurors ended a second day of deliberation Thursday without reaching a verdict in the defamation case against Rolling Stone and its discredited article about a gang rape at a University of Virginia fraternity house.
The jury of 10 has spent more than 14 hours considering the case. They will resume deliberations Friday at 8 a.m. ET.
The suit was brought by UVA administrator Nicole Eramo, who says the article, "A Rape on Campus," portrayed her as insensitive to the plight of an alleged rape victim. She seeks $7.5 million from the magazine, publisher Wenner Media and reporter Sabrina Rubin Erdely.
A judge has ruled that Eramo is a public figure, which means the jury needs to determine whether the magazine acted with "actual malice" -- making statements it knew were false, or showing reckless disregard.
Related: No jury verdict yet in Rolling Stone defamation case
Jurors have more than two weeks of testimony to consider. During deliberations Wednesday, they asked for and were provided a copy of the magazine.
The central figure in the story, a student identified only as Jackie, alleged she had been gang raped by seven men at the Phi Kappa Psi house. Erdely's 9,000-word article was met with disgust nationwide when it was published in November 2014, and the school suspended all fraternities.
But Jackie's claims were soon questioned. Charlottesville police found no evidence that the rape happened. And journalists and readers were stunned to learn that Erdely never spoke to the men identified as Jackie's attackers.
Trial begins in defamation suit over Rolling Stone 'rape on campus' story
The magazine retracted the article after a review by the Columbia Journalism School concluded that it was a "story of journalistic failure." The review also said the article risked spreading the idea that women invent rape allegations.
Rolling Stone publisher Jann Wenner said in a deposition that he didn't agree with the retraction. The magazine has acknowledged mistakes and said it "firmly believed in the credibility of Jackie" when it published the story.
Eramo told ABC News before the trial that the article changed her life.
"I'm never going to be where I was on November 18 of 2014," Eramo said, referring to the day before it was published. "But I can hopefully recognize that person again."
In media, information is key. Download the CNN MoneyStream app to stay current
Rolling Stone faces another lawsuit brought by Phi Kappa Psi for $25 million. That trial is scheduled to begin next year. A separate lawsuit brought by individual members of the fraternity was dismissed.
--CNNMoney's Tom Kludt contributed to this report.