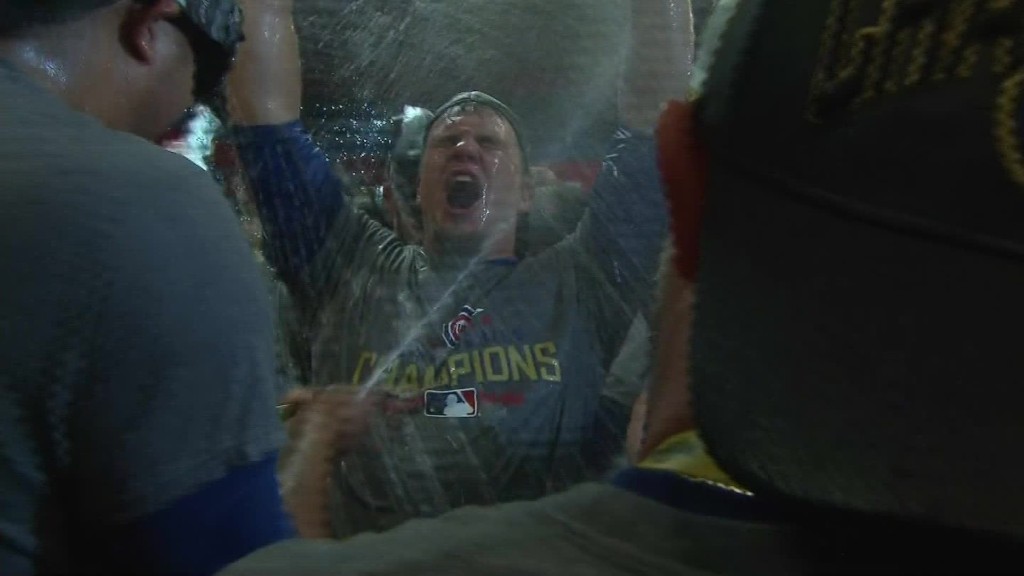 Many politicians, both Democrats and Republicans, were quick to congratulate the Chicago Cubs on their long-awaited championship.
Not Donald Trump, who has something of a hate-love relationship with the owners of the team, the Ricketts family.
Earlier this year, the family, a major donor to Republicans and conservative groups, was pouring money into an anti-Trump super PAC called Our Principles in hopes of stopping him from winning the Republican nomination.
Trump responded with a threat.
"I hear the Rickets family, who own the Chicago Cubs, are secretly spending $'s against me," he tweeted in February. "They better be careful, they have a lot to hide!"
When the Washington Post editorial board asked him a month later what he meant, he said he would take out ads "telling them all what a rotten job they're doing with the Chicago Cubs."
"I mean, they are spending on me. I mean, so am I allowed to say that?" he said. "I'll start doing ads about their baseball team. That it's not properly run or that they haven't done a good job in the brokerage business lately."
The family has since started backing Trump through its Future45 super PAC. But the late conversion apparently wasn't enough for Trump to get on the Cubs bandwagon with a congratulatory tweet.
Joe Ricketts, the family patriarch, is the founder and former CEO of TD Ameritrade (AMTD). One son, Tom, is chairman of the Cubs; another, Pete, is governor of Nebraska. When Pete Ricketts endorsed Trump in May, Trump said he was warming to the team again.
"I like him so much, I'm starting to like the Chicago Cubs again," he said at a campaign rally in Omaha.
Laura Ricketts, the sister of Tom and Pete, is a member of the team's board of directors. She has bucked the family on politics and contributes to Democrats, including Hillary Clinton.
Trump's campaign did not respond to questions from CNNMoney on Thursday morning.
Related: Win or lose, the Chicago Cubs are a money making machine
Despite Trump's slam about how the Ricketts family runs the team, it was successful well before the championship.
The Cubs have been among the most profitable baseball teams even in their many losing years, and the franchise has more than tripled in value, from roughly $700 million to $2.2 billion, since the Ricketts family bought it in 2009.
Related: Here are the ads Clinton and Trump bought in Game 7
Other politicians were eager to congratulate the Cubs after their historic win. President Obama, a fan of the rival Chicago White Sox, invited the Cubs to the White House.
Hillary Clinton, a Cubs fan, also tweeted congratulations, which had 12,000 retweets and 43,000 likes by Thursday morning.
Illinois Republicans such as Senator Mark Kirk and Governor Bruce Rauner also were quick to congratulate the Cubs.