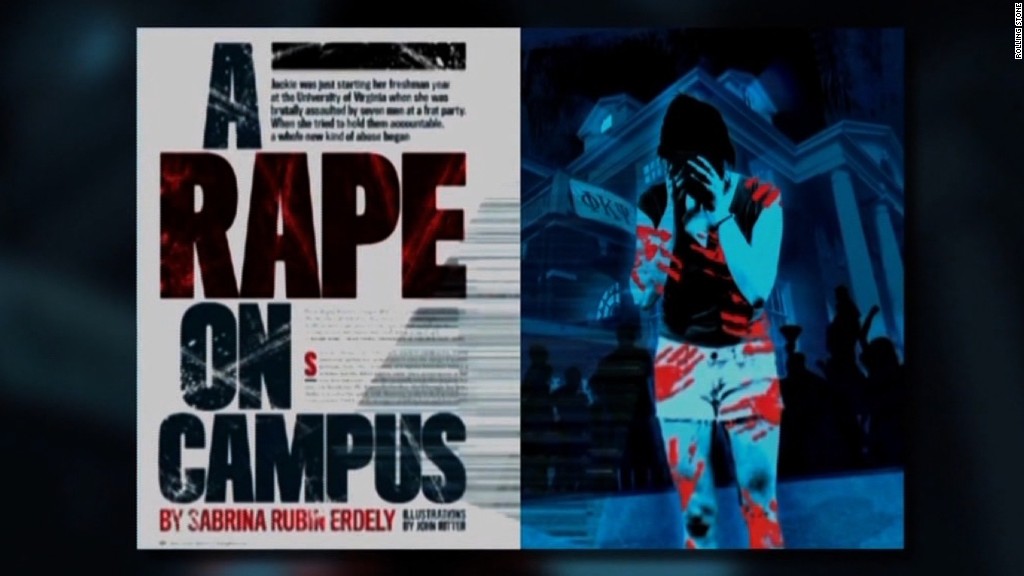 A jury found Rolling Stone magazine liable for defamation on Friday over its explosive and later discredited story about a gang rape at a University of Virginia fraternity house.
The magazine's publisher and the reporter, Sabrina Rubin Erdely, were also found liable.
The jury found in favor of Nicole Eramo, a school administrator who said that the story portrayed her as callous and insensitive to the plight of an alleged rape victim. She is seeking $7.5 million. The jury will return Monday to consider damages.
In the story, "A Rape on Campus," a woman identified only as Jackie claimed that she had been beaten and raped by seven men at the Phi Kappa Psi house. Eramo said that she was "the chief villain of the story," in part because she was described as discouraging Jackie from going to the police.
Eramo wept in court as the verdict was read.
"The jury's verdict is a complete vindication of Nicole Eramo, and a complete repudiation of Rolling Stone's and Ms. Erdely's false and defamatory article," said one of her lawyers, Libby Locke. "We are looking forward to the damages phase of the trial."
Related: Major 'failures' found in Rolling Stone article
The 9,000-word article was met with outrage nationwide when it was published in November 2014, and the school suspended all fraternities.
But Jackie's claims were quickly questioned. Charlottesville police found no evidence that the rape happened. And journalists and readers were stunned to learn that Erdely never spoke to the men identified as Jackie's attackers.
Attorneys for Eramo argued that Erdely approached her story with a preconceived narrative and ignored any contrary evidence as she reported it out. Attorneys for Rolling Stone argued that the magazine fully trusted Jackie as a source until after the article was published.
The federal jury in Virginia was composed of eight women and two men. They reached their decision on the third day of deliberations after hearing two weeks of testimony.
Because a judge had ruled that Eramo is a public figure, the jury needed to determine that each defendant acted with "actual malice" -- making statements they knew were false, or showing reckless disregard -- to hold them liable for defamation.
Erdely was found liable for defamation for two parts of the original story, and for interviews she gave about the piece on the radio, on a Slate podcast and to The Washington Post.
The jury found that the magazine and publisher, Wenner Media, were liable for defamation for three parts of the story after they republished it several weeks later with an editor's note. The note acknowledged doubts about Jackie's account but did not change or remove any part of the original story.
Rolling Stone fully retracted the article in April 2015 after a review by the Columbia Journalism School concluded that it was a "story of journalistic failure." The review also said the article risked spreading the idea that women invent rape allegations.
Related: How the Rolling Stone article became a national issue
Jane Kirtley, a professor of media ethics and law at the University of Minnesota, said she was not entirely surprised by the outcome because the Columbia report raised questions about how the story was reported and edited.
But she said the rationale for holding the magazine and publisher liable -- that they effectively brought the story to a new audience by republishing it with an editor's note -- was a concern.
"I think Rolling Stone was trying to make good and make up for original deficiencies in the article, which is something we say, as an ethical matter, news organizations should do," she said. "If doing something like that increases your vulnerability to suit, that's an incredible disincentive for journalists to do that sort of thing."
In a statement after the verdict, Rolling Stone acknowledged "journalistic mistakes" in an attempt to "present this complicated issue from the perspective of a survivor."
"It is our deep hope that our failings do not deflect from the pervasive issues discussed in the piece, and that reporting on sexual assault cases ultimately results in campus policies that better protect our students," the magazine said.
A lawyer for Jackie declined to comment after the verdict.
Eramo told ABC News before the trial that the article changed her life.
"I'm never going to be where I was on November 18 of 2014," Eramo said, referring to the day before it was published. "But I can hopefully recognize that person again."
Rolling Stone faces another lawsuit brought by Phi Kappa Psi for $25 million. That trial is scheduled to begin next year. A separate lawsuit brought by individual members of the fraternity was dismissed.
--CNNMoney's Jill Disis and Tom Kludt contributed to this report.