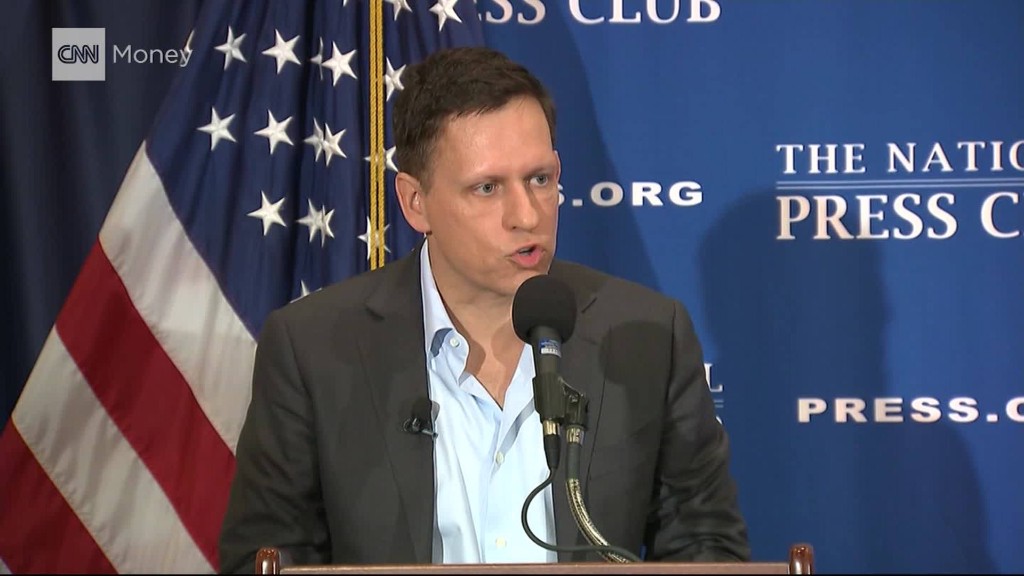 In explaining the reasoning behind his settlement with Hulk Hogan this week, Gawker Media founder Nick Denton expressed relief that his former staffers could now "entertain and inform their readers with fewer distractions."
But to some of those employees, whose company is now called Gizmodo Media, the settlement represents a surrender to a sinister foe.
"It's obscene," Gizmodo Media features editor Tom Scocca told CNNMoney. "It enshrines a disastrous precedent."
Scocca said he considers the settlement a "betrayal," and that he harbors bitterness toward Denton. Other employees said they were relieved that the years-long legal dispute is drawing to a close, but frustrated by an outcome that feels like a defeat.
"I'm heartbroken and it's in my view a risible miscarriage of justice," said Gizmodo Media executive editor John Cook. "I do not view it as a betrayal on Nick's part. He was in an incredibly tough spot."
Hamilton Nolan, a long-serving writer at the company, said he understands the desire for a resolution.
Related: Gawker and Hulk Hogan settle lawsuit: 'The saga is over'
"Considering how much the people involved in this case were put through I can't blame anyone for wanting to get the whole situation over with," Nolan said.
Employees at Gizmodo Media were given no indication that a settlement was imminent this week. As far as they knew, Denton and the estate were preparing for an appeal. They learned of the settlement as news reports began to trickle out Wednesday.
Under the terms of the settlement, Hogan will be paid $31 million plus a percentage of the proceeds from Gawker's sale to Univision. Two other plaintiffs who brought lawsuits against Gawker, Shiva Ayyadurai and Ashley Terrill, settled for $750,000 and $500,000, respectively. As another part of the deal, the three stories about Hogan, Ayyadurai and Terrill that prompted the lawsuits will be removed.
Ayyadurai and Terrill sued Cook and Sam Biddle, a former Gawker writer who now works at The Intercept, claiming the stories were "false and highly defamatory."
Related: Peter Thiel defends his support of Donald Trump
Biddle's stories chronicled Terrill's conflict with the cofounder of Tinder and questioned Ayyadurai's claims to have invented email.
"I think it's extremely bleak and disappointing, and most of all, I stand by my work," Biddle said.
Hogan, whose real name is Terry Bollea, landed a $140.1 million judgment from a Florida jury earlier this year in an invasion of privacy trial stemming from Gawker's publication of excerpts from his sex tape in 2012. The staggering verdict forced Gawker to file for Chapter 11 bankruptcy, leading to its sale this summer.
Denton asserted throughout that Gawker would ultimately be vindicated by a higher court's reversal of the judgment.
Such confidence wasn't unfounded, either. The Florida court that would have heard Gawker's appeal had already made a ruling sympathetic to Gawker.
Related: Gawker.com's subdued finale
But Denton wrote Wednesday that "all-out legal war" with billionaire entrepreneur Peter Thiel, who was revealed as the benefactor behind the Hogan lawsuit and other litigation against Gawker, "would have cost too much, and hurt too many people, and there was no end in sight."
"It seems they perceived that the bankruptcy process was going to be too costly and brutal for them to endure, but the price they paid in principle and money amounts to complete destruction," Scocca said. "Victory on appeal was the thing that kept people going, and the surrender of that chance, certifying the verdict of the show trial against us, is an unspeakably bitter result."
In an email, Denton told CNNMoney that he shares "the disappointment that we could not get to appeal."
"But the Thiel-backed lawsuits would not have ended there," he said.
Hogan, Ayyadurai and Terrill were all represented by Charles Harder, the Beverly Hills attorney tapped by Thiel to lead his anti-Gawker crusade.
In recent months, Harder has brought lawsuits and made legal threats to other journalists and news organizations on behalf of Melania Trump and ousted Fox News chairman Roger Ailes.
Scocca believes the settlement with Hogan will give impunity to Thiel to continue to go after journalists who cover him unfavorably.
"This happens because Peter Thiel thinks he is entitled to not being criticized," Scocca said. "That's going to last as long as anyone criticizes him. Why would he stop now? He did everything that he hoped to do."
It's unclear what the result of it all will be for former Gawker editor A.J. Daulerio, the author of the post containing the Hogan sex tape footage who is scheduled to appear in Florida court for another hearing this month.
Unlike the other defendants in the Hogan case, Daulerio did not file for bankruptcy protection and has faced perhaps the greatest hardship since the trial. In August, the plaintiff's lawyers vigorously pursued his modest personal assets and froze the $1,500 in his bank account.
Reached by phone on Friday, Daulerio said he doesn't feel bitter about the settlement. But he said he doesn't feel much relief either.
"I don't feel like I'm off the hook, and I don't feel like I'm ever off the hook," he said. "I don't think anyone in this industry is off the hook."