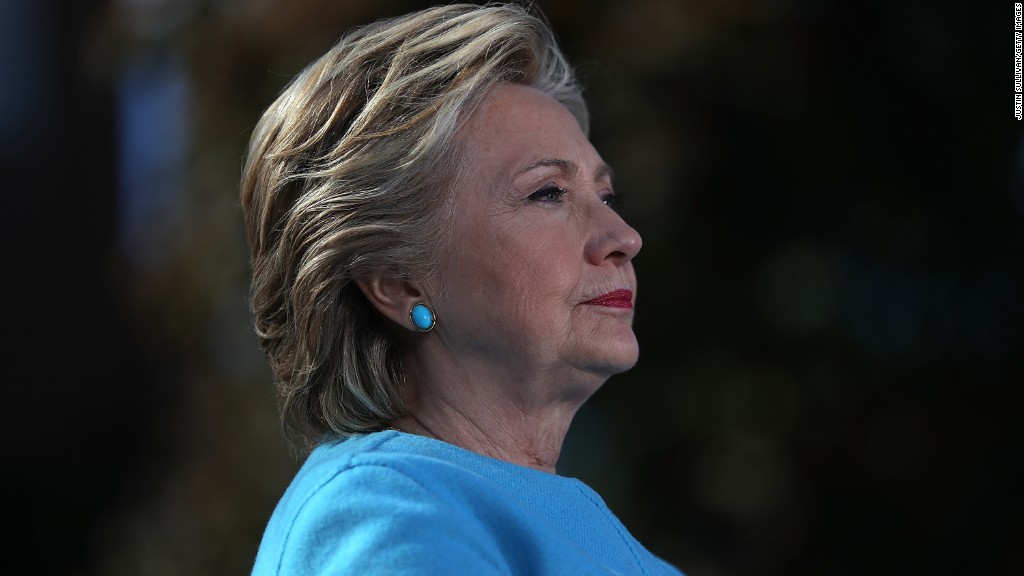 1. The U.S. presidential election: The fate of the next four years will be decided on Tuesday. According to a CNN poll, Clinton and Trump are neck and neck in key battleground states, including New Hampshire, Arizona, Florida, Nevada and Pennsylvania.
According to Macroeconomics Advisers, a Clinton win would boost the S&P 500 by 2% while a Trump win would send U.S. stocks down 8%. Citigroup similarly predicted a 5% drop in stocks if Trump wins.
Either way, stocks typically sell off the day following an election -- no matter which candidate wins.
2. A big day for marijuana: Five states will be voting on whether to legalize marijuana for recreational purposes, while four states will be voting on legalization for medical purposes.
As of right now, Alaska, Colorado, Oregon and Washington have legalized medical and recreational marijuana. But on Tuesday, Arizona, California, Maine, Massachusetts and Nevada will be voting on legalizing for recreational use while Florida, Missouri, Arkansas and North Dakota will be voting for medial purposes.
Even if more states legalize pot, there's a chance banks will push back on handling finances from marijuana businesses due to current federal banking laws.
3. Megyn Kelly guest hosts 'Live with Kelly': On Wednesday, Megyn Kelly will appear on the morning show hosted by Kelly Ripa to discuss how movies have portrayed women as presidents.
The Fox News anchor has challenged Trump on his comments about women and is now on the market as her contract nears the end. She also has an upcoming book that will include details about Ailes' repeated sexual advances towards her.
4. Web Summit 2016 held in Lisbon: The annual event on Monday is a conference where all the biggest startups will talk about the changing tech space.
Representatives from Square, Tinder, Cisco and Facebook will attend.
5. Coming this week:
Monday - HSBC (HSBC), News Corp (NWS) earnings
Tuesday - U.S. presidential election
Wednesday - Viacom (VIAB), Sunoco (SUN)earnings, Megyn Kelly guest hosts with Kelly Ripa
Thursday - Macy's (M) and Disney (DIS) earnings, Happy Singles Day in China!
Friday - J C Penney (JCP) earnings