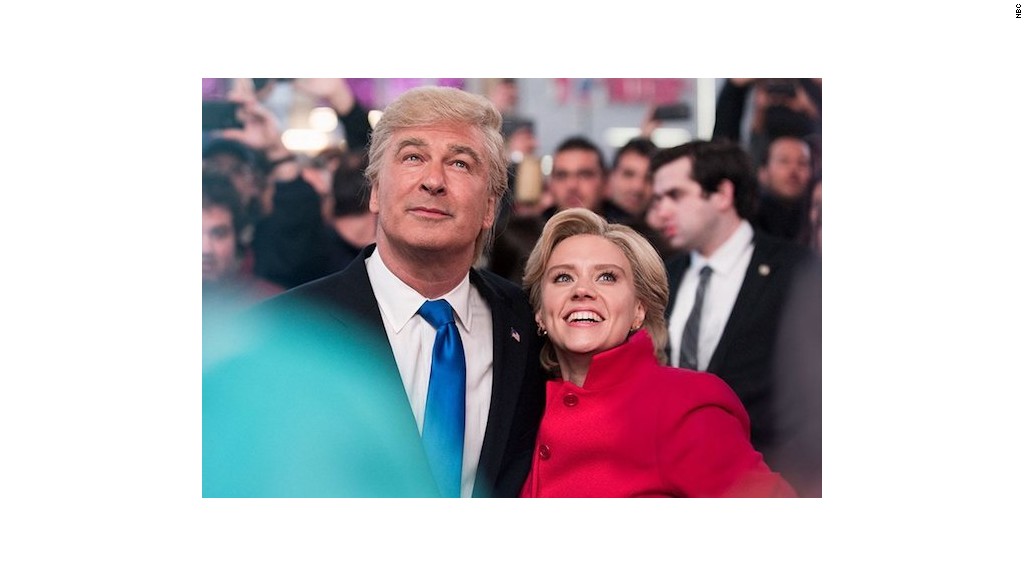 Even "Saturday Night Live" has had enough of this election.
In Saturday's cold open sketch for the final episode of the NBC variety show before Election Day, Alec Baldwin and Kate McKinnon broke out of their Donald Trump and Hillary Clinton characters to stop the mudslinging of 2016.
"I'm sorry, Kate. I just hate yelling all this stuff at you like this," Baldwin as himself -- but dressed as Trump -- said to McKinnon. "I just feel gross all the time."
"You know what I think can help us?" McKinnon said. "Let's get out of here."
It was then that Arcade Fire's "Wake Up" began to play as Baldwin and McKinnon ran out of the studio and into Times Square, where the two held hands, hugged, danced and embraced anyone they could find on 42nd Street.
"Even SNL seems to have had enough. Even jokes can't relieve the anxiety," tweeted CNN contributor Bill Carter. "They went for straight appeal for return to sanity."
The sweet moment followed a standard but funny sketch that had Baldwin's Trump kiss (on the lips) everyone from an FBI official to a shirtless Vladimir Putin, while McKinnon's Clinton expressed frustration over the endless questions about her e-mails.
Baldwin and McKinnon's Trump and Clinton sketches have opened each episode of "SNL" this season -- highlighting the comedic and chaotic moments of the election.
After running through New York City, Baldwin and McKinnon returned to Studio 8H and looked directly into the camera to implore viewers to vote on Tuesday.
"It's time to get out there and vote," Baldwin said. "None of this would have mattered if you don't vote."
"We can't tell you who to vote for, but on Tuesday we all get a chance to choose what kind of country we want to live in," McKinnon added.
Then the two -- still dressed as their characters and still holding hands -- started the show with its iconic opening line, "Live from New York... it's Saturday night!"