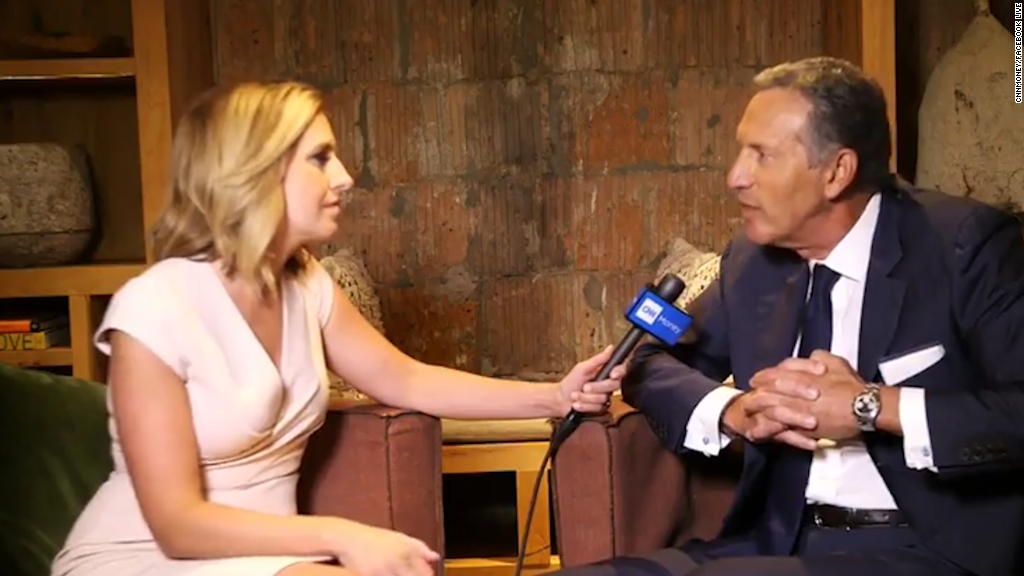 Starbucks CEO Howard Schultz is urging his employees to embrace "respect and dignity" in the face of an "epic, unseemly election."
Schultz has publicly endorsed Democrat Hillary Clinton for president. But the letter, obtained by CNNMoney on Sunday, does not suggest that Starbucks employees vote for a particular candidate on election day.
Instead, Schultz wrote that he feels "a bit anxious" about the pending election, and asked his employees to share "kindness, compassion, empathy" and love.
"Let's each embrace the universal virtues of respect and dignity, refusing to allow the hatred on cable news, the ugliness of our politics, and the lack of political role models for our kids to define us and to dictate how we treat each other," Schultz wrote.
Related: Starbucks CEO Howard Schultz endorses Hillary Clinton
Schultz, who calls himself a "life-long Democrat," endorsed Clinton during an interview with CNN's Poppy Harlow in September. The executive had previously endorsed Barack Obama in 2008 and 2012.
Online records show he has only donated to Democrats, except for a donation to Republican Senator John McCain in the late 1990s.
Schultz also did not discount the possibility of his own presidential run. He told CNN in September that he would "never say never, but this is not the right time."
Starbucks (SBUX) recently launched a new initiative countering the "divisiveness and cynicism currently fueling our national discourse."
The company released a series of videos and stories this year called "Upstanders" that focuses on moments of humanity in the country.
And last week, Starbucks rolled out a limited edition green "unity" cup to its stores.
"Like the drawing of so many faces with a single, unbroken line on this season's green unity cup," Schultz wrote in his Sunday letter, "we are all connected."
-- CNNMoney's Poppy Harlow and Heather Long contributed to this story.