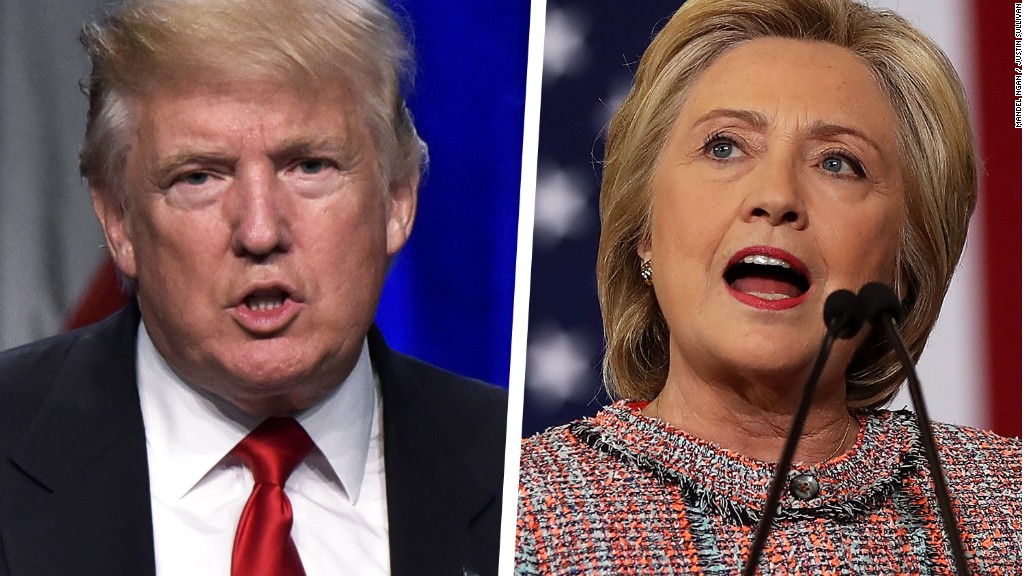 European stocks could drop as much as 10% if Donald Trump wins the U.S. presidential election, according to Deutsche Bank.
The bank argues in a research note that economic uncertainty would spike during a Trump presidency, leading to confusion over tax, immigration and trade policy.
Deutsche Bank's analysts said that Trump's messaging on economic plans has been "far from consistent." Even Trump's plans to increase spending on infrastructure -- which could boost the economy -- are "vague."
European energy companies, in particular, could take a hit from a Trump victory. The Republican nominee has pledged boost both U.S. crude and coal production.
And if Hillary Clinton wins? Deutsche Bank said a Democratic victory could boost European markets by as much as 5%.
"Given that Clinton's policies are much less radical than Trump's and have been communicated more consistently, we expect the current uncertainty premium to be removed from markets in case of a Clinton victory," analysts wrote in the research note.
Related: A Trump win would sink stocks. What about Clinton?
Recently, stocks have posted gains when the chances of a Clinton win have increased. Monday is just the latest example of this -- stocks around the world jumped up after FBI said Hillary Clinton should not face criminal charges over her personal email server.
Citi said last week it expects the S&P 500 will fall by 3% to 5% immediately if Trump is elected.