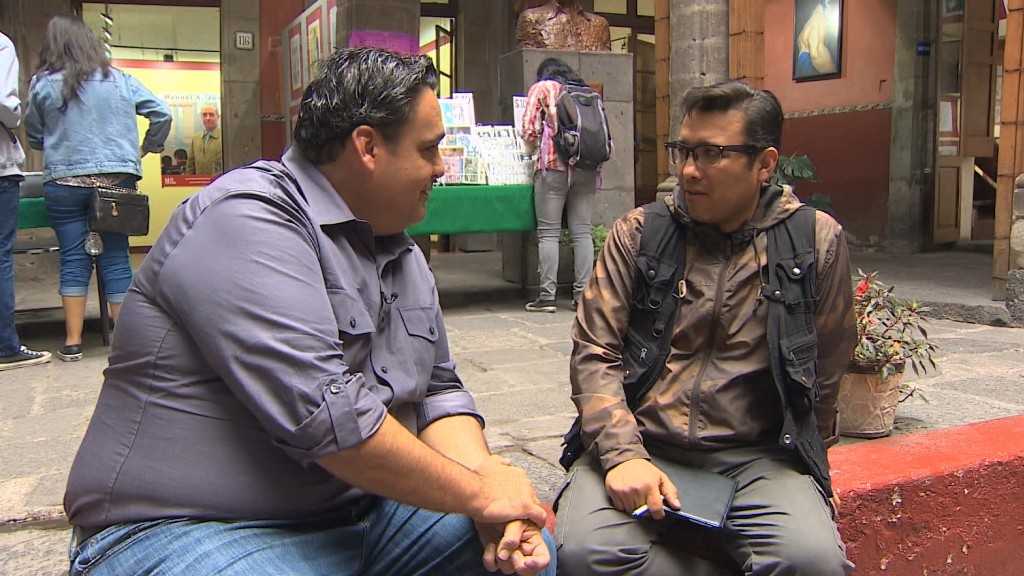 Mexico is bracing for a Donald Trump presidency.
Experts anticipate that Mexican officials will take immediate action on Wednesday to save their currency, the peso, from crashing if Trump wins -- a scenario Mexico's central bank governor called a potential "hurricane."
"They will react immediately. They won't be sitting on the sidelines for two or three days," says Alberto Ramos, head of Latin America economic research at Goldman Sachs.
The peso could fall as much as 30% Wednesday if Trump wins, according to research firm Capital Economics. The firm says such a steep plunge would force Mexico's central bank to call an emergency meeting the same day.
Trump has already weighed down the peso several times this year, and his restrictive trade policies are expected to hit Mexico hard. On Monday, however, the peso surged after the FBI cleared Hillary Clinton one more time of wrongdoing.
Related: Mexico has 'contingency plan' if Trump wins
That news hasn't stopped regular Mexicans from worrying about what Trump could mean for their country.
Karla Gasca of Mexico City went to the U.S. embassy on Monday to apply for a travel visa. She believes such visas could be in peril for Mexicans if Trump becomes president.
"He would affect us more -- the economy, the free trade agreements," says Gasca, who works in marketing. "The dollar -- we think it's going to shoot up even more than it already has."
Indeed, Trump has proposed slapping tariffs on goods made in Mexico, ending the free trade agreement NAFTA, taxing cash remittances from America to Mexico, and building a wall along the border, which he says Mexico would pay for.
All those threats have experts forecasting a gloomy outcome for Mexico.
"If he has the ability to implement even 50% of what he's said, it would have a significant impact on the Mexican economy," says Ihab Salib, head of international fixed income at Federated Investors. "With a Trump win, you have all Mexican assets go down."
Mexican officials admitted last week that they have a "contingency plan" for a Trump win, but they haven't released any details.
Related: Mexico's economy posts worst growth in 2 years
"If the adverse scenario manifests itself, it's possible that Mexican authorities will respond in some way," Mexico's central bank governor Agustin Carstens, told Milenio TV in Mexico last week. "It's a contingency plan that we're talking with the finance minister about."
Experts say that Carstens has two main options if Trump wins: Raising interest rates or selling some of Mexico's U.S. dollar reserves to buy pesos, both of which, in theory, would help ease the peso's fall.
The unease over the outcome of Tuesday's election has spilled into the streets.
"Hopefully, hopefully, [the next U.S. president] improves bilateral relations with our country," Miguel Carrillo, a 30-year old nurse in Mexico City, said with nervous laughter. "The decision that the American people are taking -- hopefully it's the right one so that we can all be beneficiaries."