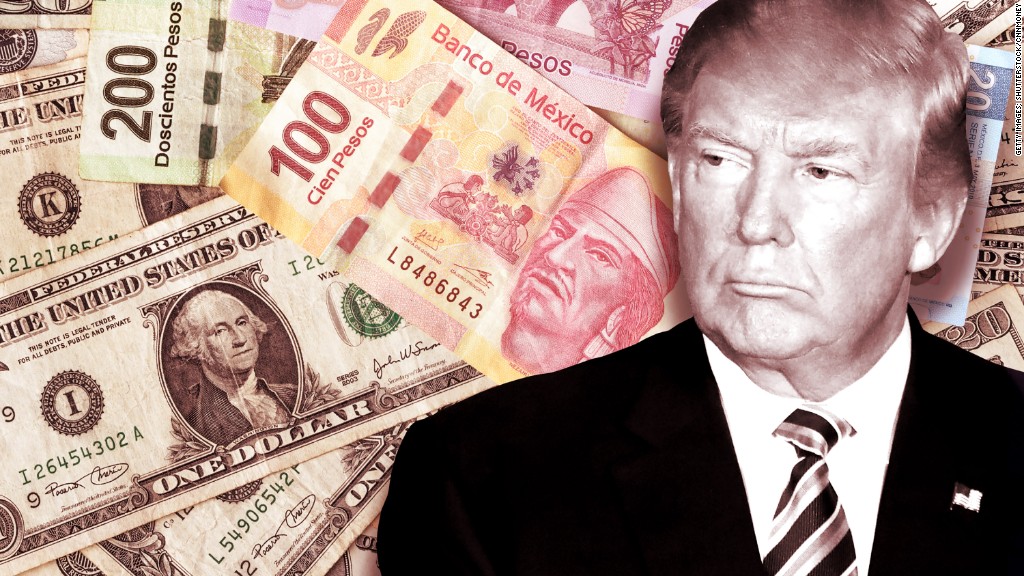 Donald Trump has pledged to resurrect the coal industry. If he follows through on that promise, that's great news for many railroads, which can generate big sales from transporting coal across the country.
So it shouldn't be a big surprise that investors are -- to quote Ralph Wiggum from "The Simpsons" -- choo choo choosing railroad stocks following Trump's big win.
Union Pacific (UNP), CSX (CSX) and Norfolk Southern (NSC) stocks rallied on Wednesday and rose again Thursday. Each of them get a decent amount of revenue from shipping coal.
But while Wall Street was saying "all aboard!" for most of the sector, one railroad got left at the station. Shares of Kansas City Southern (KSU), which does about half of its business in Mexico, plunged more than 10% Wednesday and was down again Thursday.
If Trump is serious about building a wall on the border, ripping up the NAFTA trade agreement and essentially pretending that it's 1836 and remembering the Alamo, then Kansas City Southern could suffer.
Canadian railroads Canadian Pacific (CP) and Canadian National Railway (CNI) could also be hurt if Trump ramps up his anti-Mexico rhetoric. Those two stocks also run north-south rail lines. Shares of each fell on Wednesday but rebounded a bit on Thursday.
Related: The 'yuge' Donald Trump market rally continues
Trump's tough Mexico talk could be also bad news for big car companies like Ford (F) and GM (GM) that ship autos made in Mexico on Kansas City Southern trains back to the U.S.
Jim Corridore, equity analyst at CFRA Research, thinks it makes sense for investors to be wary of Kansas City Southern in light of Trump's win.
But he added that the worst of the selloff may be over, especially if Trump is more diplomatic as president than he was as a candidate.
"Business repercussions related to an assumed protectionist strategy remain to be seen," Corridore said in a report, adding that investors are now accurately pricing in risk that Trump's trade stances will actually hurt Kansas City Southern.
Still, there's one other big railroad in the U.S. that may benefit from Trump's win. Burlington Northern Santa Fe. It's part of a much bigger company though.
BNSF is now owned by Berkshire Hathaway (BRKB), the conglomerate run by Warren Buffett. And shares of Berkshire have risen along with the broader market and other railroad stocks since Trump won.
It's somewhat ironic that Buffett -- at least for the past two days -- is profiting from Trump's ascendancy. After all, Buffett was a vocal backer of Hillary Clinton.
Related: Mexican peso plunges to all-time low
And at Berkshire's annual shareholder meeting in Omaha back in April, Buffett said this when asked about whether or not he'd be concerned about what would happen to his investments if Trump wound up beating Clinton.
"That won't be the main problem," he quipped, a remark that issued laughter from the crowd.
But for now at least, investors feel that a Trump administration will be good news for Buffett's big railroad and many others.
Analysts at Wolfe Research, a boutique firm that focuses on the transportation sector, thinks Trump's win is a positive for railroads -- if for no other reason than that President Obama and Clinton were so against the coal industry.
"President Obama's anti-coal regulations have been painful for the rails the past several years, but Mr. Trump is much more pro-coal," the Wolfe analysts said. "Anti-coal regulations such as the Clean Power Plan are now less likely to be implemented."
And when Buffett bought BNSF seven years ago, he referred to the investment as an "all-in" bet on the American economy. It seems that wager is still paying off, even though the Oracle of Omaha's preferred presidential candidate lost.