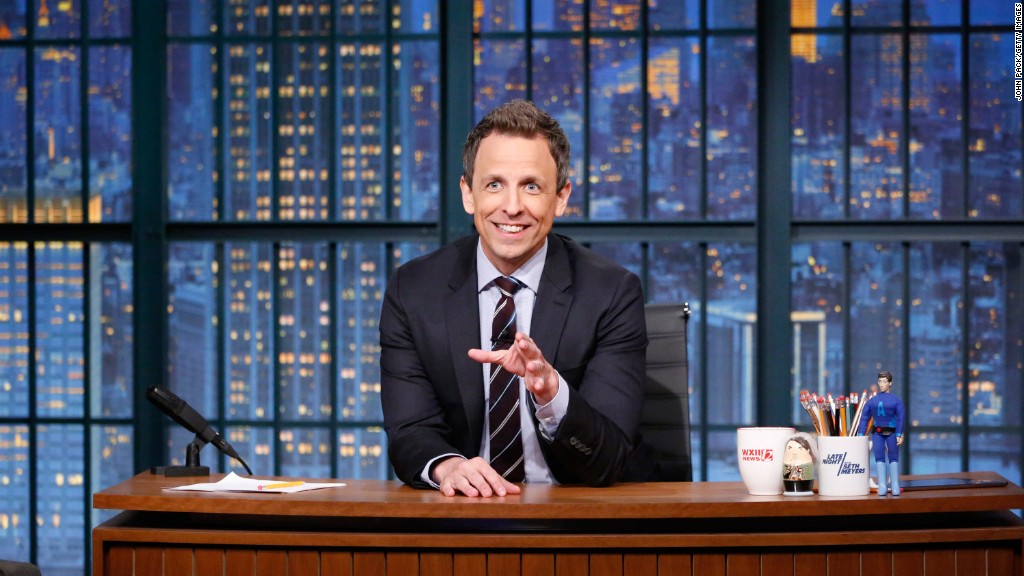 It wasn't long ago when Donald Trump publicly clashed with Fox News and one of its biggest stars. And following the ouster of Fox News chief Roger Ailes, there was speculation that the the network could embark on something of an ideological reinvention.
Now, in the afterglow of Trump's remarkable victory, Fox News is settling into a familiar role: the go-to outlet for Americans who feel alienated by media perceived as liberal and out of touch.
"Fox News is the best," a female Trump voter told Fox News anchor Abby Huntsman on Thursday morning. "All the other media is so biased. I can't believe it. But we're too smart. We saw through it."
Huntsman was reporting live from a diner in Ft. Myers, Florida. She didn't have to look far to find another Trump supporter with media similar preferences.
Related: People Magazine faces backlash after publishing Trump cover
"I love Fox," said a man who backed Trump. "I was glad I could go to Fox for an unbiased opinion about the election."
The interviews provided a telling snapshot of the voters who helped Trump clinch his improbable win, and their belief that Fox captures a view ignored by others.
More than 12 million viewers flocked to Fox News during prime time on Election Day. The network's primetime audience on Wednesday averaged 5.9 million viewers -- nearly three times Fox's normal average.
That so many polls pointed to a Hillary Clinton win has some wondering if media distrust among Trump supporters was a factor.
Bill O'Reilly, the top-rated host on Fox, reinforced that view Wednesday night, saying that "many voters simply refused to participate when asked their opinion" by pollsters.
"The collapse of an objective press angered many Americans who still believe in fair play," O'Reilly said.
Chris Wallace, the host of "Fox News Sunday" and the moderator of the final presidential debate last month, echoed that belief in an interview with the Columbia Journalism Review on Monday. He singled out the New York Times for what he described as "open editorializing" on the newspaper's front page during the campaign.
Related: Despite history, Bezos wishes Trump 'great success'
Wallace said viewers are not only drawn to the opinion hosts who make up Fox's primetime lineup -- which veered more sharply to the right last week with the appointment of conservative pundit Tucker Carlson to the 7 p.m. time slot. But they were also attracted by Fox's straight-laced anchors like himself "because people think that the mainstream media has a single focus," he said.
Trump, ever the media critic, complained about Fox's coverage at times. For much of the Republican primary, he went after Megyn Kelly, one of Fox's most recognizable hosts.
But the two sides reached detente, and for the last five months of the race, Trump spoke almost exclusively to O'Reilly and Fox's Sean Hannity.
On Wednesday, Hannity vowed to "call out the abusively biased and corrupt media."
Hannity offered an explanation for why so many media and political elites failed to anticipate Trump's upset win, which was fueled by working class voters in rust belt states like Wisconsin, Michigan and Pennsylvania.
He showed viewers on Wednesday a painting titled "The Forgotten Man," which depicts President Obama trampling on the Constitution and ignoring the pleas of the Founding Fathers. To Obama's right is a forlorn man seated on a bench with his head bowed.
Related: 'The polls clearly got it wrong': The autopsy will take months
"The people of Wisconsin, Ohio, Iowa, the people of Michigan, Pennsylvania and all across this country, they saw this election for what it was: massive government failure, a massive decline, a precipitous decline in this country," Hannity said.
"That's what nobody saw in this historic election," he added. "You saw it."
Ailes' departure from Fox in July following accusations of sexual harassment prompted speculation of a housecleaning inside Fox after Ailes left. There is no evidence of housecleaning.
Kelly's contract expires next summer, but Fox has reportedly offered her a $20 million deal to stay.
Hannity, meanwhile, is poised for coveted access to the next president. His contract runs through 2020 -- the end of Trump's first term.