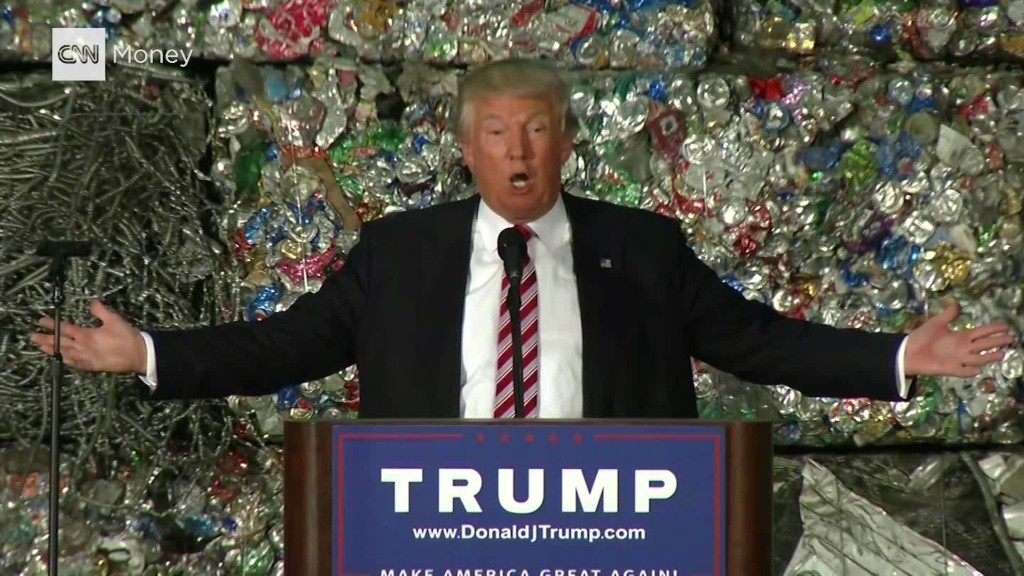 The United Auto Workers union supported Hillary Clinton for president. But the union president said he'll break bread with President-elect Donald Trump, especially if it means crushing NAFTA.
"I'm prepared to sit down and talk with him about trade," Dennis Williams told reporters in Detroit on Thursday. "NAFTA is a problem."
Trump made renegotiating -- or terminating -- the free trade deal between Canada, Mexico and the U.S. a prominent part of his campaign. The UAW has opposed NAFTA since it was passed in 1993, believing it depresses the wages of U.S. workers and ships manufacturing jobs abroad. The organization also fought against the Trans-Pacific Partnership negotiated under President Obama. The TPP is still awaiting a vote in Congress.
Related: America's Brexit: What Trump means for world trade
But the union was a major advocate for Clinton, citing her longstanding support for labor. The UAW, which has a history of backing Democrats, reassured members that she also pledged to reject "unfair" trade agreements like the TPP.
"Secretary Clinton, as senator, actually voted to support the auto industry," Williams said.
Similar positions on trade, however, could help the UAW and Trump become allies. Williams said he favors Trump's pledge to impose a 35% tariff on cars made by U.S. companies in Mexico and imported to the U.S.
Related: Trump's 35% Mexico tax would cost Ford billions and hurt Americans
The UAW said it believes 28% of its members supported Trump based on internal data, though Williams acknowledged the actual number who cast a ballot for the Republican candidate may be higher.
That's slightly lower than the 31% of UAW members who supported Republican candidate John McCain in 2008, and the 33% of members who supported Mitt Romney in 2012. Williams said the organization put out more information to members this election than ever before.
The union represents more than 400,000 auto workers in the United States, Canada and Puerto Rico, including those employed by Ford, General Motors and Fiat Chrysler Automobiles. It also has more than 580,000 retired members. Many live in Rust Belt states that were key for Trump.
"We have a president-elect, and we're going to try to find some common ground," Williams said.