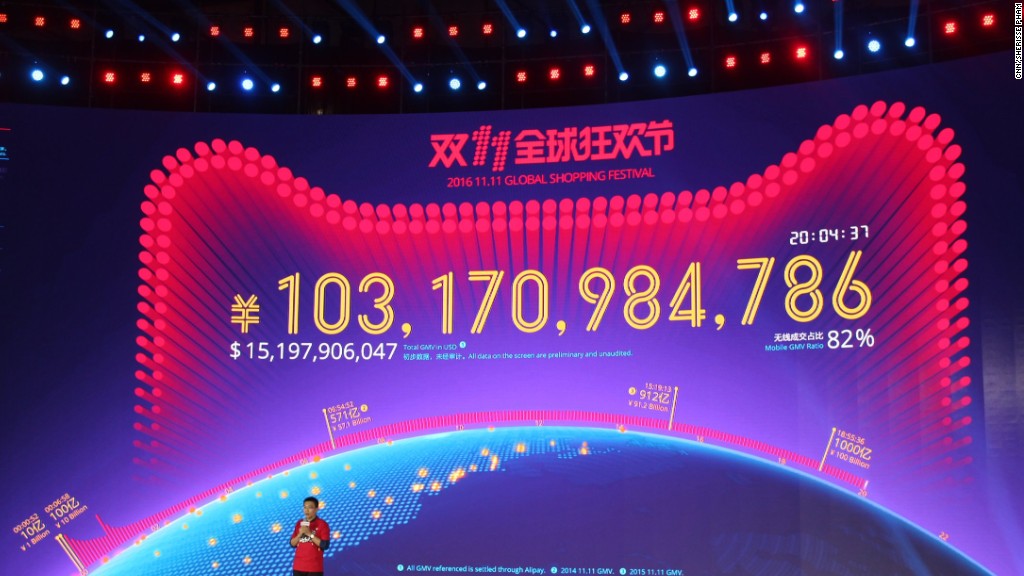 There's no other shopping bonanza quite like Alibaba's Singles Day, which has once again smashed records.
The tech giant reported $17.8 billion in sales during this year's frenzy, breaking the record of $14.3 billion set in 2015. That's more than Black Friday and Cyber Monday combined.
I've spent far too much time at the mall as a teenager, elbowed my way past shoppers for Boxing Day steals in Canada and snuck online at the office to snag Cyber Monday deals in the U.S.
But all of that pales in comparison to the online buying festival hosted by Alibaba (BABA) in China each year.
Singles Day takes place each year on November 11. It started as an informal holiday celebrating those not in relationships, before tech giant Alibaba turned it into a product discount day in 2009.
Related: Katy Perry cancels performance in China after Trump wins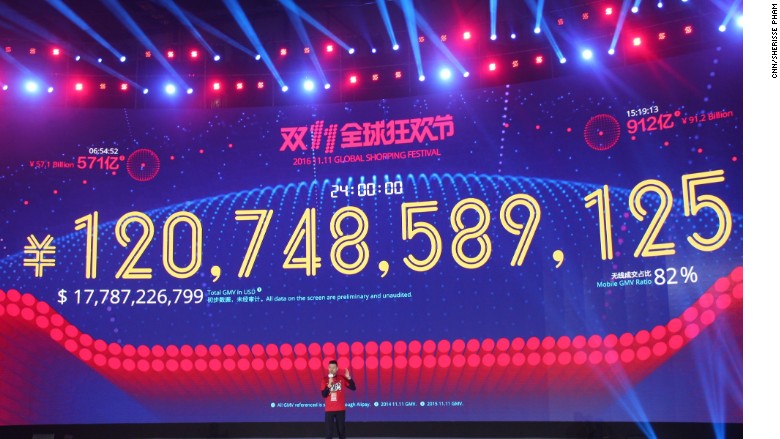 The multibillion dollar event includes products from thousands of international brands, all vying for the purchasing power of more than 100 million shoppers.
Celebrities appeared at a three-hour variety show leading up to the event's midnight start in the southern Chinese city of Shenzhen. David and Victoria Beckham got things started by hawking whiskey and sunglasses on stage. Twenty minutes later, a Mandopop boy band sang a song with the hook "I'll teach you to buy." An appearance by NBA star Kobe Bryant, an icon to Chinese basketball fans, was also a crowd pleaser.
Alibaba founder Jack Ma even made an appearance, performing card tricks with Scarlett Johansson.
To celebrate the event's 10-year anniversary in 2019, Ma told CNN he wants to hold it in New York or Paris. He also predicted Singles Day would become a household name in the U.S. within 15 years.
Related: Alibaba CEO: We want to make Singles Day a global festival
In the first few hours, more than 80% of transactions took place on smartphones. The company rolled out virtual reality experiences and augmented reality games to keep shoppers' thumbs and eyeballs glued to the buy button.
Alibaba sold cardboard VR sets for about 15 cents in the weeks leading up to Singles Day. Buyers slip their cell phones into the set to enter VR experiences with partner stores.
I tried out the Macy's scene, which included a New York City driver whisking me to the company's flagship Herald Square location. Once inside, I explored the store in VR and could narrow in on products by moving a blue dot. A buy button eventually appeared.
Meanwhile, an augmented reality game encouraged smartphone users to chase Alibaba's cat mascot both online and offline to find discounts and coupons. Shoppers who tuned into the pre-show, or watch the 24-hour version online, were also rewarded with deals if they shook their phones at certain moments.
Related: Alibaba describes 'steadfast efforts' to fight counterfeiters
Some companies use Singles Day to unveil products tailored for Chinese consumers. Smuckers peanut butter and jelly filled Oreos, anyone?
But China's regulatory authority warned Alibaba and other Chinese e-commerce sites this year against selling fakes on Singles Day. Trade groups slammed Alibaba last month, pressing the U.S. Trade Representative to put the company on the government's "notorious markets list" for selling pirated goods.
Ma said his company prevents the peddling of counterfeits by collecting data on buyers and sellers of fake goods and reporting them to the police.
"Last year, we [arrested] more than 500 people by working with the police," he said.
Alibaba's Singles Day numbers are also being investigated by by the U.S. Securities and Exchange Commission.
Many have previously criticized the company's use of gross merchandising volume (GMV) to measure sales from the blockbuster event. While GMV, which is also used by companies like Amazon, indicates the total number of sales over a certain time period, it doesn't account for hiccups like customer returns or sellers not delivering products after running out of stock.
Alibaba President Michael Evans declined to comment on the SEC investigation on Friday, saying it's ongoing. He said the Singles Day figures are being independently audited by accounting firm PricewaterhouseCoopers.
The staggering GMV total from Singles Day also doesn't translate into equally huge revenue for Alibaba itself. The company makes its money from fees or commissions paid by sellers on its online portals. Its actual revenue for the whole of last year was 34.5 billion yuan ($5.1 billion).
The counterfeits and accounting controversies haven't stopped international brands from participating in Singles Day. Burberry (BBRYF), Apple (AAPL) and Victoria's Secret made their debut this year, joining companies like Adidas (ADDDF) and Gap (GPS).
-- Andrew Stevens and Yuli Yang contributed to this report.