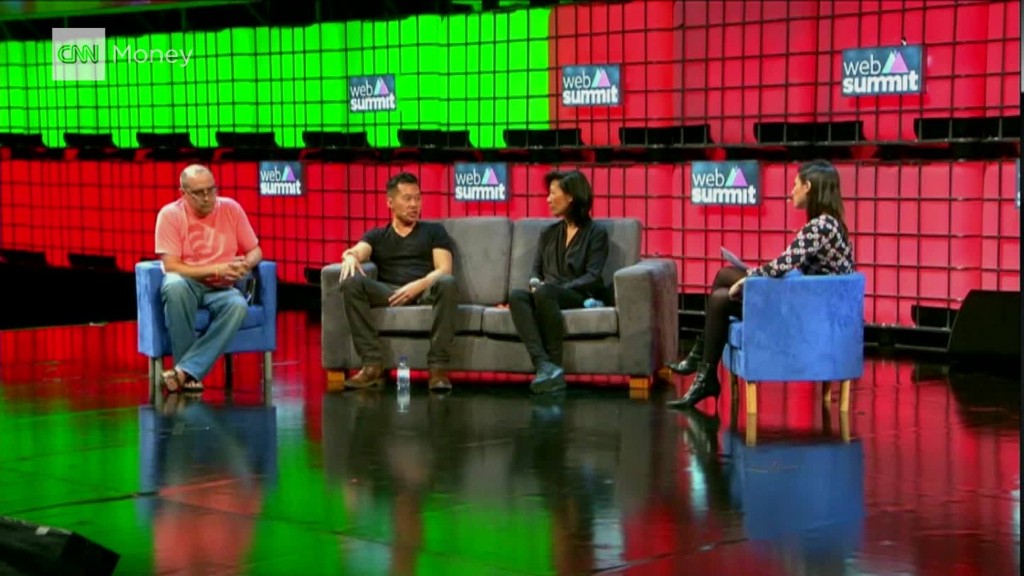 Silicon Valley is about to get disrupted by Donald Trump. At least that seems to be Wall Street's verdict.
Amazon (AMZN), Apple (AAPL), Google (GOOGL), Facebook (FB) and other large tech companies shed billions in market value Thursday on concerns about the industry's future under a Trump presidency.
This decline is all the more striking considering the overall market is surging in the first days after Trump's victory. The tech industry, once the darling of the market, now seems to be the black sheep.
Amazon, a favorite foe of Trump's on the campaign trail, suffered the sharpest losses. Its stock ended the day down nearly 4%.
Trump previously criticized Amazon and its CEO Jeff Bezos for having a "huge antitrust problem" and "getting away with murder tax-wise." Now Amazon investors must grapple with the possibility of President Trump taking aim at the company.
Apple and Google each ended the day down about 3% and Facebook was down 2% on similar unease.
"There are multiple factors you could point to, but obviously the tech group is seeing weakness from regulatory uncertainty," says James Cakmak, an analyst who covers the big Internet companies for Monness, Crespi, Hardt & Co.
Related: What Trump's presidency means for Silicon Valley
Trump has threatened to boycott Apple over its encryption policy and pledged to get the company to "build their damn computers and things" in the U.S. rather than in China.
As a candidate, Trump called out Facebook's founder for his immigration policies. He also threatened to crack down on the hiring of foreign workers, which has become a key source of talent for the tech industry.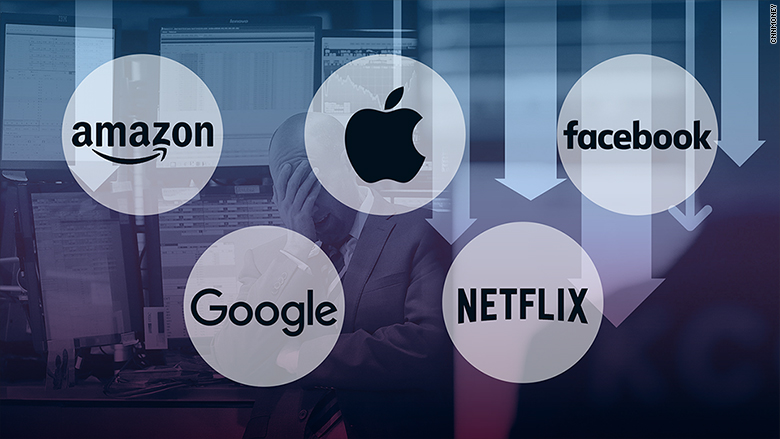 Tusk Holdings, a firm that advises tech companies on regulatory issues, wrote in a memo this week that Trump and the Republican Congress would be less likely to provide tax incentives for issues like clean energy. The firm also expects more favoritism for car manufacturers over tech companies when it comes to self-driving cars.
"Of course big tech companies can work under a Trump presidency," says Katie Jacobs Stanton, a former Twitter and Google employee who also worked in the Obama administration. But she says there is "huge cause for concern" on Wall Street given Trump is "reckless and unpredictable."
There are also clear personal tensions that need to be smoothed over between Silicon Valley and a president-elect known for holding a grudge.
Top execs from Amazon, Salesforce (CRM), Netflix (NFLX), Tesla (TSLA) and numerous other tech companies openly criticized Trump during his campaign. They compared him to Hitler and designed a card game to make fun of him. Many actively raised money for his opponent.
Now some prominent tech execs are offering an olive branch.
"I for one give him my most open mind and wish him great success in his service to the country," Bezos tweeted on Thursday, despite having previously accused Trump of "eroding our democracy."
Amazon's founder may be keeping an "open mind" about Trump, but it's unclear if Trump will do the same for Amazon or the rest of the tech industry.