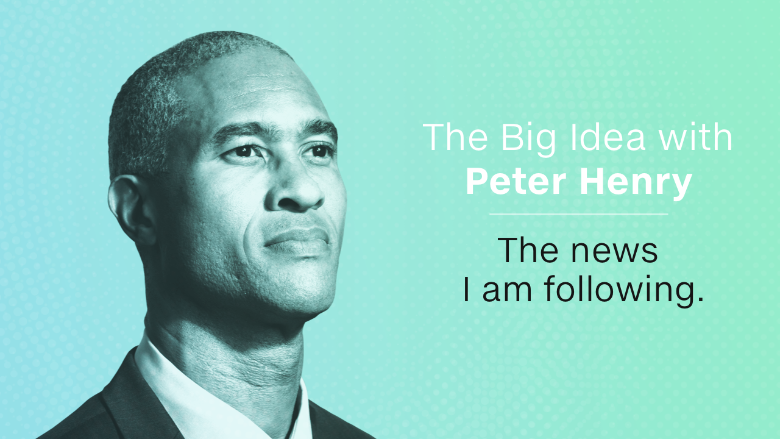 This week, the guest curator for "The Big Idea" on the CNN MoneyStream app is Peter Henry.
Occupation: Dean of New York University's Stern School of Business
Best-known for: His writing on global economics, the World Bank and the IMF
Recognized for his research on the role global financial institutions play in economic growth, Henry was tapped in 2008 to lead President Barack Obama's review of international lending agencies.
He serves on the boards of Citigroup and General Electric, and is also a board member of the Council on Foreign Relations, the National Bureau of Economic Research and the Economic Club of New York. He previously served on the board of Kraft Foods.
Henry was appointed dean of the Stern School of Business two days before his 40th birthday. He has served in the position since 2010.
Henry has raised more money than any dean in the school's history, and focuses on creating greater access to higher education.
Related: NYU dean wants to teach low-income students 'how to fish'
Here's a sample of what Peter Henry is reading this week (to see more, add "The Big Idea" stream on the CNN MoneyStream app)
- China pumps the brakes on U.S. dealmaking after Trump win (Bloomberg)
- Here's how labor and employment might change under Trump (Fast Company)
- Narendra Modi defends currency move as millions in India scramble for cash (New York Times)
- Samsung bets $8 billion on smart cars with Harman deal (CNNMoney)
- The top 25 veteran-founded startups in America (Forbes)
- Flashback: When one party held all branches of government (Ozy)
- Brexit cost: $82 billion in lost investment (CNNMoney)
- How military veterans are becoming 'Athletes of Valor' as entrepreneurs (Forbes)
- Globalization's critics say it benefits only the elite. Why they're wrong (Economist)
- The worlds coconuts are in danger (The Atlantic)
- NASDAQ names a new chief executive: Adena Friedman (New York Times)
- Fed's Bullard sees medium term boost from Trump spending (Bloomberg)
- The Economist explains: Why is world trade growth slowing? (Economist)
- How diversity makes us smarter (Scientific American)
- Middle class shrinks as income gap grows, new report finds (New York Times)
- Three reasons to be optimistic about the world right now (Fortune)
- Can Trump's plan restore America's crumbling infrastructure? (Globe and Mail)
- A cashless economy in Zimbabwe? (New York Times)
- 26 long books worth reading (Business Insider)
- How Japan could tap its hidden economic potential (Bloomberg)
- 8 reasons why starting a trade war with China is a bad idea (CNNMoney)
- Fed still likely to hike interest rates in December (Washington Post)
- The myth of self-control (Vox)
- One way to bridge the political divide: Read the book that's not for you (NPR)
- The globalization backlash is reverberating through boardrooms (Harvard Business Review)

"The Big Idea" lets you peek into the minds of leading people in business.
Every day, you will see multiple stories appear in your stream that are hand-picked by the guest curator of the week. "The Big Idea" was curated last week by Microsoft's Panos Panay.
Reading this article on your Apple device, click here to download CNN MoneyStream. Or if you are on Android, download it here.