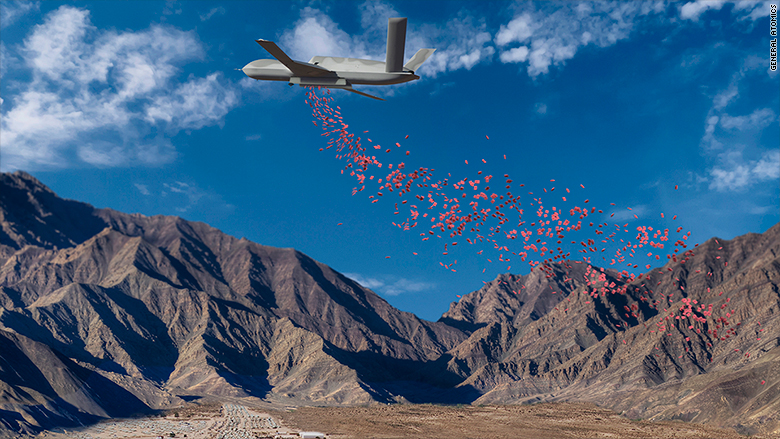 General Atomics is best known for making drones used to attack ISIS and Al Qaeda targets. But now one of its aircraft has a new mission: Delivering humanitarian relief.
General Atomics said on Monday it is ready to deploy its custom Angel One for domestic or overseas humanitarian missions. The Angel One's design is a modified unmanned Predator C 'Avenger', a remotely piloted aircraft, not an autonomous drone.
General Atomics is part of an increasing push to use unmanned or autonomous aircraft to do everything from monitoring ice floes in the Arctic to delivering Chipotle (CMG) burritos.
The company isn't building a fleet of new Angel One aircraft, but rather giving new life to a seven-year-old test aircraft that it will now operate on behalf of aid organizations. Angel One can be flown from anywhere in the world by satellite link.
Rwanda is using drones to deliver medical supplies
General Atomics hasn't signed up any aid organizations yet, but it's hoping the aircraft can be used to assist groups like USAID or Médecins Sans Frontières (Doctors Without Borders). It anticipates either donating the plane's operations or providing them at cost.
Using the Angel One, which can be flown remotely, can be less expensive and also less dangerous than sending supplies out with a manned aircraft like Lockheed Martin (LMT)'s C-130 airlifter.
"This capability could ensure that urgently needed food and medical supplies to reach those otherwise inaccessible, such as victims of war -- as in Syria -- or following natural disasters throughout the world," General Atomics said in a statement.
Drone helps ship navigate Arctic ice
Angel One can carry 8,500 pounds of daily food rations for 3,400 people on three, three-hour missions each day, the company estimates. The aircraft is capable of flying up to 16 hours each day.
General Atomics said that the humanitarian role for the "Predator" was hatched in recent weeks as a new way to use its jet-powered aircraft, which are better known for surveillance and strikes on ground targets.