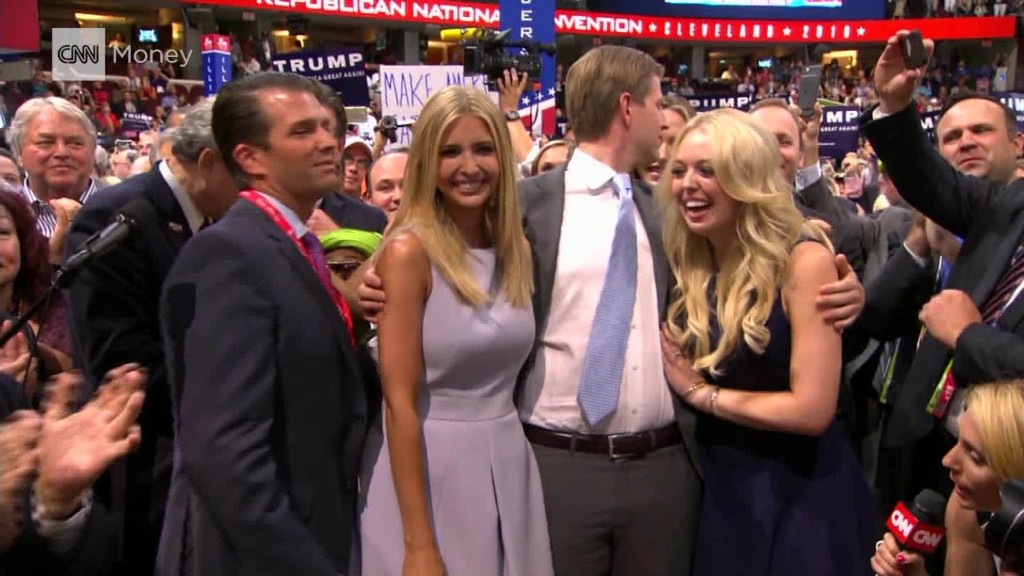 Of all the potential conflicts of interest posed by President-elect Donald Trump's business ventures, perhaps none is more glaring than the hotel he just opened blocks from the White House.
The Trump International in Washington is a showpiece of the Trump hotel brand -- a historic post office transformed into a gleaming five-star property. On January 20, the inaugural parade will pass by its stately clock tower and Romanesque arches.
And then Trump will have an ethics problem: He'll be the landlord and the tenant at the same time.
Trump has pledged to transfer control of his business interests, including the hotel, to his children. But experts in government ethics told CNNMoney that the hotel still presents a number of quandaries.
Related: Unprecedented potential conflicts for President-elect Trump
As president, Trump could stage press conferences and other events at his properties, as he did throughout the campaign, theoretically lift the profile of the hotel and raise its value.
Foreign leaders might also stay at the hotel as a way of ingratiating themselves with the highest levels of the American government.
"It's kind of an easy way to buy the appearance that you have a connection with the Trump Organization," said Charles Tiefer, a professor at the University of Baltimore School of Law who studies government contracts.
Even if Trump doesn't encourage something like that, the appearance of conflict could become a headache for his administration, said Norman Eisen, a visiting fellow at the Brookings Institution who led government ethics initiatives for President Barack Obama during his first term.
"Maybe the president didn't even ask, but somebody that thinks they're going to curry favor goes ahead and does that, creates some unfortunate email chain," Eisen said. "The next thing you know, we have a big public scandal with congressional hearings and distractions."
Larry Noble, general counsel of the Campaign Legal Center, a nonpartisan, nonprofit government watchdog group, imagined another ethics problem: What happens if government officials encounter problems with how the Trump hotel is run?
Trump leased the property from the federal government in 2013 and committed to a minimum annual base rent of $3 million, according to a General Services Administration report.
Say the Trump family thought they had a case to negotiate a lower rent or had some other legal dispute?
The government would be represented by the General Services Administration, whose administrator Trump will have the power to hire -- with Senate confirmation -- and dismiss at will.
"Who's obligated to do what over the lease?" Noble said. "What if they get into a dispute and if he decides to fire the head of GSA?"
The Trump Organization declined requests for comment.
In a statement to CNNMoney on Tuesday, a GSA spokeswoman said the agency "plans to coordinate with the President-elect's transition team to allow a path to be put in place to identify and address any potential conflict of interest relating to the Old Post Office building."
Related: Trump's family plan to cut business conflicts falls short
Noble and Eisen said the best solution would be for Trump to sell the property altogether. "If you really wanted to show that you're going to put all of your interests in working for the people and take away all appearances of conflict, you would divest yourself of all your businesses," Noble said. "I don't think he's going to do that."
It's a decision the president-elect has shown no interest in making.
In his first debate against Hillary Clinton in September, Trump cited the new hotel as an example of his success. "If I don't get there one way," he said, "I'm going to get to Pennsylvania Avenue another."