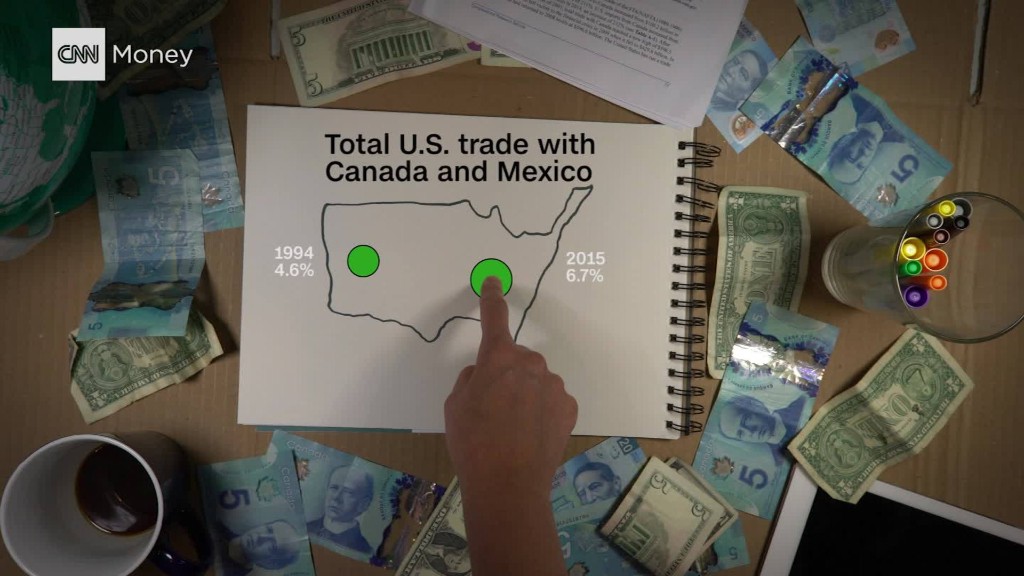 President-elect Donald Trump has repeatedly called NAFTA the "worst trade deal in history." And now he'll have the opportunity to do something about it.
Renegotiating or withdrawing from NAFTA is on Trump's agenda for his first 100 days.
Does he have the power to scrap it on his own? Turns out presidents do have that power and don't need Congress. NAFTA's Article 2205, which Trump cited in a speech over the summer, is only 34 words and simply says that a party may withdraw from the agreement six months after it provides written notice.
Related: Trump transition memo: Trade reform begins Day 1
What would happen next is unclear since the U.S. has not withdrawn from a trade agreement since 1866.
NAFTA, which went into force in 1994, changed relations between the U.S. and Mexico in two significant ways. It virtually eliminated tariffs between the two countries, and it made it easier for U.S. firms to invest in Mexico.
So what would happen if the deal is scrapped? Would tariffs automatically go back to pre-NAFTA levels? Would U.S. investment be blocked?
That's where things get fuzzy.
The tariffs levied on imports to the U.S. depend on the country of origin and the type of product, said Craig VanGrasstek, a trade historian and consultant. Countries generally fall into one of three categories: 1) Those with normal trade relations (sometimes called "most favored nation" status); 2) those with whom the U.S. has free trade agreements, like NAFTA; and 3) those denied normal trade relations status, which now only applies to North Korea and Cuba.
Related: NAFTA: What it is, and why Trump hates it
Experts are divided over how Mexico would be categorized.
Some say Mexico would automatically become subject to normal trade relations status and be subject to a bevy of tariffs.
Others, including Gary Hufbauer, senior fellow at the Peterson Institute for International Economics, a proponent of NAFTA, say it's not clear what would happen since the U.S. has not faced this situation before.
Regardless, it would almost certainly end up in court.
"U.S. importers would take the U.S. to court the next day," Gary Horlick, a trade lawyer, said.
What's also clear is the uncertainty would wreak havoc on American businesses, and the withdrawal would likely lead to higher prices for American consumers, as Trump himself acknowledged in a speech over the summer. And experts don't expect eliminating NAFTA bring back jobs.
Here's how it could unfold:
Scenario 1: A trade war.
What worries economists most is the prospect of a trade war.
Let's say Trump kills NAFTA and imposes a 35% tariff on at least some Mexican imports as he's threatened to do. The NAFTA implementation law, which would remain in effect until Congress repeals it, appears to give the president the power to levy tariffs on Mexico and Canada without Congressional approval, Horlick said.
This would hurt many American firms, such as GM, IBM and Coca-Cola, which manufacture parts and products in Mexico and ship them back to the U.S. Among the most popular imports are auto parts, flat-screen televisions, telephones and refrigerators.
"We've developed a vast network of supply chains and we'd be interfering with it," said Robert Lawrence, a professor of international trade and investment at Harvard's Kennedy School of Government. "It's suicide for both sides."
Also, American consumers would have to shell out more for these goods since the tariffs would add to their cost. The U.S. imported $259 billion in manufactured products from Mexico last year.
Related: Trump's tariffs will cost Americans thousands, report says
On top of all that, Mexico would likely respond with tariffs of its own, hurting sales of American products south of the border, which would likely curtail their purchases and hurt manufacturers here. Mexico, which is America's second largest market for exported goods, bought $214 billion in manufactured products from American companies last year. Among the top exports are machinery, vehicles and plastics.
Mexico generally imposes a tariff of 7.5% on goods from countries that it lacks a free trade agreement with, but it depends greatly on the product.
Scenario 2: Trump negotiates an amazing deal!
Trump has said he would only withdraw from NAFTA if he can't renegotiate the terms of the agreement to get a better deal for workers. "And I don't mean just a little bit better, I mean a lot better," he said.
But the details remain scarce. Trade experts said they don't know what Trump wants to do.
"It's not clear what that better deal would be," said Hufbauer.
Also, reopening a trade agreement is not an easy task. Both President Obama and Hillary Clinton talked of reopening NAFTA to improve labor standards during the 2008 campaign, but the effort didn't go far because it would have been hugely disruptive, Lawrence said.
Robert Scott, director of trade and manufacturing policy research at the left-leaning Economic Policy Institute, said he'd like to see NAFTA "fixed" to raise income for Mexican workers so "there is more demand for products made in the U.S."
Related: Is trade really killing middle class jobs?
Scenario 3: Not much impact, at least initially.
Though Mexico was more closed before NAFTA, it's not likely it would put up a wall to outside companies. The country benefits greatly from foreign investment.
Prior to NAFTA, direct investment from the U.S. in 1993 was $2.5 billion. That grew to $9.3 billion in 2014, according to the United Nations Conference on Trade and Development.
"I don't know why Mexico would push [U.S. companies] out the door," said Scott.
Related: Why it would be tough for Trump to bring jobs back from China
Also, let's say withdrawing from NAFTA simply meant that Mexico would now be subject to normal trade relations tariffs. That on its own may not significantly dent American manufacturers' current production there, but it may dissuade them from adding to their investments. On some of the most popular imports, such as cars and auto parts, the tariff is only 2.5%, according to VanGrasstek. And items such as computers, silicon chips and some medical products are generally duty free.
Regardless of how it exactly plays out, it's not likely that withdrawing from NAFTA will do much to help American workers. Higher tariffs would wipe out much of the advantage of U.S. companies manufacturing in Mexico. Some of those jobs could in theory go back to America, but higher labor costs would weigh on profits of U.S. companies. More likely, American companies would seek to produce in other countries with low wages.
"Ending NAFTA wouldn't bring back jobs to the U.S.," Scott said.
Editor's note: This story originally ran on July 6, 2016. We have since updated it.