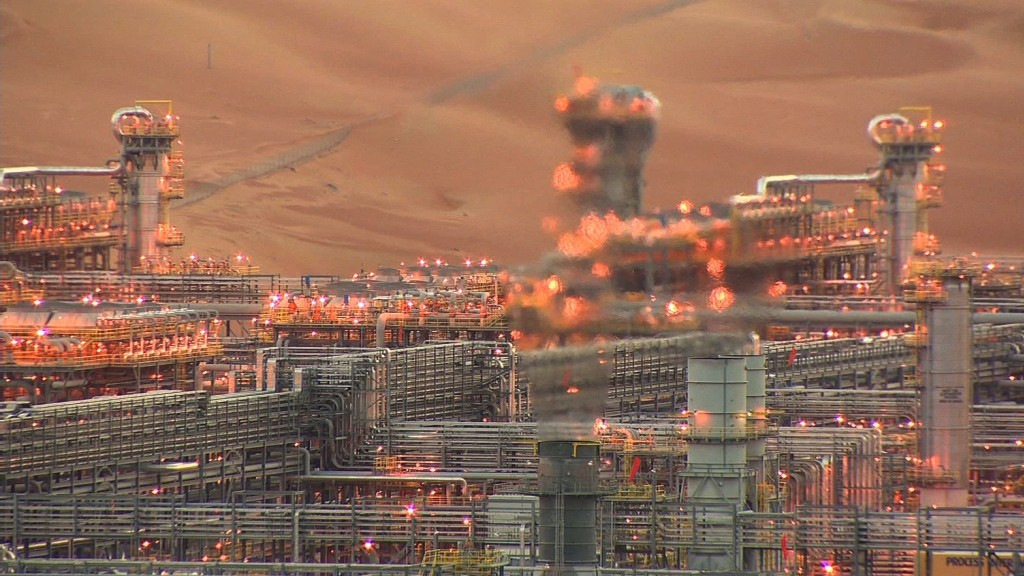 Saudi Arabia is cautioning President-elect Donald Trump against carrying out a threat to cut off American purchases of the kingdom's oil.
Trump made the threat earlier this year, saying that if elected he might halt imports of oil from Saudi Arabia and other Arab countries if they don't commit ground troops to fight ISIS, or at least reimburse the U.S. for efforts to battle the terror group.
"Without us, Saudi Arabia wouldn't exist for very long," Trump told The New York Times in March.
Trump later said in a major energy speech that he would bring about "complete American energy independence" from "our foes and the oil cartels."
Now that Trump has won the White House, that threat carries more weight.
Saudi energy minister Khalid al-Falih warned this week that banning oil from his kingdom could backfire.
"At his heart, President-elect Trump will see the benefits and I think the oil industry will also be advising him accordingly that blocking trade in any product is not healthy," Falih told the Financial Times.
The powerful Saudi minister added that "energy is the lifeblood of the global economy" and the U.S. "benefits more than anybody else from global free trade."
The Saudi embassy in Washington did not immediately respond to a request for further comment.
Related: Donald Trump is a double-edged sword for oil
Jason Bordoff, a professor at Columbia University and former Obama energy adviser, told CNNMoney it is "not practical" to ban the import of oil from any particular country to the U.S. in today's integrated, global oil market.
Further, Bordoff warned that banning imports from a specific country risks disrupting diplomatic and commercial relationships and would "violate the longstanding U.S. commitment to free and open energy markets."
Despite soaring production amidst the shale oil boom, America still relies on a ton of crude from OPEC to feed its massive economy.
The U.S. imported 3.4 million barrels of OPEC oil each day in August, according to the most recent statistics from the U.S. Energy Information Administration. Nearly one-third of that OPEC oil -- roughly 1.1 million barrels -- flows from Saudi Arabia, the leader of the cartel. That makes Saudi Arabia the second-biggest exporter of oil to the U.S., behind only Canada.
America's demand for OPEC oil has fallen though, thanks to the rise in domestic production in states like North Dakota, Texas and Colorado. The U.S. had imported 1.6 million barrels of Saudi oil as recently as April 2014, according to the EIA.
"We needed oil desperately years ago," Trump told the Times in the same March interview. "Today, because of new technologies...there's a tremendous glut on the market."
In the past, OPEC would help ease such a supply glut by pumping less. But OPEC has been reluctant to cut output out of fear of ceding more market share to the U.S. In fact, OPEC has actually ramped up production.
Falih, the Saudi energy minister, is waiting to see what Trump actually does on this front once he takes office. He said some of Trump's campaign rhetoric amounted to "50,000 feet announcements" that could change.
"It is common that once presidents start governing then a lot more substance comes out," Falih said, according to the FT.