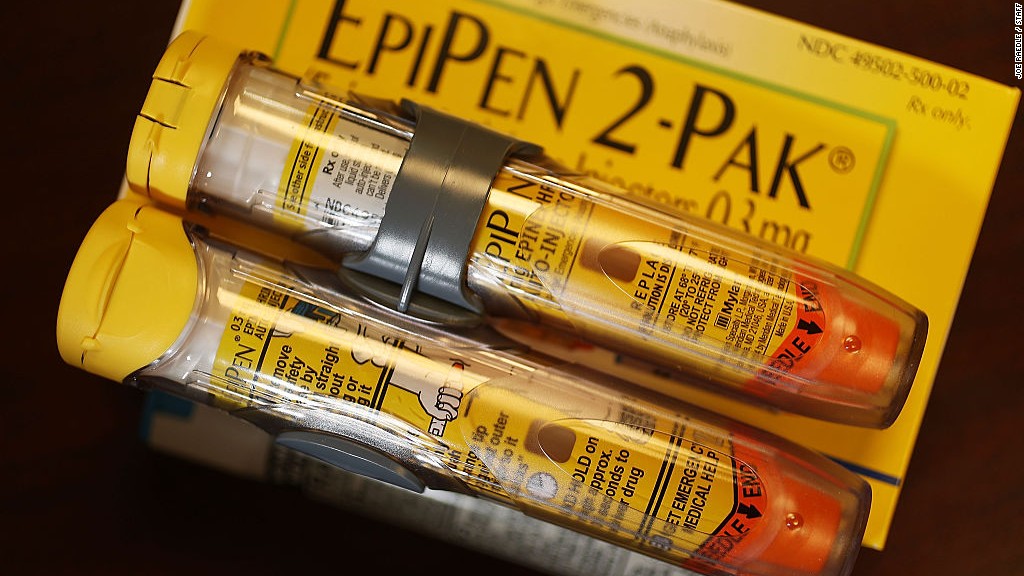 Two executives from the secret pharmacy at the heart of the Valeant scandal were arrested and charged with concocting a massive fraud scheme on Thursday.
Andrew Davenport and former Valeant executive Gary Tanner were accused by authorities of using secret shell companies, hidden email addresses and deceptive deals to get rich -- at the expense of investors at drug maker Valeant.
"They illegally converted Valeant shareholders' money into their own personal nest eggs," Preet Bharara, the U.S. Attorney for the Southern District of New York, said during a press conference.
Authorities say the multimillion dollar fraud and kickback scheme took place at the controversial mail order pharmacy firm Philidor Rx Services, where Davenport served as CEO. Philidor, which has since gone out of business, had helped patients get insurance coverage for higher-priced Valeant drugs instead of cheaper alternatives.
Valeant has become the focal point of anger from lawmakers and consumer groups over the dramatic drug price hikes at some pharmaceutical firms. Last year, federal prosecutors started investigating the way Valeant prices and distributes its drugs.
On Thursday morning, the FBI arrested Davenport in Pennsylvania. Tanner, 39, a former Valeant executive who later worked at Philidor, was apprehended in Arizona. Federal prosecutors charged Davenport and Tanner with four counts, including conspiracy to commit wire fraud and money laundering conspiracy. Each of those counts carry a maximum sentence of 20 years in prison.
Related: Drug and biotech soars on Trump victory
While working at Valeant, Tanner fraudulently hid a financial interest in Philidor from his superiors, authorities say. During that time, Tanner also steered lots of Valeant business to Philidor and blocked efforts to diversify the drug maker's pharmacy relationships, according to the criminal complaint.
Prosecutors say Davenport and Tanner further took advantage of the two companies' close relationship by helping to orchestrate Valeant's $300 million acquisition of Philidor in 2014.
That acquisition Davenport and entities he controlled pocket more than $40 million, authorities say. The criminal complaint alleges Davenport then allegedly kicked back nearly $10 million to Tanner.
Authorities say Tanner used his fortune to purchase a new home and pay off debt. Davenport allegedly used his share of the proceeds to purchase tens of millions of dollars in securities and to buy luxury goods, including a $50,000 wine cellar.
To communicate with Davenport, authorities said Tanner used a secret Philidor email account with an alias of "Brian Wilson."
In one email exchange, according to the complaint, Davenport said he could picture both of them "ride into the sunset," like the famous robbery film Butch Cassidy and the Sundance Kid.
"They will not be riding into the sunset to live a life of luxury," Bharara said. (Editor's note: The movie doesn't end with the robbers riding into the sunset either. The last scene is of the two of them being surrounded by armed forces, who open fire at them.)
Bharara repeatedly declined to say whether more individuals would be charged in relation to the Valeant-Philidor situation.
Related: JPMorgan hired kids of China's elite to win business
Philidor is at the center of controversy that has been swirling for the past year around pharmaceutical giant Valeant, a longtime favorite of hedge funds billionaires like Bill Ackman.
Valeant's (VRX) stock has crashed by 90% since the existence of Philidor was revealed in October 2015. Citron, a short-selling firm that bets against stocks, alleged at the time that Valeant could be the "pharmaceutical Enron" due to its secret relationship with Philidor.
Valeant pointed out in a statement that neither the company nor its executives have been charged.
"The counts issued today include allegations that the charged parties engaged in actions to defraud Valeant as a company. Valeant continues to cooperate with all relevant authorities in this matter," the statement said.