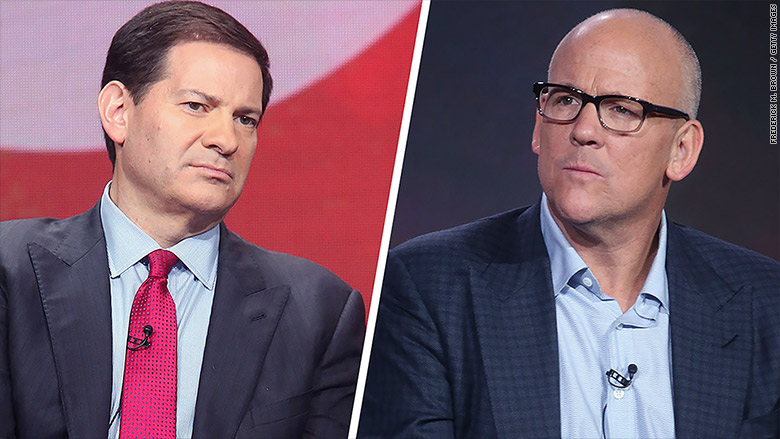 Bloomberg's "With All Due Respect," the political talk show co-hosted by Mark Halperin and John Heilemann, will cease day-to-day broadcasts next month and officially end after Donald Trump's inauguration, the company has announced.
The show, by turns irreverent and insider-y, was the flagship of Bloomberg's foray into the 2016 campaign, and came with a high price tag. Both Halperin and Heilemann, co-authors of the book "Game Change," had been signed in 2014 for more than $1 million per year.
Bloomberg did not say what Halperin and Heilemann would do next, only that the company was in talks with both men about "a role at Bloomberg as contributors and columnists."
Halperin is already a fixture on MSNBC's "Morning Joe."
Related: Bloomberg to expand Halperin-Heilemann show
In a memo to staff, Bloomberg News editor-in-chief John Micklethwait and CEO Justin Smith praised the co-hosts for "sophisticated, substantive, non-partisan reporting and analysis."
Halperin's reputation among his fellow reporters was more mixed. He was often criticized by journalists on Twitter for being too soft on Donald Trump during the presidential campaign. To others, this was a sign of Halperin's fairness, even as the rest of the media took an increasingly critical posture toward the Republican nominee.
Related: MSNBC to replay Bloomberg TV's 'With All Due Respect' show
While Bloomberg is not rated by Nielsen, the rebroadcast of "With All Due Respect" on MSNBC, which launched in January 2016, was a boon to that network, often making 6 p.m. the channel's most-watched or second-most watched hour in daytime.
MSNBC has yet to announce what show will replace the "With All Due Respect" rebroadcast.
Micklethwait and Smith said Bloomberg hopes to launch a new show in February "focused on global politics and the impact of the new administration's policies on business and finance worldwide."
After the final show on December 2, Bloomberg will produce four hourlong specials about Trump's presidency.