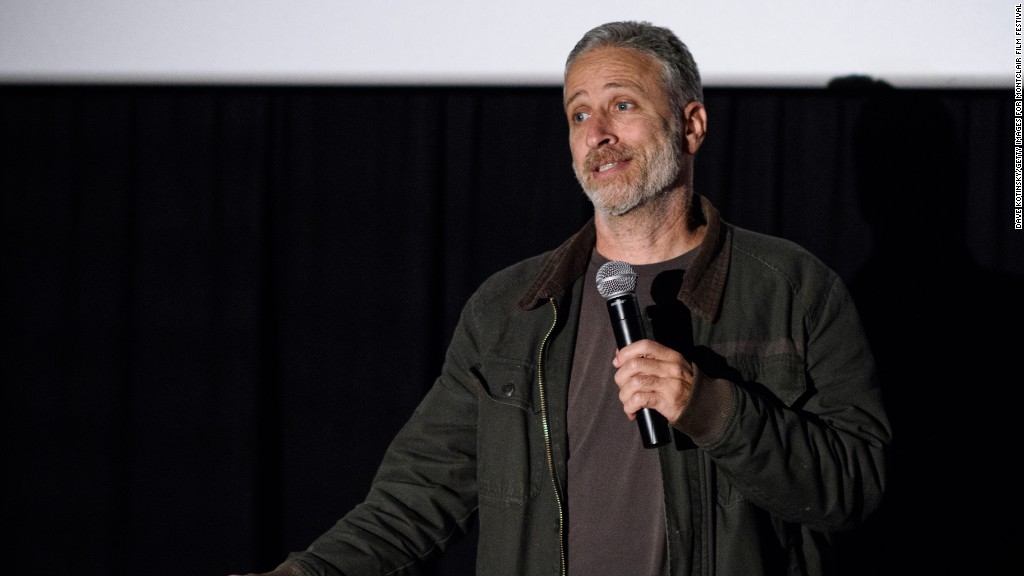 Jon Stewart has resurfaced following one of the most stunning elections in American history. His message: America isn't a different place than it was before it elected Donald Trump.
"I don't believe we are a fundamentally different country today than we were two weeks ago," Stewart told Charlie Rose on CBS This Morning Thursday. "The same country with all its grace and flaws, and volatility, and insecurity, and strength, and resilience exists today as existed two weeks ago. The same country that elected Donald Trump elected Barack Obama."
The former host of "The Daily Show" added that he feels "badly for the people for whom this election will mean more uncertainly and insecurity," but that he also feels like "this fight has never been easy."
Related: Megyn Kelly: Trump attacks made press 'fair game'
Stewart also said that President-elect Trump, one of his favorite targets while on "The Daily Show," is a reaction to both Democrats and Republicans. He added that Trump is not a Republican but rather a "repudiation of Republicans."
"One of things that struck me as odd about this election, and maybe I just missed it, was nobody asked Donald Trump what makes America great," Stewart said.
"His candidacy has animated that thought that a multi-ethnic democracy, a multi-cultural democracy is impossible. And that is what America by its founding, and constitutionally, is."
Related: John Oliver on President-elect Trump: 'How the [expletive] did we get here?'
Stewart has been out of the limelight since stepping down as host of Comedy Central's satirical news show last year, but he has continued to be a vocal critic of the President-elect. Those who worked with Stewart like John Oliver, Samantha Bee, and Stephen Colbert have also taken up Stewart's mantle, railing against Trump throughout the election.
Speaking with CBS This Morning Thursday, Stewart stayed optimistic about the country and made the point that the election of Trump could be used as an opportunity for Americans to have hard conversations about who we are openly, rather "than in dog whistles."
"America is not natural. Natural is tribal. We're fighting against thousands of years of human behavior and history," Stewart said. "That's what's exceptional about America... this ain't easy. It's an incredible thing."