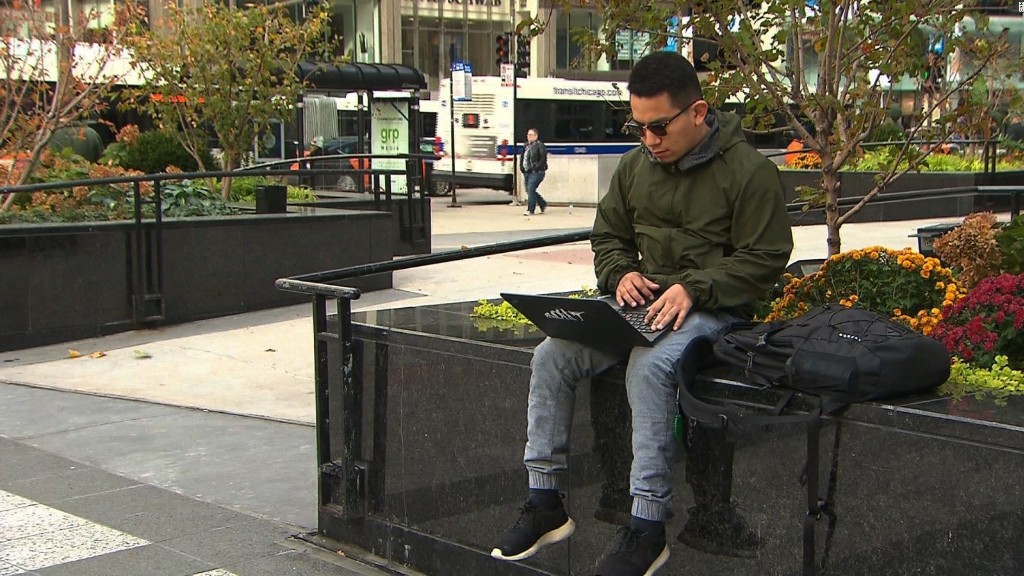 As an undocumented immigrant, Marco Saavedra's future in America is even more uncertain now that Donald Trump has been elected President. But that isn't going to stop the young activist from fighting for his right to remain in the country.
Saavedra, who was brought to the U.S. from Mexico when he was three years old by his parents, is one of hundreds of thousands of "DREAMers" who now fear they won't be able to remain in the U.S. should Trump act on some of his anti-immigration campaign promises.
President-elect Trump has vowed to deport 2 to 3 million "criminal aliens" and to repeal an executive order that provides temporary protection from deportation to hundreds of thousands of undocumented immigrants who were brought to the U.S. as children.
Put in place by President Obama six years ago, Deferred Action for Childhood Arrivals (DACA) has helped hundreds of thousands of young people -- the DREAMers -- come out from the shadows and get a valid driver's license, enroll in college and legally secure jobs. Now those who have registered with the government through the DACA program fear they may be deported.
Related: DREAMers fear nightmare scenario in Trump's America
"A lot of undocumented youth throughout the country are saying that they have, obviously, very real concerns," said Saavedra, who is now 26. "Fear can be so powerful of an emotion that it can be almost paralyzing."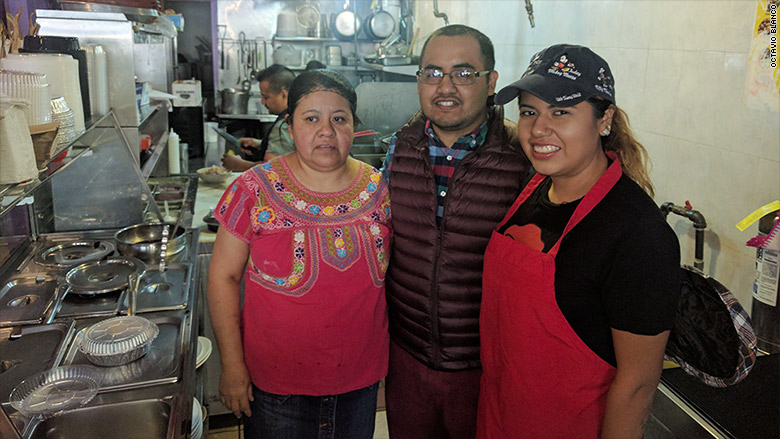 But instead of standing still, Saavedra hopes Trump's election will unite undocumented immigrants and spur them to stand up for their rights. In order for their voices to be heard, he believes immigrants rights supporters should start by reaching out to their government representatives and, in certain cases, engaging in non-violent protests.
"They're part of the community, they've mastered the language and have jobs," Saavedra said. "We obviously have to be realistic about Trump being our president, but we also have to motivate people with a message of hope, that we've invested in this community."
Saavedra, for example, has lived in the U.S. for 23 years -- the vast majority of his life.
Related: Civil rights groups' biggest fears about a President Trump
His parents immigrated to the U.S. from Mexico in 1992 after a drought decimated the crops on their farm in Oaxaca state and they were left struggling to survive. After holding down a series of jobs in different parts of the U.S. -- picking crops, working as gas station attendants and holding jobs in several factories -- they eventually settled in the South Bronx in New York City and opened a Mexican restaurant called La Morada.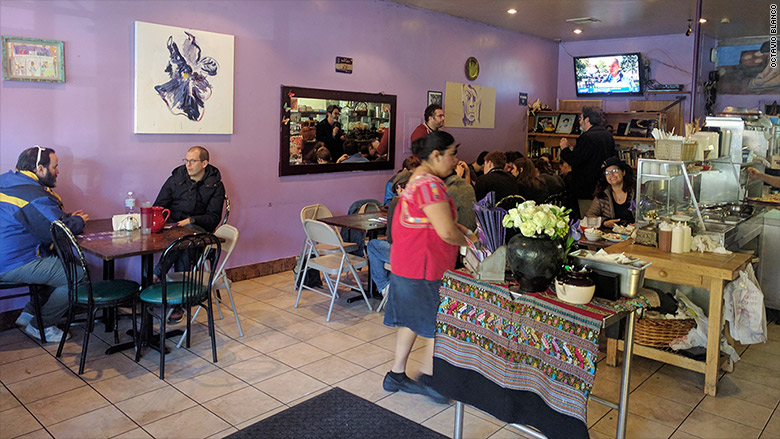 Saavedra excelled in school, securing full scholarships to the exclusive Deerfield Academy boarding school in Massachusetts and Kenyon College. He also spent one of his undergrad semesters at Georgetown University.
That's where he got involved with the DREAMers movement, which in 2010 successfully lobbied the U.S. House of Representatives to pass the DREAM Act, a bill that provided a path for children who were brought into the U.S. as undocumented immigrants to gain permanent residency. But the Senate blocked the bill -- as it has several times.
It was in 2012 that President Obama issued DACA, the first of two executive orders geared toward immigration reform.
Related: Undocumented entrepreneur faces uncertain fate
Even though President-elect Trump has sworn to repeal that order once he's in office, Saavedra believes that it will be hard for immigration authorities to deport so many young people.
"[DREAMers] have acquired so much social capital and they have many more networks of support than people who just came to the country. Youths like ourselves have the least to fear. But there's no guarantee," Saavedra said.
Saavedra said he and his family plan to stay and run the family business (Saavedra currently manages the restaurant, which employs seven people). But he acknowledges that, as undocumented immigrants, things won't come easy.
"We're already hearing stories of hate crimes and bullying," he said. "Part of us can't believe that people feel so entitled. Trump hasn't even assumed office."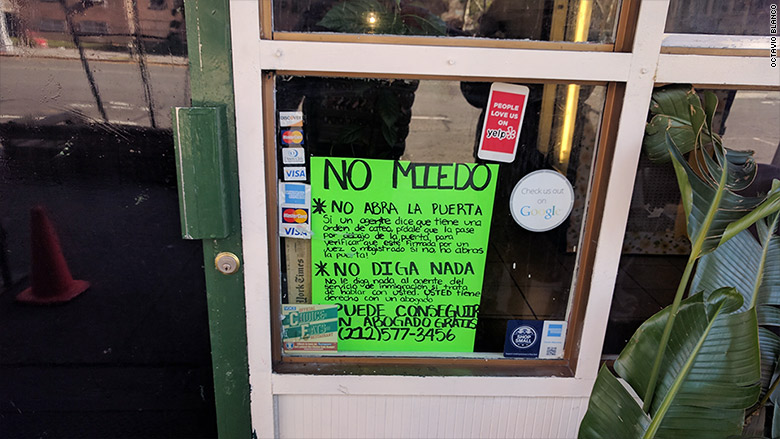 Plus, Saavedra has his own personal immigration battle to fight.
In 2013, as an act of protest, he and two other activists self-deported to Mexico where they joined six other DREAMers who had been deported from the U.S. After three days in Mexico, the group -- who became known as the DREAM 9 -- then crossed back into the U.S. and demanded asylum.
The nine were held in detention for over two weeks in Eloy, Arizona, until they were released to their families in the U.S. Thirty-five Congressmen signed a letter asking President Obama to release them. Plus, federal officials said all nine have a "credible fear" of persecution and torture in their birth countries and as such, can't be removed from the U.S. without a federal hearing.
Saavedra's asylum case is still pending. The judge's ruling is expected on July 20, 2017, he said.
"I have three days where I was in Mexico, so it's like an unexcused absence," he said. And since he left the U.S., he cannot qualify for protection from deportation through DACA.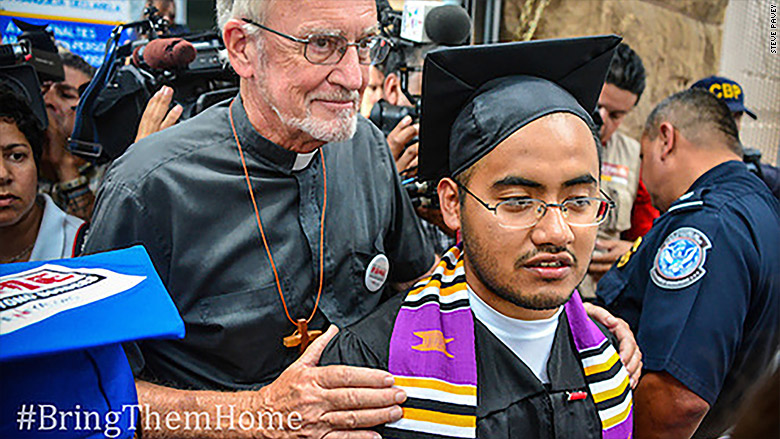 "We're in touch with immigration lawyers and advocacy groups that give us a large safety net, even though it's not a guarantee, I think we're as best prepared as we can be," he said.
As he awaits his day in court, he hopes Trump's election will reawaken the immigrant rights movement.
Related: America's undocumented immigrant workforce has stopped growing
"Obama deported a record amount of undocumented immigrants, but he has done this very subtly," Saavedra said, noting that deportations under Obama's presidency hit an all-time high. As of 2014, the most up-to-date figures from The Department of Homeland Security, President Obama had deported more than 2.4 million undocumented immigrants. Activists estimate that over the course of all eight years, the number of deportations under Obama has easily reached 3 million."Now that it's the big boogeyman [Trump], what if we finally react as a movement?"