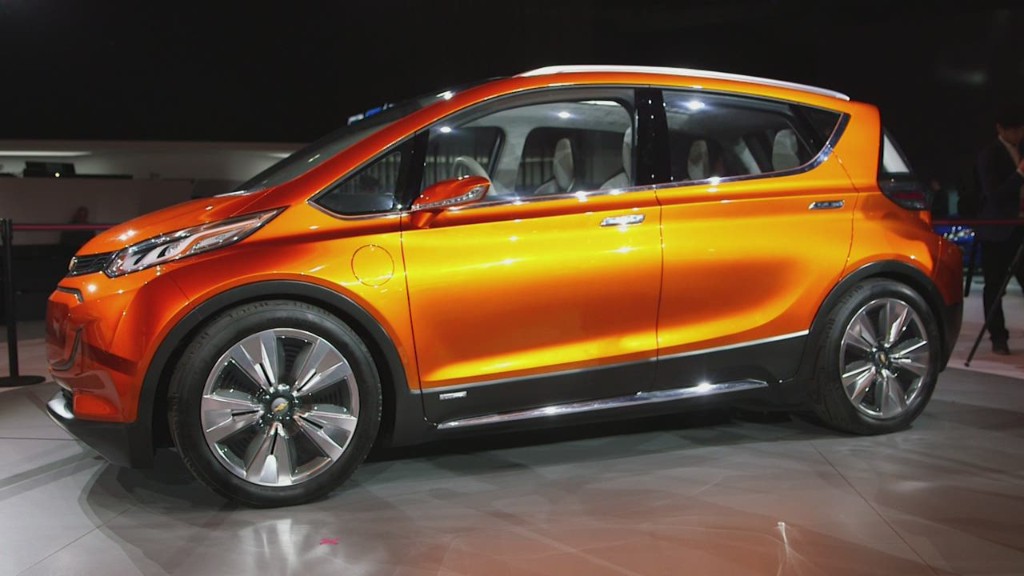 The Chevrolet Bolt grabbed 2017 Green Car of the Year honors Thursday for it's promise of bringing long-range electric driving to the masses.
At an estimated price of $30,000 after tax breaks, the plug-in Bolt will be less than half the price of the only other cars that can go more than 200 miles on a single charge -- the Tesla Model S and Model X. The Bolt can go 238 miles on a charge.
The Tesla Model 3, which also promises electric driving for the masses, won't be available until the end of next year, at the earliest, while the first Bolts are due in showrooms by next month.
It marks the second big award for the Bolt this week, as it won the Motor Trend Car of the Year award on Tuesday.
"Chevrolet's all-new 2017 Bolt is a breakthrough vehicle in every sense," said Ron Cogan, editor and publisher of Green Car Journal, which gives out the environmental award. "From the time modern electric vehicles emerged in the 1990s, limited driving range has presented a core challenge to...electric cars affordable to everyday drivers."
Affordability is one of the factors considered by the award's judges because a car must be widely affordable to have the greatest possible environmental impact. Price has been an obstacle to Tesla's contention for the award.
Related: Chevy Bolt is Motor Trend Car of the Year
Other finalists for the 2017 award are plug-in electric cars that also have a gasoline-powered motor that can extend their range: the BMW 330e iPerformance, Chrysler Pacifica, Kia Optima and Toyota Prius Prime. The Pacifica is the first electric minivan. The Toyota Prius Prime is a plug-in version of the first hybrid car.
Bolt's award marks back-to-back wins for GM (GM) for the first time in the 12-year history of the award. The Chevy Volt, which is both a plug-in electric and gasoline powered car, became the first two-time winner of the award last year.
Related: Electric Chevy Bolt to cost $30,000, after tax breaks
The award has become more coveted as car buyers become more interested in a electric and other environmentally friendly vehicles. But the award also suffered a bit of a ding to its reputation when Audi and Volkswagen were stripped of Green Car awards they won in 2009 and 2008 for their "clean diesel" engines after it was discovered the cars had software designed to cheat on emission tests. Both VW and Audi are owned by Volkswagen AG (VLKAY).