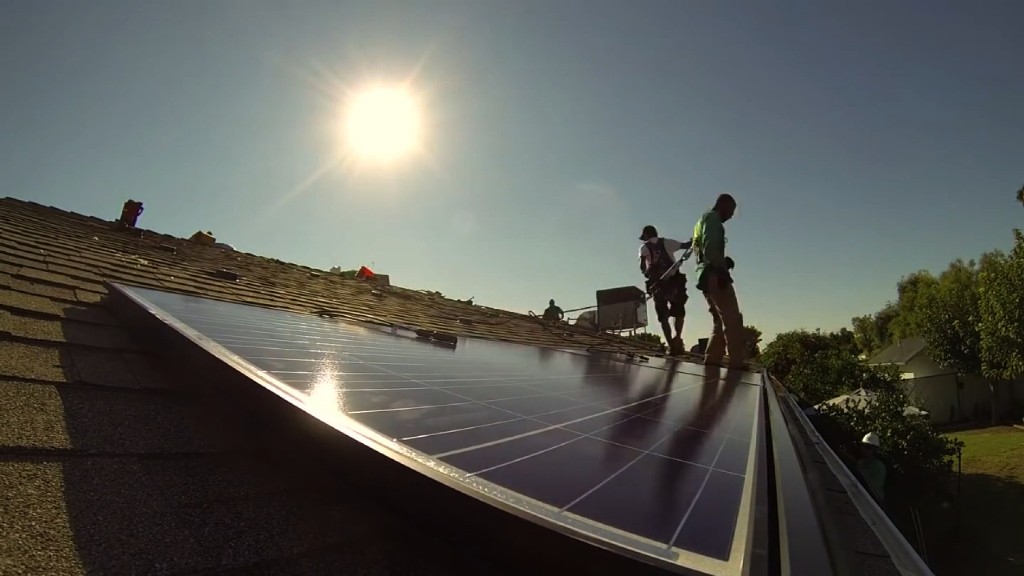 Elon Musk just got his wish for creating a clean energy empire.
Shareholders voted Thursday to approve Tesla's plan to buy SolarCity, paving the way for Musk to bring his two sustainable energy businesses together under the same solar-paneled roof.
"I think your faith will be rewarded," Musk said during a shareholder Q&A after the vote. "It's really going to be some amazingstuff that comes out."
Tesla (TSLA) announced in June it had reached a deal to buy SolarCity (SCTY) for $2.6 billion, pending shareholder approval. Tesla framed the takeover as creating "the world's only vertically integrated energy company" that could power both your home and your car.
Last month, Musk showed off the merger's potential. He unveiled beautiful solar roof tiles that look like typical shingles, along with an updated version of Tesla's home battery. Together, these products promise to let modern homes access and store alternative energy.
However, the deal raised a red flag in part because of corporate governance concerns. Musk is the chairman and largest shareholder of both companies. SolarCity is also founded and run by two of Musk's cousins.
"That they are separate at all, despite similar origins and pursuit of the same overarching goal of sustainable energy, is largely an accident of history," Musk wrote in one blog post defending the need to merge the two.
To ease investor concerns, Musk recused himself from each company's board vote on the acquisition proposal.
Related: Tesla is killing off the ugly solar panel. But there's one problem.
Some critics also argued Musk was using one of his businesses to steady the other.
SolarCity's stock fell 60% this year as it struggled to boost demand for commercial solar panel installations and continued to burn through cash. Its cash pile fell to just $146 million in June, down from $421 million a year earlier.
To make matters worse, Tesla is also known for bleeding money. It is currently investing billions to build a battery factory and produce the Model 3, its first mainstream electric car.
Perhaps with the SolarCity acquisition in mind, Musk urged Tesla employees to slash costs and "deliver every car we possibly can" in a desperate push for profitability.
Last month, Tesla posted its first profitable quarter in more than three years and said it may do the same next quarter.
In a blog post published earlier this month, Tesla pushed back against the "naysayers." It claimed SolarCity will boost Tesla's sales by $1 billion next year and add more than $500 million in cash to Tesla's balance sheet over the next three years.
Musk also runs SpaceX, a space transport service. But he said this year there is no reason to merge that with Tesla.