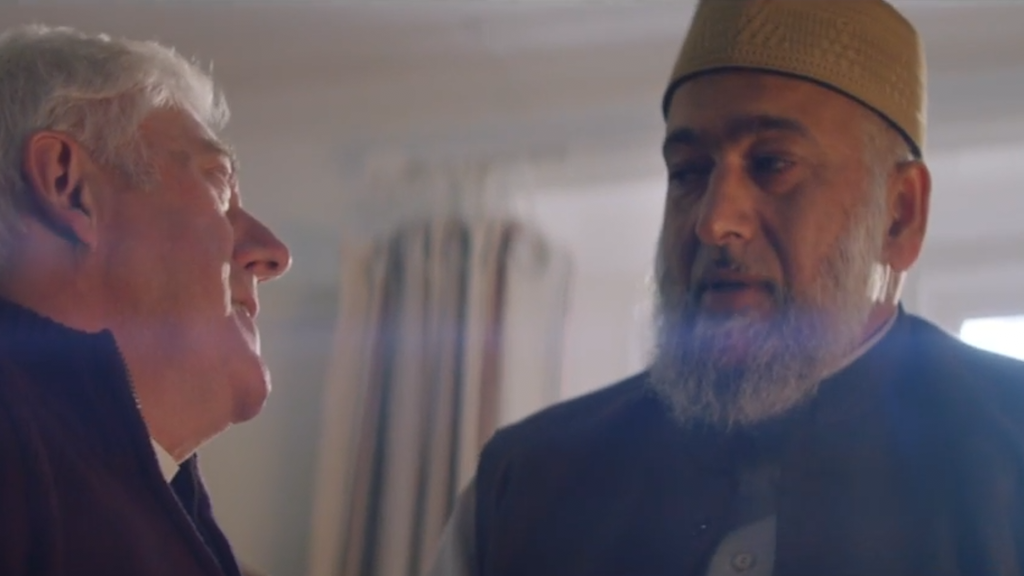 A priest and an imam are sitting down for tea.
It's not the beginning of a joke. It's Amazon's newest ad, and it serves up a healthy dose of anti-Trump messaging.
In the ad, the priest and the imam are friends -- and they're not getting any younger. They share a hug, the imam leaves, and both take out their smartphones and tap on the Amazon app. Two days later, they receive the same package from each other: knee braces. The priest genuflects without pain. The imam kneels for prayer, and he feels just fine.
If the commercial had come out last year, it would have been the usual heart-warming stuff, quickly forgotten.
But the ad has already erupted on social media, even tweeted by Amazon's Twitter-shy CEO, Jeff Bezos.
Amazon's ad offers a not-so-subtle counterargument to some of the angry anti-Muslim rhetoric espoused by President-elect Donald Trump and his supporters.
As talk bubbles of Muslim registries and even a potential ban on Muslim immigrants, Amazon's message offers a different approach: We are people first. We embrace the things that make us different, but we're all very much the same. Muslims have arthritis, too.
In a statement, Amazon spokeswoman Julie Law said the ad was not connected to any political movement.
"This advertisement was produced and booked to appear on TV before the election result was known, so this certainly isn't a reaction to that," she said.
Trump has been one of Amazon's most vocal critics.
Last December, he went on a Twitter tirade against Bezos. Trump argued that Bezos had bought The Washington Post in 2013 to persuade Washington politicians to keep Amazon's taxes low and help the company avoid antitrust scrutiny. And Trump said that because he will be tough on Amazon as president, Bezos used the Post to publish nasty articles about Trump in an attempt to keep him out of the White House.
"This is owned as a toy by Jeff Bezos who controls Amazon," Trump told Fox News' Sean Hannity in May. "Amazon is getting away with murder tax-wise. He's using The Washington Post for power so that the politicians in Washington don't tax Amazon like they should be taxed."
Shares of Amazon (AMZN) have fallen nearly 5% since Election Day, wiping out about $20 billion in market value.