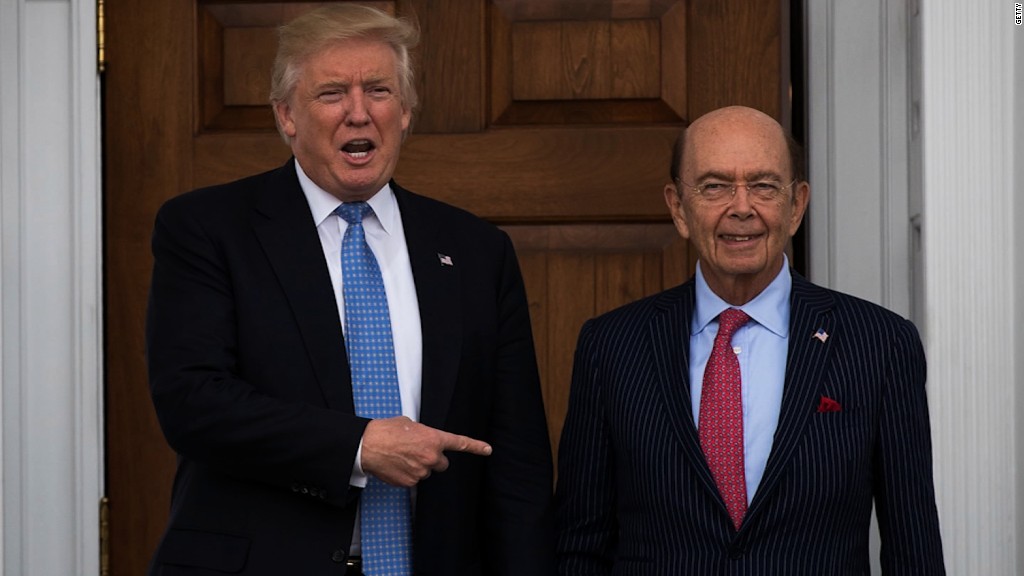 Billionaire investor Wilbur Ross is a leading contender to be President-elect Donald Trump's commerce secretary, an official familiar with the transition process told CNN.
Ross, 78, a renowned distressed debt investor, met with Trump Sunday at the New York billionaire's Bedminster, New Jersey golf course. Trump, asked before the meeting if he was considering Ross for the position, told reporters: "That's what we're looking for."
The commerce secretary, a cabinet-level position that requires Senate confirmation, typically serves as the government's chief business advocate. The commerce secretary is a liaison between companies and the White House.
The official cautioned that no final decision had been made, but made clear that Ross is, at this point, is being considered very seriously.
Related: Unprecedented potential conflicts for President-elect Trump
Asked by CNN if he wanted a role in a Trump administration as he was leaving Sunday, Ross would only say he and Trump had "a great conversation."
For Trump, Ross fits the mold of the type of administration officials he pledged to appoint during the campaign: businessmen with long resumes and billions in their bank accounts, sitting at the ready to negotiate for U.S. Interests around the world.
Ross, 78, had been a vocal Trump supporter before the election, citing the need for a "more radical, new approach to government" that would help middle class and lower middle class Americans.
Ross, chairman of WL Ross & Co., has made a career of resurrecting dying companies. Fittingly, some of Ross's biggest hits have been in the same demoralized industries that Trump wants to revive: steel and coal.
For instance, Ross's firm scored huge returns last decade by cobbling together bankrupt steel makers including Bethlehem Steel to form International Steel Group. Ross then flipped the conglomerate in a $4.5 billion sale two years later.
Ross, a New Jersey native, has amassed a fortune that Forbes estimates is worth nearly $3 billion. He's used some of that money to build up an impressive art collection worth a reported $150 million.
Like Trump, who famously called himself the "king of debt," Ross is not afraid to borrow money. Ross frequently used debt to finance his acquisitions, a trend known as leveraged buyouts.
Carl Icahn, another billionaire backer of Trump, said on Twitter before the announcement that Ross is one of the "smartest people I know" and would be a "great" choice to lead the Commerce Department.
Should Ross be chosen, he would take over for Penny Pritzker, who has held the role for President Obama since 2013. And his policies would likely represent a 180-degree departure from Pritzker's commerce department.
Pritzker strongly supported free trade, traveling to 38 countries over her tenure. She advocated clean energy partnerships and the Trans Pacific Partnership deal, both of which Donald Trump campaigned hard against.
Ross, meanwhile, has been a vocal critic of free trade deals.
"Free trade is like free lunch: There is no free lunch," Ross told Lou Dobbs of Fox Business in August. "Somebody wins and somebody loses. And unfortunately, we've been losing with these stupid agreements that we've made."
Whoever is chosen as commerce secretary will likely continue many of the policies that Pritzker and the Obama administration held dear. Pritzker supported public-private partnerships to build up the American manufacturing industries. Many businesses -- notably Ford -- have recently opted to keep some of their plants open in the United States as a result of those initiatives.
The new secretary would also oversee the 2020 national census. The next census will be critical for understanding the scope of poverty and underserved communities across the country. The census will also serve as the basis for adjusting the number of of electoral districts in each state, as well as the number of votes each state receives in the electoral college.
-- CNNMoney's Jill Disis and David Goldman contributed to this story.