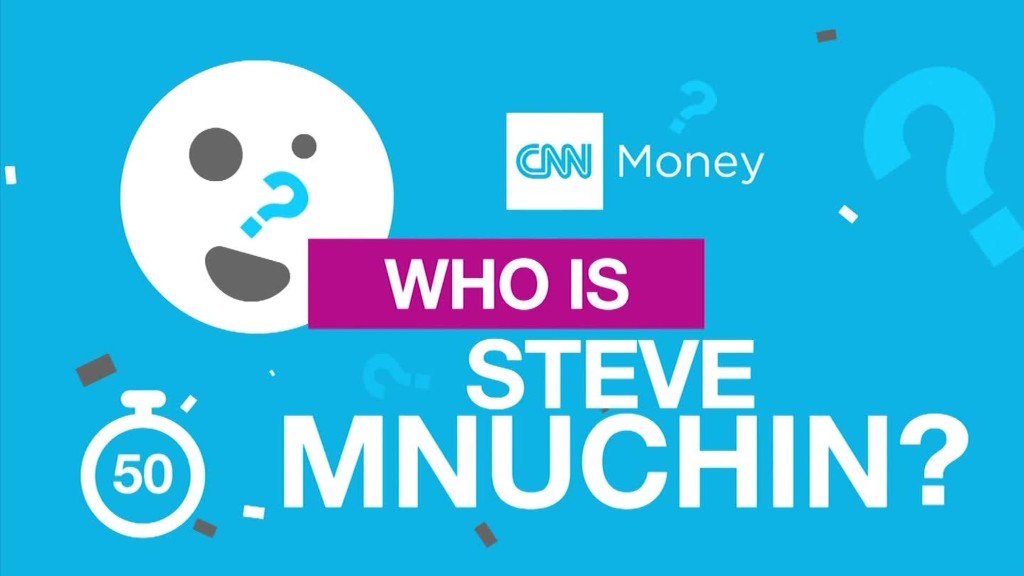 President-elect Donald Trump has narrowed the field of candidates for Treasury secretary to Steven Mnuchin and Jonathan Gray, multiple sources tell CNN.
Mnuchin, 53, is a former Wall Street exec turned Hollywood producer. And Gray, 46, is a billionaire in charge of real estate for the Blackstone private equity firm.
Both Mnuchin and Gray would be seen as political moderates. Gray is a registered Democrat and Mnuchin has contributed to both parties. Last week, Trump's first picks for senior positions were seen as very conservative.
The Treasury secretary, a cabinet-level job that requires Senate confirmation, is generally the face of the American economy around the world. The Treasury Department has expansive responsibility over business and oversees banking regulation, financial markets and the IRS. It has about 100,000 employees, an estimated 91,000 of them at the IRS.
Related: The Indian businessmen who met with Trump
Besides co-signing the currency, the Treasury secretary is Uncle Sam's banker, paying the bills, collecting taxes, managing the federal government debt and selling billions of dollars a year in Treasury bonds.
Mnuchin, who worked at Goldman Sachs for 17 years, joined the Trump campaign as finance chairman in May.
These days Mnuchin is a Hollywood producer, putting out films including this past summer's "Suicide Squad," as well as "American Sniper" and "The Lego Movie." His latest film, due in theaters this month, is called "Rules Don't Apply."
Mnuchin has contributed to both Republican and Democratic candidates, including Hillary Clinton's Senate campaigns and 2008 presidential run. He gave to Barack Obama's Senate and presidential campaigns and to Charles Schumer, the new Democratic leader in the Senate.
Mnuchin also worked with George Soros, the billionaire financier who has bankrolled liberal candidates and causes -- and who was depicted as a villain in Trump's last campaign ad.
In 2009, during the real estate collapse, Mnuchin led a group that bought failed subprime lender IndyMac for pennies on the dollar.
Related: Wilbur Ross is a leading pick for Commerce secretary
For his part, Gray has worked his entire career at Blackstone, which manages more than $300 billion in assets and owns part of the Hilton hotel chain. He is on the board of directors and is considered heir apparent to Blackstone CEO Stephen Schwarzman.
Gray built Blackstone's real estate business from next to nothing into a behemoth -- $102 billion in assets, with investments from China to Latin America. He is worth $1.66 billion, according to Forbes.
Gray has donated more than $500,000 to politicians in the last 16 years, according to federal records kept by the Center for Responsive Politics.
He almost exclusively supports Democrats all over the country. He twice gave Hillary Clinton the maximum donation of $2,700, once during the primary and again during the presidential election.
The last time he donated to a Republican was in 2005, when he donated to Montana's then U.S. senator, Conrad Burns.
--CNN's Jim Acosta, Tal Kopan, Phil Mattingly, Sara Murray and Jose Pagliery contributed to this report.