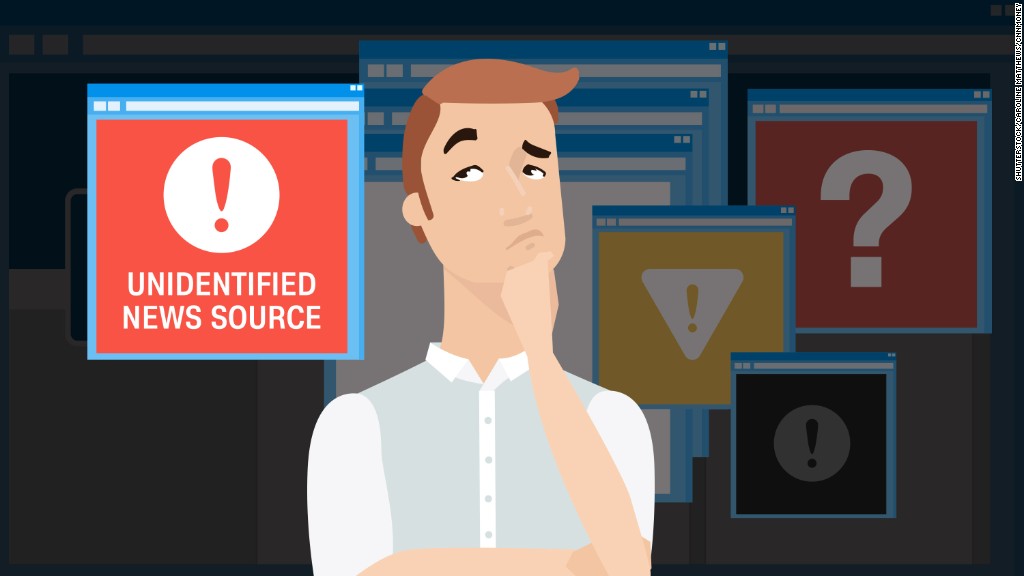 This is not a fake news story. Facebook's stock is actually red hot lately.
Shares of the social network have rebounded sharply in the past few days after a post-Election Day pummeling.
Concerns about how Donald Trump would treat tech companies and allegations that fake stories on Facebook (FB) helped Trump beat Hillary Clinton weighed on the stock. Shares fell nearly 10% between November 8 and November 14.
But since then, Facebook's stock has bounced back by about 7%.
So what happened?
Many big tech stocks initially tanked after Trump was elected to be the next president due to fears he would be an enemy of Silicon Valley. Trump feuded with leaders in the tech sector, most notably Amazon (AMZN) CEO Jeff Bezos, on Twitter throughout the campaign.
Some tech executives even suggested after Trump won that California should secede from the United States. (Good luck with that.)
Making matters worse for Facebook, were the problems it faced with its news feed algorithm.
A few Clinton supporters accused Facebook of helping Trump win the election because of a preponderance of false news reports popping up on the site -- many of which were extremely negative about Clinton.
For example, First Lady Michelle Obama did NOT delete tweets about Clinton. But stories suggesting she had somehow made it to Facebook.
Facebook CEO Mark Zuckerberg initially refused to even consider that Facebook could have influenced voters. But in a surprising turn, the company announced just a few days ago that it was making tweaks in order to fight the scourge of fake news.
Related: Zuckerberg says Facebook will develop tools to fight fake news
That change of heart probably helped Facebook's stock a bit. Advertisers can't like the fact that Facebook's feed might be able to be gamed. Facebook has to seriously address fake news.
Another factor behind the stock's fall and subsequent comeback? The company admitted that there have been errors with some of its internal metrics.
That could be a significant problem if it leads marketers to try and negotiate lower ad rates or, worse, ditch the platform altogether. But that seems unlikely.
With Facebook's monthly user base approaching 2 billion, advertisers may have to put up with the company's auditing issues. There simply aren't many other platforms that offer marketers this much scope and reach.
What's more, it seems Facebook is doing the right thing for its customers and is admitting candidly that there are issues that it still needs to work on. Investors probably like that as well.
There a couple of other factors that can explain Facebook's comeback.
The company's Instagram subsidiary is continuing to roll out new features that could make it more competitive with Snapchat. (Although a cynic would argue that Instagram is simply copying Snapchat.)
Facebook also just announced a $6 billion stock buyback program.
Now on the one hand, that might be a sign that Facebook is maturing and has nothing better to do with its cash. Other "older" tech companies like Apple (AAPL), Microsoft (MSFT) and even Google parent Alphabet (GOOGL)have bought back stock recently.
But Wall Street tends to cheer buybacks for two reasons. First, it's a sign that a company feels its own stock is worth investing in. And second, buying back stock reduces the number of shares outstanding -- which, in turn, boosts earnings per share.
Finally, tech stocks in general have rebounded in the past week. The Nasdaq is now at an all-time high. Trump is probably not going to wage war with Silicon Valley after all and the Golden State is not going to become the Golden Nation State.
Facebook investors probably don't have that much to worry about. Shares are still up more than 15% this year. The company is now worth $350 billion. And sales continue to grow at an impressive clip thanks to its core platform, Instagram and WhatsApp.
So Facebook should be fine for the next four years.
If nothing else, its nearly 2 billion users are going to have a lot to talk about and share thanks to Trump being in the White House. And hey. Maybe most of that content won't turn out to be fictitious either.