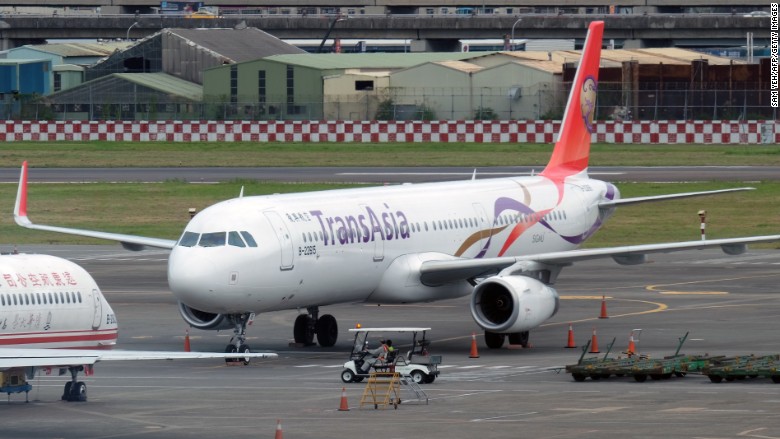 Troubled Taiwanese airline TransAsia says financial woes have forced it to shut down following two deadly crashes in the space of two years.
TransAsia Chairman Vincent Lin announced on Tuesday that the company will be dissolved, leaving thousands of customers in the lurch.
The airline said it is setting up an emergency task force to refund passengers.
TransAsia made headlines around the world early last year when one of its planes was caught on camera clipping a bridge and plunging into a river in Taipei. The crash killed 43 people and prompted aviation authorities to come down hard on the company.
An investigation found that the captain of the aircraft mistakenly switched off the plane's working engine after the other lost power shortly after takeoff.
Related: Captain of TransAsia Flight shut off working engine
"It was a very serious black eye for the airline," said Geoffrey Thomas editor-in-chief at Airlineratings.com. "It really cast a pall over their technical expertise."
The airline was already struggling financially and its losses have deepened since the crash. It lost $36 million in 2015 and $69 million in the first nine months of this year.
After the Taipei crash, regulators investigated the company's safety practices and even grounded TransAsia pilots after they failed to pass key tests.
TransAsia was also the subject of an investigation following a fatal crash in July 2014. Flight GE222 crashed while attempting to land in Penghu Islands, killing 48 people.
Related: Chicago O'Hare airport workers to strike November 29
TransAsia shares slumped 7% in Taiwan on Monday as reports emerged of the plans to suspend operations. The stock was halted from trading on Tuesday.
Shortly after TransAsia announced late Monday that it was canceling flights for the following day, government officials launched an investigation into insider trading of the company's shares, according to Taiwan's Central News Agency.
Company employees were found to be selling TranAsia shares Monday, acting on rumors that the airline would soon suspend operations, Taiwan Stock Exchange chairman Shih Jun-Ji told CNA.
The airline didn't say how many jobs would be lost as a result of its closure.
-- Serena Dong contributed to this report.