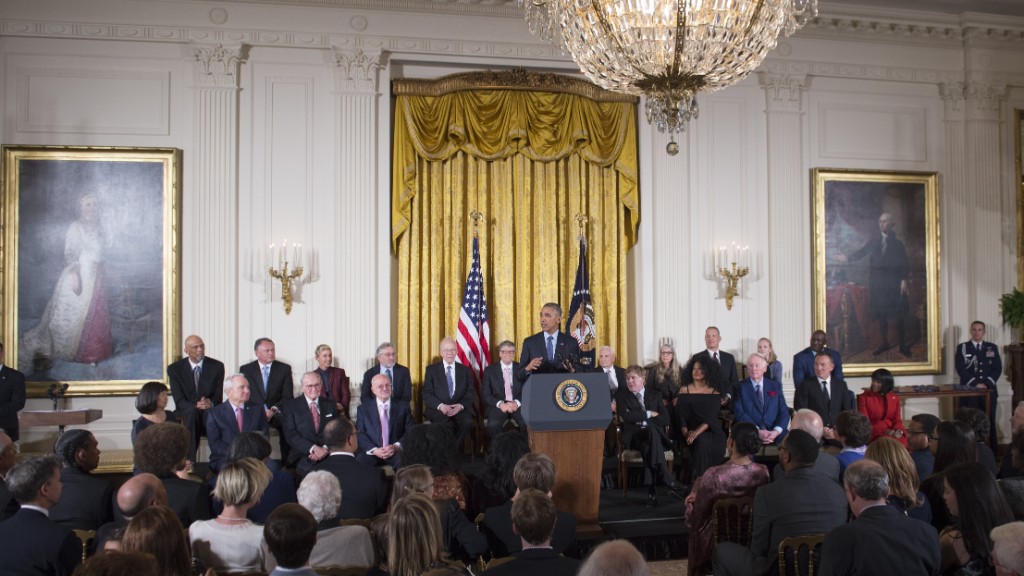 President Obama handed out Presidential Medals of Freedom on Tuesday, to a glittering class of recipients that included actors and athletes, rock stars and business pioneers.
While the mood was celebratory and festive, it was hard not to think that such events are likely to take a significant turn as the nation prepares to shift into a new phase of the culture wars amid a Donald Trump presidency -- from the warm feelings on display toward a big chill.
Hollywood and the arts are well known for their liberal leanings, and entertainment heavyweights came out in force for Hillary Clinton's candidacy. Bruce Springsteen, one of Tuesday's honorees, was among the many who performed to support her. Robert De Niro, another recipient, labeled Trump "an embarrassment to this country" before the election.
Trump has traveled in celebrity circles, including his interactions with a wide assortment of the famous -- or in some cases, notorious -- hosting "Celebrity Apprentice." But the tone and content of his campaign was especially hostile toward -- and elicited commensurate condemnation from -- so-called media elites, many of which were angered and alarmed by perceived appeals to racism and xenophobia.
Moreover, Trump added fuel to that fire over the weekend via Twitter, demanding an apology from the cast of the musical "Hamilton" for its public appeal to Vice President-elect Mike Pence and directing additional criticism at "Saturday Night Live" for satirizing him.
Related: 'Hamilton' star to Trump: 'There's nothing to apologize for'
Those in the arts and other high-profile endeavors, by contrast, have warmly embraced Obama, due both to his policies and the historic nature of his election. His ease in these settings was evident during his remarks Tuesday, which included teasing basketball great Michael Jordan for having become an internet meme, gushing about actress Cicely Tyson and lauding Ellen DeGeneres for having the courage to so publicly come out as a lesbian almost 20 years ago.
It's worth noting, too, that Obama was born near the end of the baby-boom generation, and his entertainment tastes and sports idols have reflected those values. Like most people in their 50s, he didn't need cue cards or prompting to croon Al Green's "Let's Stay Together," as he did a few years ago at the Apollo Theater.
These occasions are largely ceremonial, and one more is scheduled before the year's over: the annual Kennedy Center Honors. That star-studded program will again be televised by CBS and hosted by Stephen Colbert, who, along with most of the late-night landscape, has turned political comedy into hostile territory for the President-elect.
While it's normally difficult to reject the siren song of Washington, given the polarized political climate, many of the luminaries recognized at these events won't readily line up to have their pictures taken with the President during a Trump administration. And one suspects there will be similar reticence within the ranks of NFL and NBA stars, whose teams traditionally celebrate championships with, among other things, a trip to the White House.
Those feeling wistful about the end of Obama's presidency will likely find weightier matters to contemplate than whether celebrities are comfortable visiting the White House. Still, watching him interact with the honorees Tuesday felt like a tangible demonstration, on that front, of the end of an era.