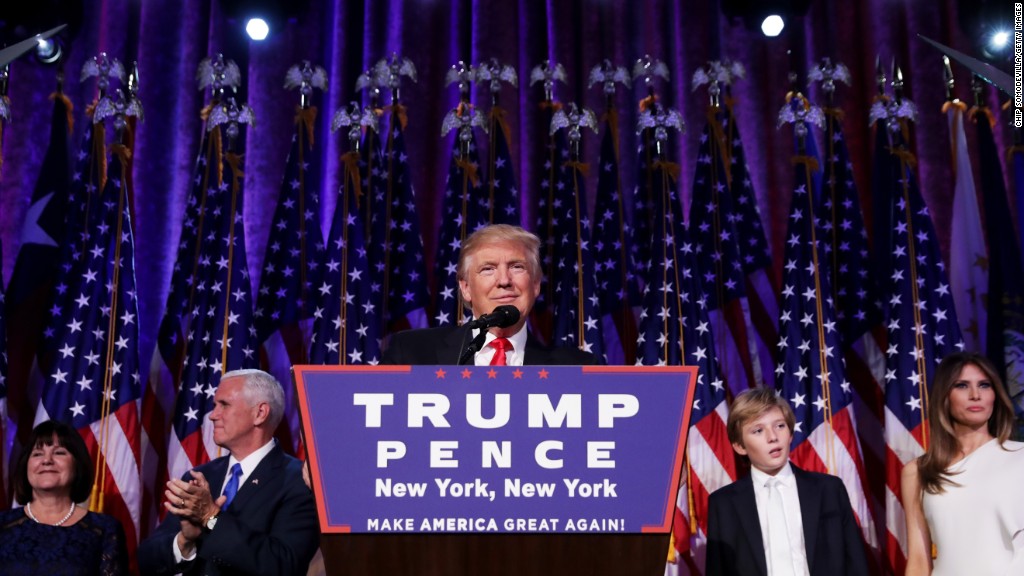 Nothing runs like a Deere -- or John Deere stock. And there are hopes that the company could continue to plow higher thanks to President-elect Donald Trump's ambitious infrastructure spending plans.
Shares of John Deere (DE) surged nearly 10% Wednesday to an all-time high after the construction and farm equipment giant reported earnings and sales that topped Wall Street's forecasts.
The company also issued sales guidance for its next quarter and full fiscal year that was better than expected.
Investors are optimistic that the worst is over for the hard-hit farming industry, which is in a recession due to low prices worldwide for most major agricultural commodities.
Deere's sales of farm equipment actually fell 5% during the quarter, but the company believes the slide will slow next year.
That outlook helped lift shares of rivals CNH Industrial (CNHI) and AGCO (AGCO) Wednesday morning as well. Both stocks were up about 4%.
Deere added that its construction equipment business, which also reported a drop in sales this year, should rebound and post slight levels of growth next year.
Related: CEO who voted for Trump expects construction boom
Shares of Deere are actually up more than 30% this year despite sluggish sales. And the stock had picked up steam in the past two weeks before its earnings report, rising more than 3% since Election Day.
That rally is likely due to Trump's victory. Trump has promised to make infrastructure spending a major priority of his administration.
Construction equipment giant Caterpillar (CAT) has surged as a result, as have shares of companies like U.S. Steel (X) and U.S.. Concrete (USCR).
Could Deere benefit from Trump's infrastructure plans? Perhaps. Trump even mentioned Deere by name in a speech on Super Tuesday back in March. Trump said he loves equipment from Deere and Caterpillar.
Those comments were about the wall that Trump talked about building on the border of Mexico on the campaign trail.
Related: Mexico's former president says global infrastructure needs an upgrade
Trump has backtracked from some of those comments since he was elected. And it's not really clear if Deere would even be a part of any plan to build such a wall.
A bigger concern for Deere and other multinational companies is Trump's tough talk about a metaphorical wall if you will by imposing steep tariffs on Mexico, China and other trade partners and ripping up the NAFTA trade agreement.
That could hurt Deere if other countries retaliate. Deere generates nearly 40% of its sales from outside of the United States, with a big bulk of the international revenue coming from China, Canada and Japan.
Related: Trump win is boost for infrastructure spending
With that in mind, Deere CEO Samuel Allen told CNBC in April that he was concerned by some of Trump's trade talk.
"We're all connected, and we're going to have to get some long-lasting polices that reinforce the need, and ... stimulate the growth in manufacturing," he said.
But Allen was also a bit coy when asked directly if he would help Trump build a wall on the border with Mexico.
"I would put it this way. If you're asking would I help, the answer is no. If the government wants to buy John Deere equipment, we'd love to have that happen," he said.
Trump is about to take over the executive branch of government and he clearly wants to spend on construction equipment.
Wall Street seems to betting that Allen is going to be getting a few calls from Trump over the next few months.
But it's worth noting that the most famous investor of all seems to have soured on Deere a bit.
Warren Buffett's Berkshire Hathaway (BRKB) sold some of its Deere stake in the third quarter. It's the second quarter in a row that Berkshire has dumped some of its Deere holdings.