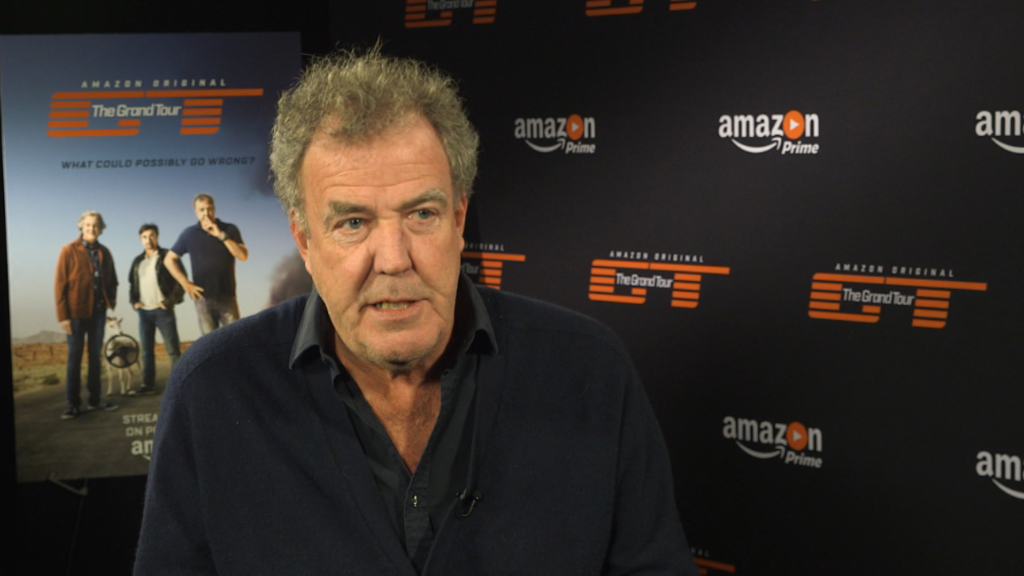 Jeremy Clarkson is on top once again with his new Amazon show, "The Grand Tour."
Clarkson, the former co-host of the globally popular and long running BBC show, "Top Gear," told CNN's "Quest Means Business" that the new series is "'Top Gear' in witness protection."
"That's what a friend of mine said the other day, a reviewer. [This show] is different because it moves around the world, that's really it," Clarkson told CNNMoney anchor Maggie Lake. "But it's still James [May], Richard [Hammond], and I. So it's like if you have a glass of champagne and you have it in a bucket or in a glass, it's still champagne, and that's really what it is. It's a different vessel, but the show is, with different elements, basically about the same."
According to Amazon, the premiere episode of "The Grand Tour" was the subscription service's most-watched premiere since "The Man in The High Castle."
Clarkson and his co-hosts are on Amazon instead of the BBC because Clarkson was fired by the BBC for punching a producer, Oisin Tymon. It was the last straw for the BBC, which had weathered a number of controversies involving Clarkson, including racist and homophobic comments he made over the years. But it doesn't sound like Clarkson is planning on reining himself in.
"The BBC always let us do what we wanted to do and Amazon is exactly the same," he said. "It says say what you want to say, do what you want to do. We always were self-policed, and sometimes you tread on a landmine and sometimes you don't, move on."
Related Link: Ex-'Top Gear' host Jeremy Clarkson settles assault claim, law firm says
But, Clarkson said, "I never want to be controversial, it just happens. I say stuff sometimes and think, 'Oh, no."
"I try to present a TV show in the way that I hear people talking," Clarkson said. "Not in city centers, not at agreeable dinner parties with editors and media people, but actual people talking. There was just two doors down here ... there's some people loading trucks and truck drivers and they've all got hoodies, visibility jackets, and hard hats on. I was just staring at them, sitting in traffic, thinking, 'I want to hear what they talk about when they're out and about,' because that's what I would like to reflect in the show. ... [W]e're not making the show for what we call in the UK 'the sneering media elite,' of which I am a part. I'm not making a show for my friends, my colleagues, I'm making a show for everyone else, and it turns out, as we've seen in recent events, that there's millions and millions of them."
It's clear Clarkson is still not shy when it comes to speaking his mind. Asked his thoughts on President-elect Donald Trump suggesting in a tweet that UK far-right politician Nigel Farage should be named the country's ambassador to the US, he quipped, "If he is, we'll go back to England."
For now, though, Clarkson is focused not on the success of this season of "The Grand Tour," but the next one.
"You've still got to concentrate," he said. "You can't rejoice, you concentrate on the next one and next one and next one. They've all got to be good, otherwise no point in doing it."