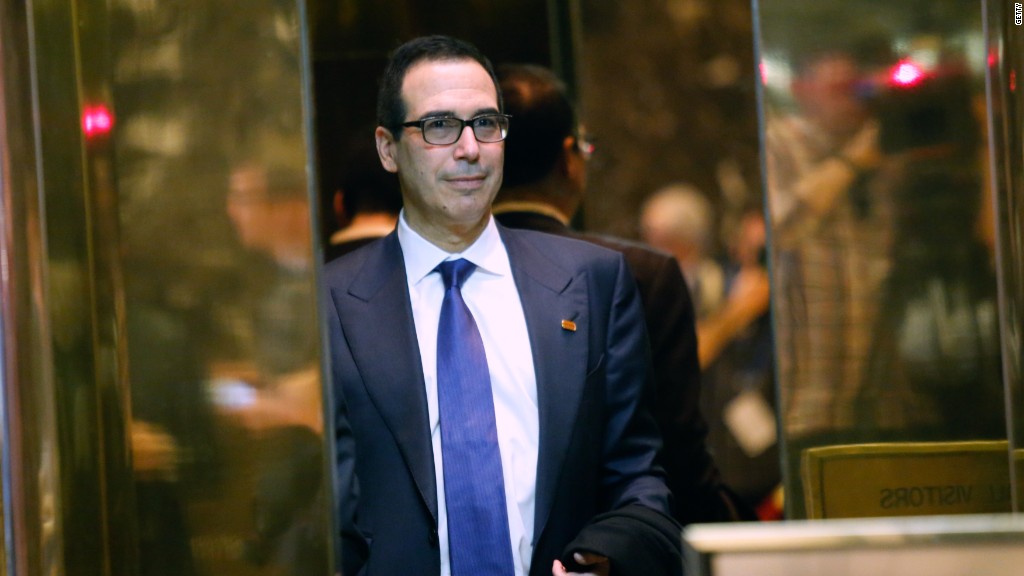 Despite its title, "Rules Don't Apply" is not a documentary about Donald Trump's presidential campaign.
But a leading candidate to be his Treasury secretary has a walk-on role.
The romantic comedy, which opens Wednesday, is centered on another eccentric and unpredictable billionaire, Howard Hughes, and his time in the movie industry. Its cast is full of Hollywood liberals, with Warren Beatty playing Hughes.
Steven Mnuchin, who was Trump's chief campaign fundraiser, is a producer of the film and makes an appearance as an unnamed Merrill Lynch executive. Come January, he may take on the role of running the Treasury Department in the Trump administration.
He should feel comfortable playing a Merrill executive. Mnuchin worked for 17 years at Goldman Sachs. Both he and his father were partners with the firm.
He has also been CEO of a Southern California bank, OneWest, and started a hedge fund, Dune Capital Management. He became national finance chairman of the Trump campaign in May.
New York Times reviewer Stephen Holden calls the movie a "screwball 'Citizen Kane,'" and a "serio-comic portrait of Hughes." The Chicago Tribune pans it as a "chaotic mess," giving it only one star. But Entertainment Weekly rates it a solid B.
IMDB does not say how big a role Mnuchin has in the film, though it's probably not large. The other Merrill Lynch executive is played by veteran character actor Geoff Pierson, so it's likely that Mnuchin's lines are extremely limited.
Beatty directed the movie and plays Hughes in his first appearance on the big screen in 15 years.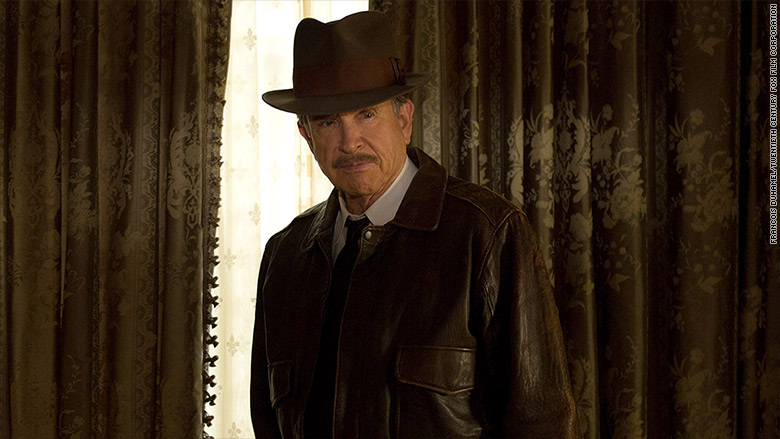 Also in the cast is Alec Baldwin, who has been playing Trump on "Saturday Night Live," to extremely negative reviews from the president-elect. Three veterans of "The West Wing," the long-running television show about a thoughtful, liberal president, also make appearances: Martin Sheen, Joshua Malina and Oliver Platt.
Related: As Treasury pick, Steven Mnuchin may get questions about how he ran his own bank
Mnuchin's Dune Capital Management has invested in about 80 films, including record box office hit "Avatar" in 2009 and several X-Men movies. Mnuchin himself is listed as a producer or executive producer of 34 films in recent years, including two still in production. He was named co-chairman of Relativity Media, a small studio, in October 2014, though Variety reported that he quietly left the company two months before it filed for bankruptcy the following July.
Related: Ex-banker turned Hollywood producer could be Trump's Treasury secretary
His most successful credits as a producer were this summer's "Suicide Squad," which pulled in $746 million worldwide, "Mad Max: Fury Road," the 2015 remake that was nominated for Best Picture and grossed $378 million worldwide, and his first film, "The Lego Movie," made $469 million.
Mnuchin is listed as producer of a Lego spinoff, "The Lego Ninjago Movie," which will bring six Lego ninjas to multiplexes next fall, whether or not he's Treasury secretary.
But despite the long resume of investing in and producing movies, "Rules Don't Apply" is his sole acting credit on IMDB. His screen credit is Steve Mnuchin, rather than Steven.