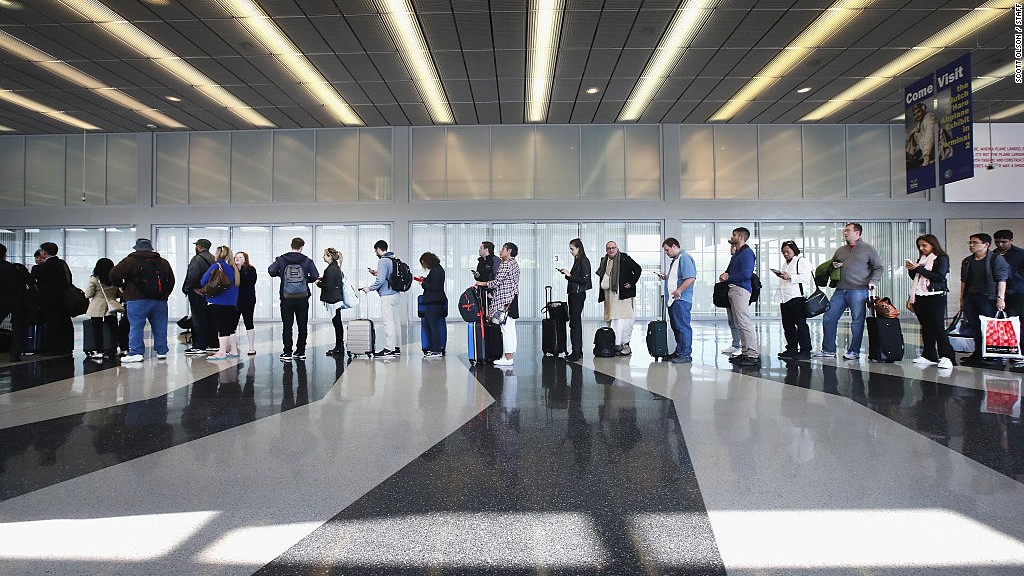 Well, it's that time again. You and your closest 27 million friends and family members are flying for Thanksgiving.
The crush, which started on Friday, runs through Sunday. Here's your guide to not only survive, but thrive, as you conquer the airport.
1. Leave enough time
Online check-in begins 24 hours before departure, and most airlines recommend you get to the airport no less than two hours before your scheduled departure. Bottom line: The more time you have, the more time to adjust if your plans are disrupted.
The good news is that your chances of arriving on time are better than ever. According to the Department of Transportation, airlines canceled 0.3% of scheduled domestic flights in September, the lowest rate since 1995.
2. Know your rights on overbooking
U.S. airlines have been steadily increasing capacity, but that doesn't mean your flight won't be overbooked and you may get bumped. Department of Transportation has outlined the rules that airlines have to follow when bumping passengers. Know your rights as a traveler.
3. What happens if your plans are disrupted
Download your airline's app on your phone or tablet. Many will help you find alternate flights and rebookings. Ultimately you can skip waiting in line at the airport or hanging on hold over the phone.
You can call in outside help, too. Cranky Concierge, a service run by travel expert and airline blogger Brett Snyder, can monitor your travels, watching for delays and prepare alternate flight options.
4. Charge your batteries
Many airlines now offer in-seat power, but make sure your devices are charged before you fly. And if you want to be an airport superhero, pack a power strip.
Many older aircraft have also gotten new seats with power and in-flight entertainment screens.
5. Keep entertained
Wifi internet access is now available on most U.S. mainline flights for an added fee and free on airlines like JetBlue Airways (JBLU). While internet may cost you, airlines like American (AAL), Southwest (LUV), Delta (DAL) and United offer on-board servers that stream content to your devices for free.
You can typically get access to free -- or paid -- streaming content with an airline's app. Access to streaming services on airlines like American and Alaska Airlines are offered through the Gogo In-Flight Entertainment App.
If all else fails, raise that window shade and enjoy the view. Or strike up a conversation with your seatmate, just don't talk about politics.
6. Be good to each other
I'll leave you with this. Be good to your fellow travelers, airline and airport staff. While they, too, may be grumpy from a constant onslaught of travel madness, a smile goes a long, long way.
Safe travels.