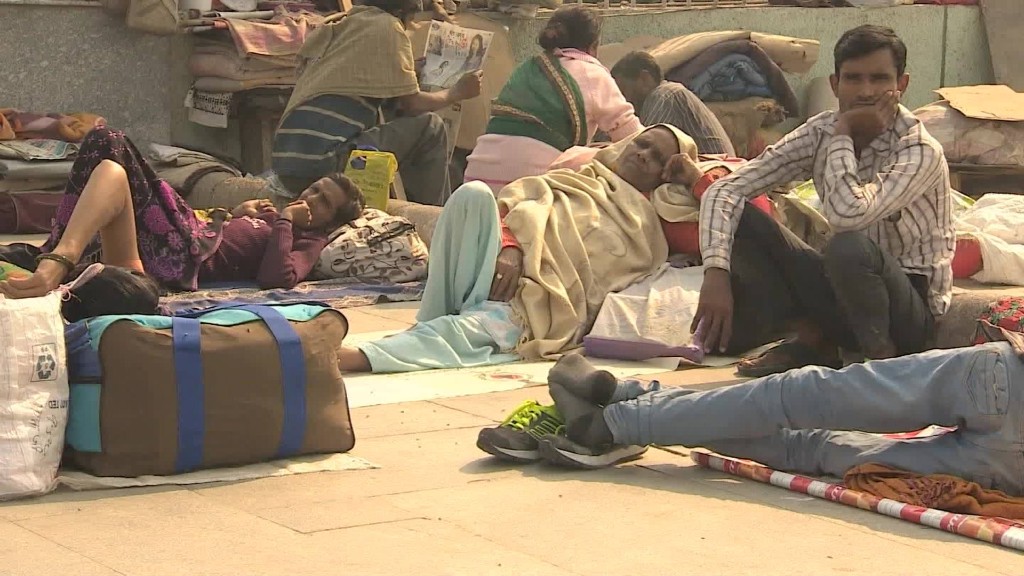 India has just made it even harder for its citizens to get hold of new banknotes introduced two weeks ago.
The government banned old 500 rupee and 1,000 rupee notes on Nov 8, and then gave Indians until Dec. 30 to swap them for new 500 and 2,000 rupee notes.
Late Thursday, the government changed the rules: now people can no longer exchange the old notes for new at banks. They'll have to deposit the money first.
Related: Millions line up at Indian banks to swap rupee notes
But here's the problem. More than 570 million Indians don't have a bank account, according to the World Bank. They'll have to open one first, assuming they can produce the right documents.
Then they'll have to wait about a week for a debit card or check book before they can get their hands on the money. And even then, they'll only be able to withdraw 2,000 rupees ($30) a day or 24,000 rupees ($350) a week.
The ban on more than 80% of India's cash threatens to slam the brakes on its economy. The vast majority of transactions in India are conducted in cash, and the shortage of notes is hitting the retail, construction and real estate sectors particularly hard.
People are paying for essential items and services using stacks of old 100 rupee ($1.5) notes but there aren't nearly enough of them to make up for the now defunct cash. And many shops and small traders are reluctant to accept the new 2,000 rupee note because they don't want to part with scarce change.
Related: India's cash crisis could kill its economic boom
Prime Minister Narendra Modi abruptly banned the old notes as a move to combat corruption and tax evasion.
There have already been chaotic scenes at banks and ATMs, many of which don't work or have yet to be recalibrated to take the new notes.
The central bank -- the Reserve Bank of India -- said it would still allow cash exchanges at its own branches, but it only has 19 in a country of 1.3 billion people.