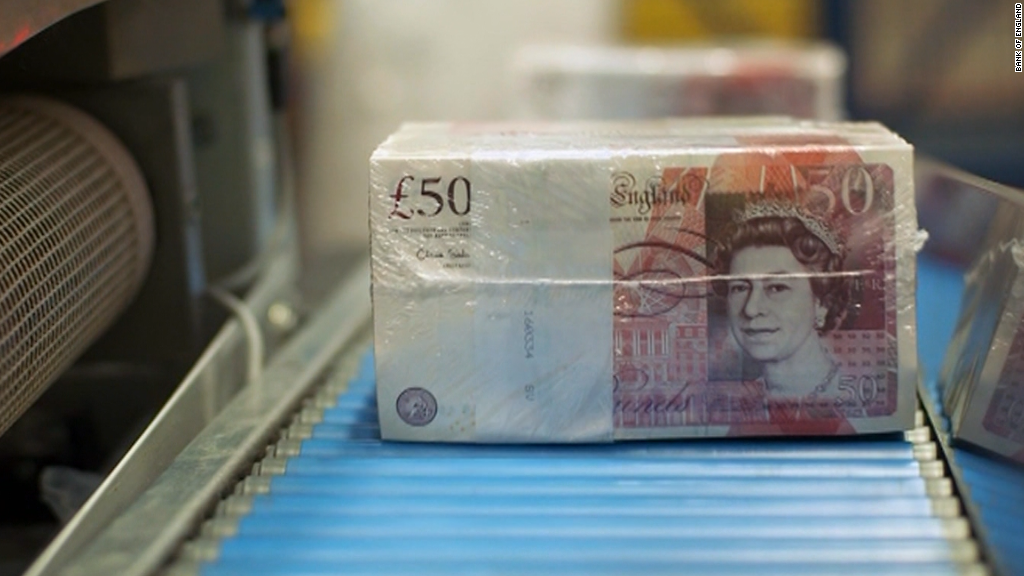 The bank that nearly broke the United Kingdom is still in trouble eight years after the financial crisis.
Royal Bank of Scotland (RBS) was the worst performing major bank in stress tests performed by the Bank of England, despite a £45.5 billion ($56.8 billion) bailout by taxpayers in 2008.
"The stress test demonstrates that RBS remains susceptible to financial and economic stress," the central bank said in a report published Wednesday.
RBS -- which is still largely owned by the state -- said it is issuing bonds to raise an additional £2 billion ($2.5 billion) to strengthen its balance sheet. Its shares dropped 4% on Wednesday.
Related: Bank of England governor staying through Brexit negotiations
Chief financial officer Ewen Stevenson said he was committed to "creating a stronger, simpler and safer bank."
"We have taken further important steps in 2016 to enhance our capital strength, but we recognize that we have more to do to restore the bank's stress resilience including resolving outstanding legacy issues," he said.
Barclays (BCS) and Standard Chartered (SCBFF) also failed to meet some of the Bank of England's standards.
This year's version of the annual stress test was more demanding than previous editions. The finances of seven banks were tested on their ability to simultaneously withstand a severe recession, a crash in commodity prices and a financial crisis.
Related: The U.K.'s new plastic money contains animal fat
The banks that performed best -- Lloyds (LLDTF), Nationwide and the U.K. arm of Santander -- have little exposure to international markets.
Regulators said that while the seven banks had shown improvement as a group, they were "disappointed that the rate of improvement has been slower and more uneven than expected."
The three banks that were found to be deficient have all implemented plans to improve their financial positions.
Despite their failures, the central bank judged the U.K.'s banking system to be in generally good health.
"As a consequence of the stress test, the banking system is in aggregate capitalized to support the real economy in a severe, broad and synchronized stress scenario," it said.