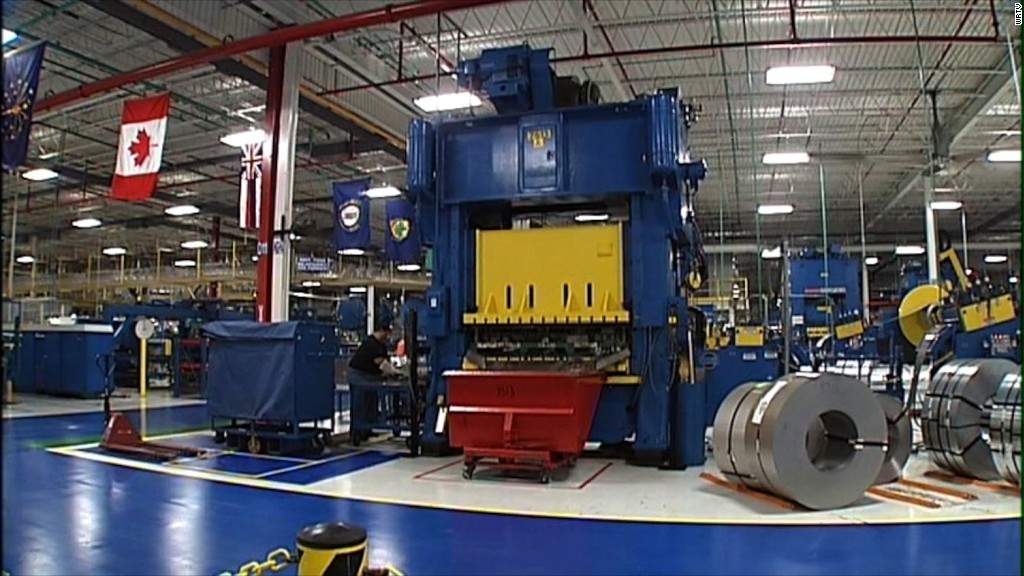 A viral video touched off a 10-month standoff between Donald Trump and Carrier -- a feud that came to a screeching halt on Tuesday.
The video, captured on the phone of a Carrier employee on February 9, showed company President Chris Nelson delivering bad news: An Indiana factory's production would be shifted to Monterrey, Mexico. Factory employees booed and shouted as Nelson attempted to read his prepared statement.
Nelson awkwardly asked factory workers to quiet down several times. Like a school teacher, Nelson said some people wanted to hear what he had to say, even if others didn't.
But employees continued to shout, many even cursing at Nelson. Some laughed at his canned lines about the production shift being "difficult" and a "business decision."
Viewed nearly 4 million times on YouTube, the video inspired vicious attacks from presidential candidates -- particularly Bernie Sanders, then running for the Democratic presidential nomination, and Donald Trump. Carrier, which makes heating and air conditioning units, became a key talking point during the campaign.
They railed against the company, arguing that shifting jobs to Mexico is unpatriotic. The populist candidates said trade deals led directly to this kind of job cuts, pointing to Carrier as a prime example of why the Trans Pacific Partnership and NAFTA should be terminated.
Even Hillary Clinton, who had initially supported the TPP trade deal, began to shift her tone. She soon proposed that companies shifting jobs overseas should have to pay back any tax breaks they had received.
Trump threatened tariffs and other punishments for moving jobs abroad.
Sanders called the Carrier decision a "disaster for American workers." He said Carrier's "greed ... is unbelievable. You really can't make this stuff up."
This past weekend, Sanders continued to hit Carrier hard, tweeting about the jobs it planned to send to Mexico. He called on Trump's supporters to hold the president-elect accountable for following through with his campaign promise to save those factory workers' jobs.
You wouldn't have thought it possible 10 months ago, but Trump did just that: Carrier is keeping the nearly 1,000 factory jobs in Indiana, after all. Terms of the deal weren't announced, but Trump and Mike Pence will be in Indiana on Thursday to speak publicly about the deal, Carrier said.
Carrier's parent company, United Technologies (UTX), had said that shifting the jobs to Mexico would have saved it $65 million a year in labor costs, according to the union that represents the workers.