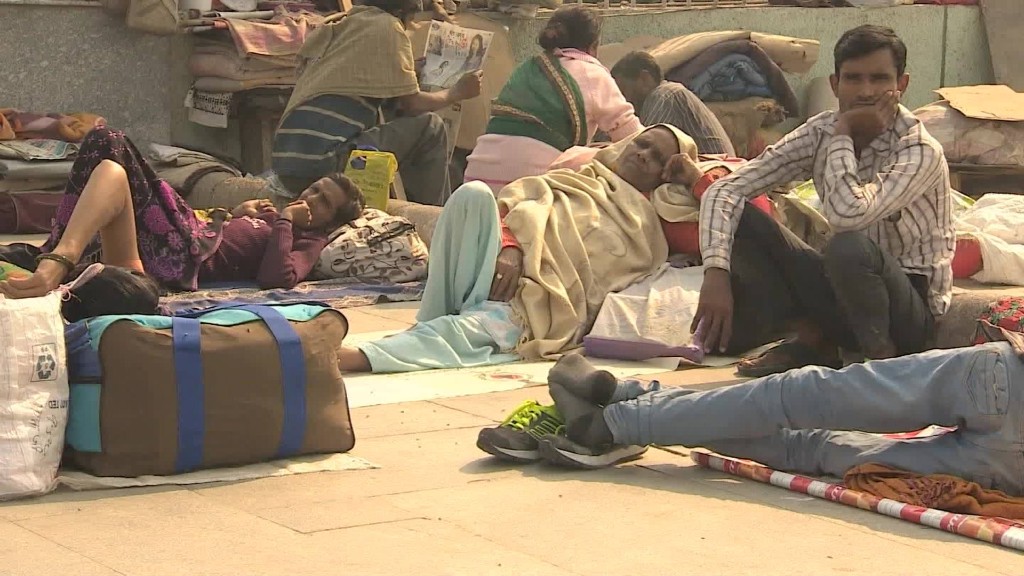 India's enviable growth continues — at least for now.
Gross domestic product grew by 7.3% in the quarter ended September, a slight increase from the previous quarter and much stronger than China's 6.7%.
That means India is still the fastest growing major economy in the world.
The boom could come to an abrupt halt, however, when data for the current October-December quarter is published early next year.
That's because a bombshell announcement on Nov. 8 scrapping the 500 and 1,000 rupee notes has drained billions of dollars worth of cash from the economy.
Related: India's cash crisis could kill its economic boom
Prime Minister Narendra Modi's surprise move was aimed at tackling corruption and tax evasion. But it rendered about 86% of Indian banknotes effectively worthless overnight.
Indians are now racing to bank their old notes by Dec. 30, but in a society that relies on cash for more than 90% of transactions, nearly every aspect of daily life has been affected.
Millions continue to line up at banks and ATMs, which are rapidly running out of cash as the government scrambles to print and circulate new 500 rupee and 2,000 rupee notes.
Sales of everything from smartphones to autos have fallen, and sectors such as jewelry, construction and real estate have been particularly hard hit.
Modi and his government say the rupee note ban will be good for India in the long run. But it could mean a significant loss of economic momentum in the near term.
Related: India just made it even harder to get hold of new cash
Analysts estimate growth over the next two quarters could drop by as much as one percentage point. Fitch Ratings this week cut its growth forecast for the current financial year to 6.9% from 7.4%.
"You'd expect a slowdown in sectors of the economy where there are large amounts of cash transactions," said Shilan Shah, India economist at Capital Economics.
But if India succeeds in bringing more "black money" into the banking system, and getting a bump in tax revenues as a result, it could remain an attractive bet for foreign investors, particularly if it presses ahead with other reforms.
"There has been a sense that reform momentum is building, and the demonetization move...[is] another example of that," Shah said. "In terms of what the government's achieved this year I think in general it's been a positive story."
Correction: An earlier version of this story misstated the potential negative impact to gross domestic product growth from the rupee ban.