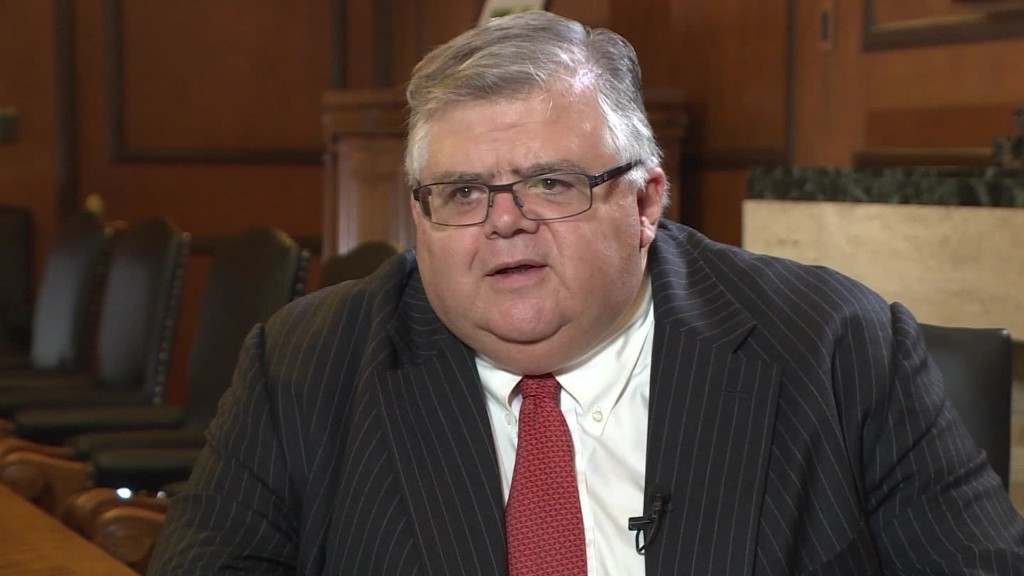 The man behind Mexico's "contingency plan" is stepping down next year, just as President-elect Donald Trump could be getting tough on Mexico.
Bank of Mexico Governor Agustin Carstens announced on Thursday he will resign from his post in July 2017 to lead the Bank of International Settlements in Switzerland.
Carstens, who has led Mexico's central bank since 2010, didn't say why he's stepping down beyond the new job at the BIS. Based in Basel, the BIS is the world's oldest international financial organization and acts as a bank for central banks.
Mexico's peso, which has suffered mightily since Trump won, fell to a new all-time low on the news.
Carstens, along with Mexico's finance minister, has been trying to brace Mexico's economy for Trump's policies, including plans to renegotiate NAFTA, build a wall on the border and slap a 35% tariff on Mexico's exports to the United States.
Most recently, Carstens raised the Bank of Mexico's key interest rate in November after the Mexican peso crashed following Trump's victory. Central bank leaders said at the time that Mexico's economic outlook had "deteriorated" as a result of the U.S. election.
Related: Mexico's central bank hopes to avoid Trump 'hurricane'
"The view for the global economy became more complex, among other factors, as a consequence of the election process carried out in the United States and its result," Bank of Mexico officials said in the statement on Nov .17.
While Carstens expressed optimism about Mexico's future, he described Trump's presidency as a potential "hurricane" if he implements all of his campaign promises.
"I hope we don't get to the hurricane level," Carstens told CNNMoney in an exclusive interview in Mexico City on Nov 18.
That's looking harder to avoid. Trump's pick for Commerce Secretary, Wilbur Ross, told CNN's Erin Burnett on Wednesday that renegotiating NAFTA will likely be one of Trump's first actions once he arrives at the White House.
"We're working out the fine-point details, but NAFTA is a logical starting point," Ross told Burnett.
Many trade experts say renegotiating NAFTA or slapping tariffs on Mexico would be bad for both America and Mexico, but especially bad for the Mexican economy, which is already slowing down this year.
--CNN's Nick Parker contributed to this report.