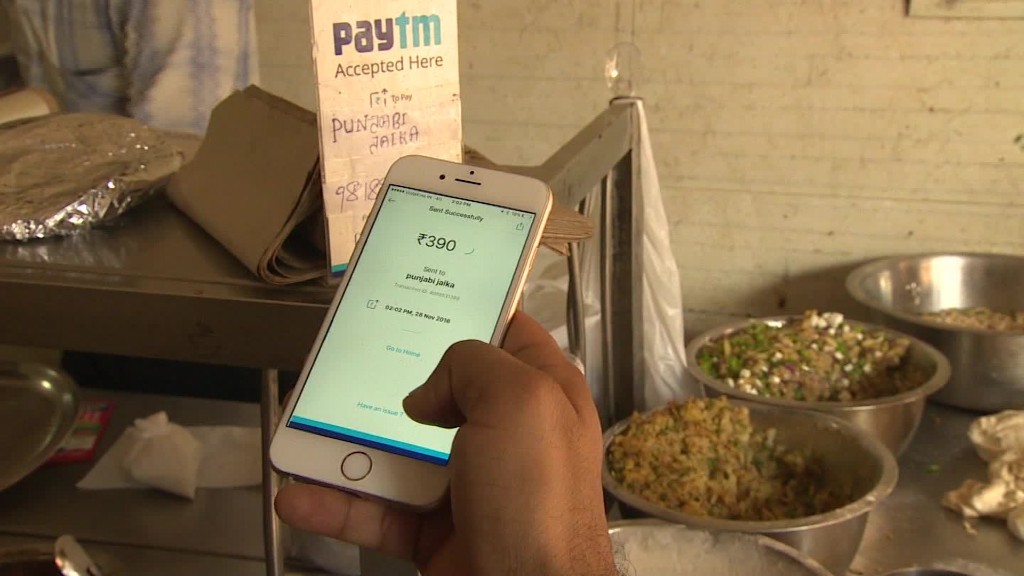 India's cash crisis is turning into a bonanza for mobile payments firms.
Three weeks ago, the government abruptly scrapped the two largest rupee notes, leaving Indians short of cash.
Unable to pay for daily transactions, millions have now gone digital, as have firms and small traders worried about a huge loss of business.
Moolchand Paratha is just one example. The famous street food stall in New Delhi had only ever accepted cash for its Indian breads.
It signed up for mobile wallet app PayTM just hours after Prime Minister Narendra Modi dropped the rupee note bombshell. Now about 20% of its daily takings come from the app.
Related: 5 key questions about India's cash crisis
PayTM founder and CEO Vijay Shekhar Sharma says his business was gaining tens of thousands of new users a day before the rupee note shortage.
"Now we're signing up half a million customers a day," he told CNNMoney. Since the move was announced, he says PayTM has added 10 million users — growing its customer base by 7% in less than a month to 160 million.
"I think demonetisation has brought... the necessary push towards digital currencies like PayTM and other mobile wallets," he said.
FreeCharge, a rival service owned by Indian e-commerce firm Snapdeal, says its number of new users has increased fourteen times in the past three weeks.
"I definitely feel that India going completely digital in terms of payments is being accelerated manifold by this move," FreeCharge CEO Govind Rajan said. "Maybe it was 20 years away...now with this move from the government it's five or 10 years away."
India's richest man Mukesh Ambani is also joining the party. His mobile firm Reliance Jio launched JioMoney on Thursday.
Related: India's cash crisis could kill its economic boom.
The Indian government is championing cashless payments almost as fervently as the companies that enable them.
"Once we embark on our journey to create a 'less-cash society,' the goal of a 'cashless society' will not remain very far," Modi said this week in his monthly radio address to the nation.
The Modi government rolled out its own mobile payment system earlier this year. Called the Unified Payment Interface or UPI, the system allows users to link bank accounts to cellphones through a unique ID.
But for a country where over 90% of daily transactions take place in cash -- even for big ticket items such as jewelry and real estate -- switching to a digital economy will be easier said than done.
According to the Reserve Bank of India, the country of 1.3 billion people has fewer than 23 million credit cards and just 640 million debit cards. And 88% of those debit cards are only used for getting cash out of ATMs.
India averages just 6.7 electronic payment transactions per person, compared to 249 in Australia, 201 in the U.K., and 14 in China. And for those paying by card, there are only 1.2 million machines that can accept them.
Badal Malick is trying to grow digital payments among what he calls "the bottom 80%." He heads Catalyst, an initiative launched by the government and USAID, and is upbeat about the long term impact of the cash crunch.
"There's a trust in cash that is indelibly shaken, and that will be there to stay," he says.
Related: India just made it even harder to get hold of new cash
Both Sharma and Rajan share that optimism, and with good reason -- PayTM and FreeCharge have seen a marked increase in small town users in recent weeks.
"In urban India you have places where you can use cards, but in rural India you don't have so many places," Sharma said. "So mobile is the only way beyond currency."
-- CNN's Ravi Agrawal contributed to this report