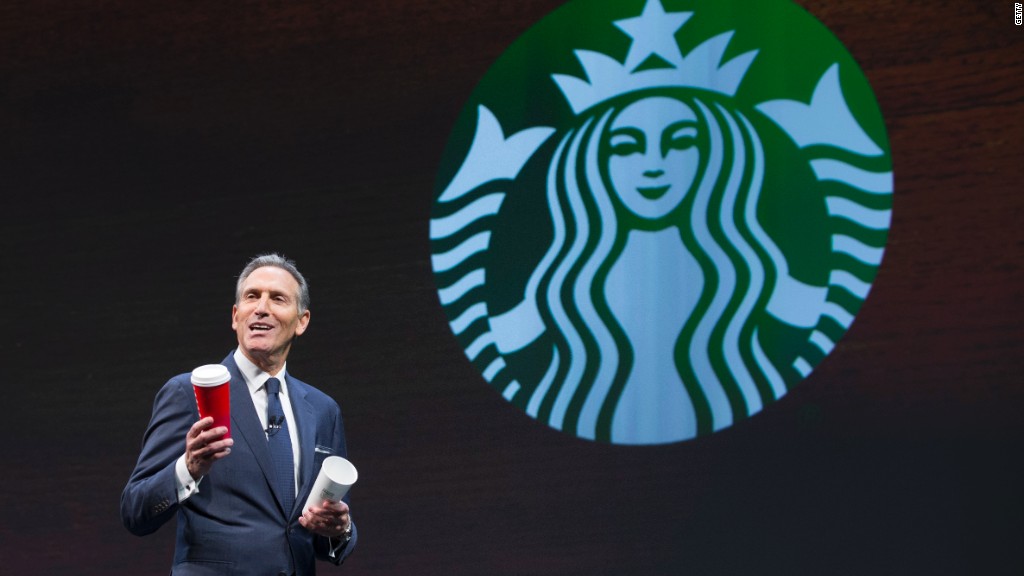 Kevin Johnson, the soon to be CEO of Starbucks, has some Venti-sized shoes to fill when he takes over for Howard Schultz.
Johnson is replacing a legendary business leader. And Starbucks (SBUX) investors have to hope that this time will be better than Schultz's first departure.
Schultz took a step back from the top job in 2000 -- and that didn't work out all that well. Schultz returned as CEO in 2008, and after enduring the economy and market bottoms of the Great Recession, the stock has been on a tear.
Shares have skyrocketed more than 1,500% from their financial crisis lows. The company is now worth nearly $85 billion.
During Schultz's second stint as CEO, he stepped back on the breakneck pace of store openings in the U.S., which had led to saturation and the joke in "Best in Show" about a couple who met while they were at separate Starbucks stores across the street from each other.
Starbucks also pushed more into overseas markets, particularly China.
So it's no wonder that shareholders appear a bit nervous. Shares of Starbucks fell nearly 3% Friday morning. And the stock has taken a bit of a break this year, dipping 5% after a nearly 50% jump in 2015.
Meanwhile, one of Starbucks' main U.S. rivals, Dunkin' Brands (DNKN), is up more than 25% this year.
So in some respects, Johnson succeeding Schultz is like Tim Cook taking over for Steve Jobs at Apple (AAPL). Just as Cook has never (and probably will never) escape the Jobs' shadow, Johnson will constantly be compared to Schultz.
Related: Starbucks CEO Schultz to step down -- again
Of course, Apple has done just fine under Cook. The company is the most valuable in America, worth $580 billion. Shares have more than doubled since Cook became CEO in August 2011.
But the stock has lost some of its mojo lately. It's down nearly 20% from a record high more than a year ago. Apple skeptics argue that Cook has yet to introduce anything truly innovative since taking over.
Still, it might be easier for Johnson to keep pleasing Wall Street once he takes over from Schultz next April.
For one, Schultz isn't actually going anywhere. He will remain the company's executive chairman and is expected to focus on the higher-end Starbucks Reserve brand and the expansion of its Reserve Roastery & Tasting Room format, which some have dubbed the Willy Wonka of coffee shops. There is one in Seattle and there are plans to open six more over the next few years.
Related: Starbucks and other big companies want Trump to stand by climate change deal
It's also important to note that Johnson, who before joining Starbucks as its COO in 2015 was the CEO of tech firm Juniper Networks (JNPR) and also had worked at Microsoft (MSFT) and IBM (IBM), has been a CEO of a publicly traded company before. So he knows how to deal with Wall Street and understands the rigors of being the top guy.
Plus, Starbucks is increasingly relying on technology -- and mobile in particular -- to boost sales. That makes Johnson, despite a lack of retail experience, a good fit for the CEO job.
As I noted when Johnson was first hired, Schultz praised Johnson for his "mobile and digital expertise" during a conference call with analysts. The word "mobile" was mentioned 34 times during that call -- identical to the number of references for the word "coffee."
Related: Kevin Johnson has the tech chops needed to lead Starbucks
Analysts think Johnson has what it takes to keep the company's hyper-caffeinated momentum on track as well.
"With Starbucks' business becoming increasingly more technology-oriented, Mr. Johnson's tech background (for example, as 2008-13 CEO of Juniper Networks) should serve him well," wrote Instinet analyst Mark Kalinowski in a report Friday.
Kalinowski noted that the fact Schultz isn't going anywhere is a plus, too. After all, Schultz was a bit more distracted the first time he stepped down as CEO. He owned the Seattle Sonics NBA team (which has since moved and become the Oklahoma City Thunder) from 2001 to 2006.
Kalinowski also pointed out that Starbucks actually had two CEOs after Schultz. The first, Orin Smith, led Starbucks from 2000 to 2005 and did reasonably well. It wasn't until Jim Donald succeeded Smith that the company's fortunes started to turn south.
What's more, Hillary Clinton's loss to Donald Trump also could turn out to be a positive for Starbucks.
There have been rumors for years about Schultz' own political aspirations. And some felt that if Clinton -- who Schultz had endorsed - had won, then he might have been up for a job in her administration. That's all moot now, of course.
Related: Did election jitters lead to slowdown in Pumpkin Spice Latte sales?
BTIG analyst Peter Saleh added that he also thinks the comparisons to Schultz stepping down as CEO now and when he did so 16 years ago aren't really apt.
"The brand, retail offering and customer engagement are all much more established today. This provides us with some confidence that the near and long-term prospects won't change," Saleh wrote in a report Friday.
So it looks like Wall Street thinks Johnson will do just fine as CEO. But if he stumbles, then Schultz (who I dubbed the best CEO ever back in 2013) might have to prove that the third time's a charm.