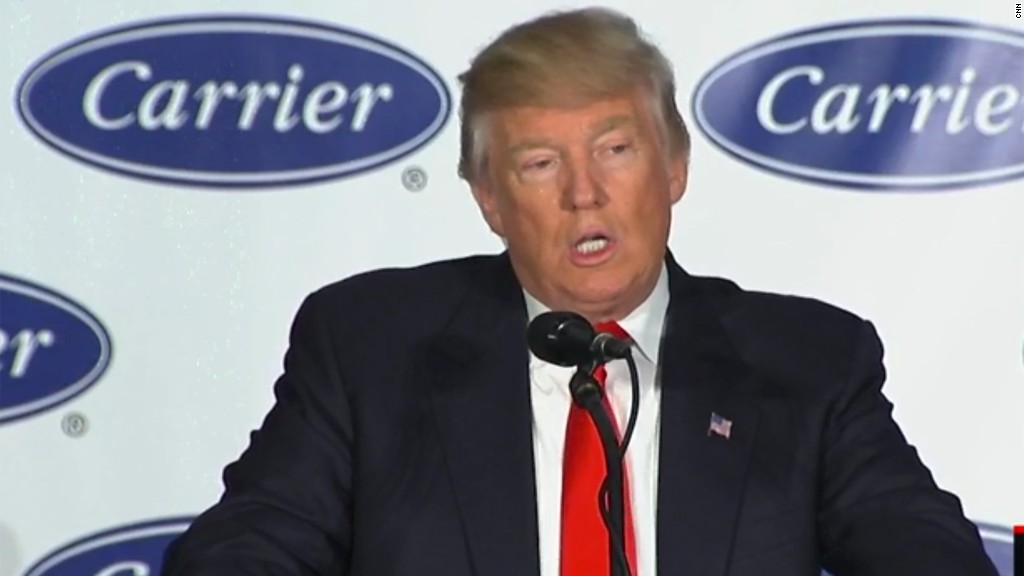 Some of the harshest criticism of the deal to keep 1,000 Carrier jobs in Indiana has come from the conservative Wall Street Journal editorial page.
In an editorial Friday entitled "Trump's Carrier Shakedown," the newspaper argues that President-elect Donald Trump's pressuring the company not to move jobs is bad for the economy, and for the workers in the long run. It said Carrier wanted to move the line to Mexico to remain competitive in the market.
"As U.S. auto workers have learned the hard way, real job security depends on the profitability of the business," the paper's editorial page said. "If the extra costs of staying in Indianapolis erode that business, those workers will lose their jobs eventually in any case."
The paper argues that Carrier had no choice but to give into Trump's pressure because of the threat of a 35% tariff on goods imported from Mexico, as well as the fact that parent company United Technologies (UTX) gets $5.6 billion a year, or 10% of its revenue, from defense contracts.
Related: Trump threatens that companies will be punished for leaving U.S.
"Then there's the potential damage to the Carrier brand, especially its consumer air conditioner sales, if Mr. Trump decided to blast it from the bully -- and we mean bully -- pulpit," the paper wrote. "So United Technologies decided to take the small cost against earnings."
The paper also cites Trump pressuring Ford Motor (F) not to shift production of a Lincoln crossover SUV to Mexico, even though that move would not have cost any U.S. jobs. It argues elected officials shouldn't be interfering in business decisions.
Related: How Donald Trump got Carrier to stay
"Politicians are rotten investors," the paper said.
And it argues that conservatives who would never tolerate such interference in business decisions by President Obama or other Democrats should not remain silent when a Republican like Trump does the same thing.