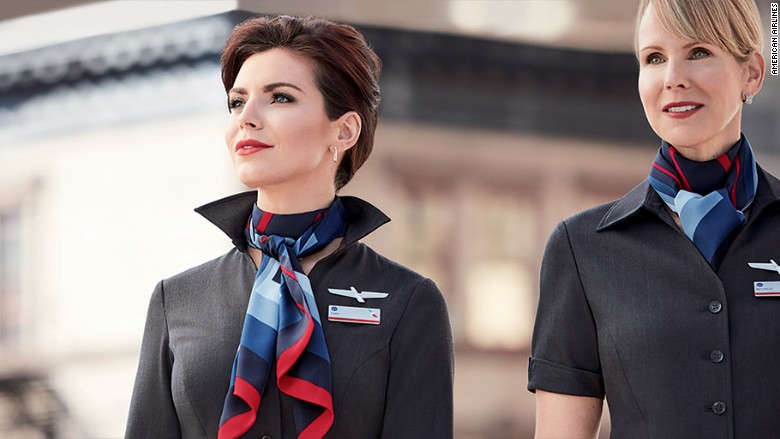 American Airlines' flight attendants union called on the airline Friday to recall its new uniforms claiming the garments are to blame for a string of health problems including headaches, rashes and respiratory problems.
American and the union, the Association of Professional Flight Attendants, have been jointly testing the uniforms to determine if the clothing is responsible for the reactions that have triggered more than 1,600 health complaints by cabin crews. The airline has also offered uniforms made of alternative materials.
The union, which represents 26,000 American flight attendants, said that the airline's offer doesn't go far enough.
"We feel a remedy that excludes a full recall of the uniform fails to adequately protect our members," the union said in a statement.
The union said the flight attendants have been reporting headaches, rashes, hives, burning skin, eye irritation, itching, and respiratory problems they said are related to the new uniforms.
'Passport Plum' and 'Groundspeed Graphite': Delta unveils new uniforms
An American Airlines (AAL) spokesman said the Fort Worth-based carrier has finished its third round of lab evaluations and has offered its employees dermatological testing to help establish what might be causing the reactions.
"We know some people are having reactions and we're looking into why," the spokesman said, but said it was not yet ready to issue a recall. "We have no doubt the uniforms are safe."
New uniforms were rolled out for 70,000 employees in September as part of an uniform overhaul for the airline, which merged with U.S. Airways in 2013.
The airline and the flight attendant union appear to be at odds over the cause of then reactions. So far 600 staff have ordered non-wool versions and 200 more are wearing the old uniforms. The union is concerned that the manufacturing, not the type of fabric, is the source of the problem.
Vendor In The Spotlight
American's uniform vendor, Twin Hill, has been at the center of airline staff complaints before. Alaska Airlines in 2011 selected Twin Hill for its new flight attendant uniforms, but quickly received complaints similar to those of American staff.
Alaska recalled the Twin Hill uniforms for its flight attendants by 2014.
"Ultimately we were looking for certain sourcing standards to ensure the safety of the garments," said an Alaska Airlines spokeswoman on Friday.
In 2012, 164 Alaska Airlines flight attendants, separately from their union, filed a class-action suit against Twin Hill claiming its uniforms caused allergic reactions as a result of a chemical called Disperse Orange 37/76. In October, Twin Hill won a court verdict that rejected those claims.
Tailored Brands (TLRD), Twin Hill's parent company, which also owns retailer Men's Warehouse, did not immediately respond to a request for comment.
Correction: An earlier version of this article incorrectly reported where American Airlines is based.