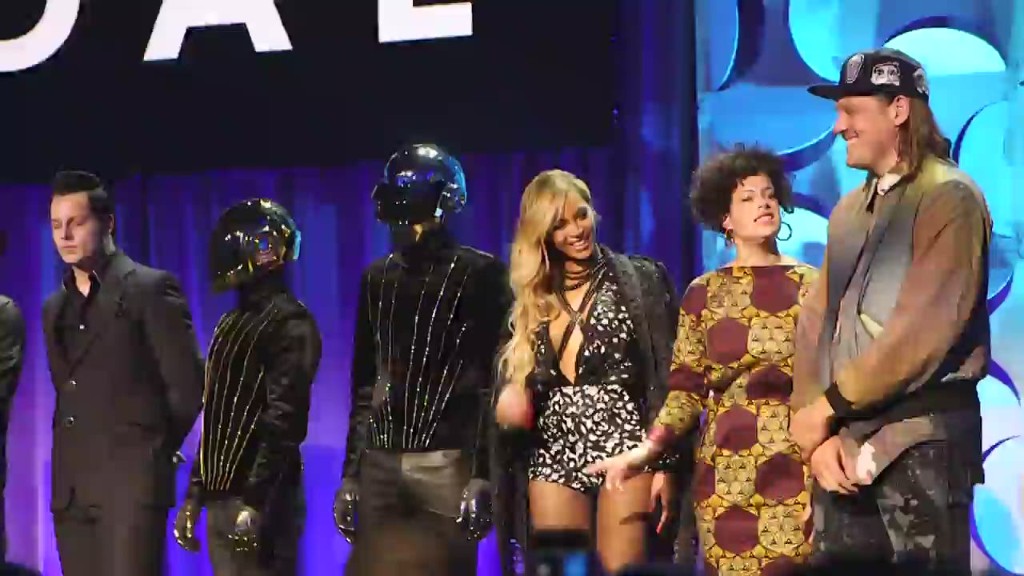 Howard Stern signed a new deal in December 2015 to stay with satellite radio king Sirius XM. But before that, some speculated he could leave for streaming radio firm Pandora.
Will the self-proclaimed King of All Media still wind up there?
Shares of Pandora (P) soared more than 16% Friday on rumors that Sirius XM (SIRI) might want to buy Pandora. The stock was up again Monday and rallied another 2% Tuesday.
A spokesperson for Pandora had no comment about the merger chatter. Sirius XM was not immediately available for comment.
But a marriage of the two companies could make sense.
A combined Pandora and Sirius XM could more effectively compete with Apple (AAPL) -- which has its own music subscription service -- as well as streaming music industry leader Spotify. There's also Tidal, the service backed by Jay Z and other artists.
Amazon (AMZN) is making more inroads in music as well, with its own service for Prime members as well as its popular Echo speaker.
So will a Pandora-Sirius deal happen? The rumors have been floating around for a couple of months now.
That seems to be an indication that John Malone, the mogul who runs Sirius XM majority investor Liberty Media (LMCA) is intent on getting something done.
Liberty owns a nearly 66% stake in Sirius XM and even has a special tracking stock for that stake. It's called Liberty Sirius XM (LSXMA).
The shares allow investors to buy the portion of Liberty Media that specifically tracks Sirius XM's sales and profits and not other parts of Liberty Media. Tracking stocks don't give investors true ownership of a company though. You don't get a shareholder vote.
Malone has similar tracking stocks for other media assets he owns big stakes in, including Starz (STRZA), Discovery Communications (DISCA) and QVC (QVCA) as well as the Atlanta Braves (BATRA) baseball team.
Liberty Media also owns stakes in other big media firms, such as concert promoter Live Nation (LYV), Viacom (VIAB) and CNN parent company Time Warner (TWX).
Malone has a way of getting what he wants. And he's been a savvy acquirer of media assets over the past few years. The fact that Pandora is still losing money may make the company more vulnerable to a takeover as well.
So don't be surprised if Howard Stern soon has a new corporate cousin. Wall Street clearly likes the sound of a Pandora-Sirius deal.