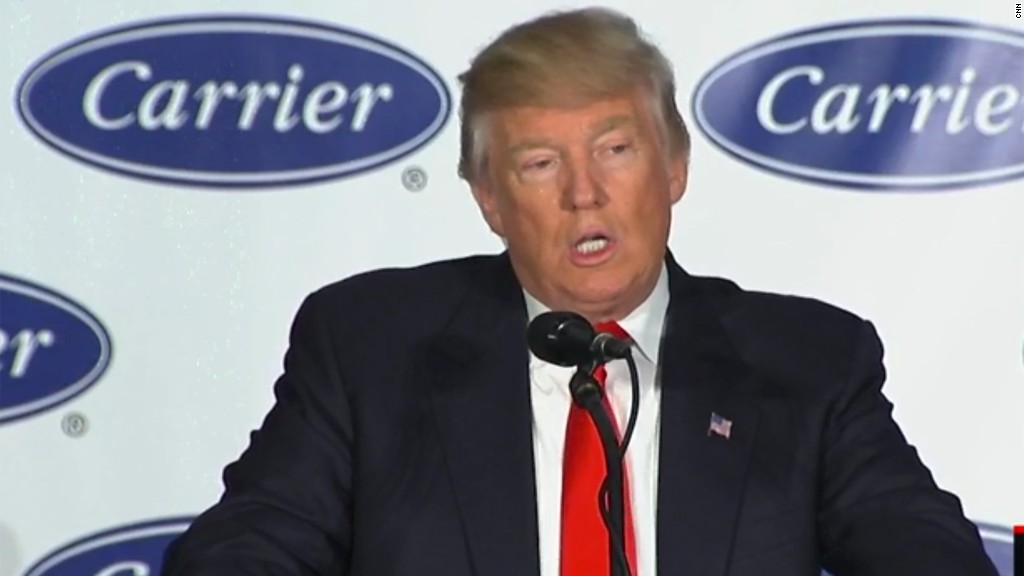 It's one of President-elect Donald Trump's favorite punching bags and it just got bigger: America's trade deficit.
The U.S. trade deficit grew at the fastest pace in 19 months, rising a sharp 18% in October from September to $42.6 billion. The increase came from higher imported goods while exports of services were flat.
Trump has often lambasted the U.S. trade deficit as a "they win, we lose" proposition, casting it as a weakness of the U.S. economy, costing American jobs.
"Our trade deficit...is like having a business that continues to lose money every single year," Trump said earlier this year.
Trump's criticism of the trade deficit is a major reason why he wants to renegotiate trade deals and slap tariffs on Mexico and China.
Related: Unemployment drops to 4.6%, lowest since 2007
But trade experts say it's wrong to compare America's trade deficit with that of a business.
"A nation's trade balance is nothing like a firm's bottom line," Douglas Irwin, a trade expert at Dartmouth, wrote in Foreign Affairs magazine. "A country, particularly one such as the United States...can run a trade deficit indefinitely without compromising its well-being."
The new numbers illustrate that America is an economy that imports lots of goods, like cars, and exports lots of services, like banking.
So far this year, America has had a goods deficit of $614 billion, meaning it's importing more goods than it's exporting. Part of the reason why it's down is that U.S. manufacturers don't export more than the country imports.
Related: 3 ways Trump can slap tariffs on China and Mexico
So far this year, America has shipped in more cars, industrial supplies and building equipment than it has shipped out. That makes sense because Americans buy more stuff than they produce and sell abroad. American consumers make up the majority of economic activity.
It's the reverse on services like tech and insurance. America has a services surplus of $205 million so far this year.
Overall, the U.S. trade deficit this year is $408 billion, and it's up 2.1% from a year ago.
There's no correlation between a country's trade deficit and a weak economy. America has had a trade deficit every year except one since 1981. Australia has had a trade deficit for decades and its economy hasn't faced a recession for 25 years. Yet Japan has a trade surplus and its economy is stagnant.
While many people are praising Trump's plans for more infrastructure spending, his portrayal of the U.S. economy may be too dire, some say.
"The economy continues to motor along and probably does not need as much help as the President-elect and angry Heartland voters say it needs," says Chris Rupkey, chief economist at MUFG Union Bank in New York.