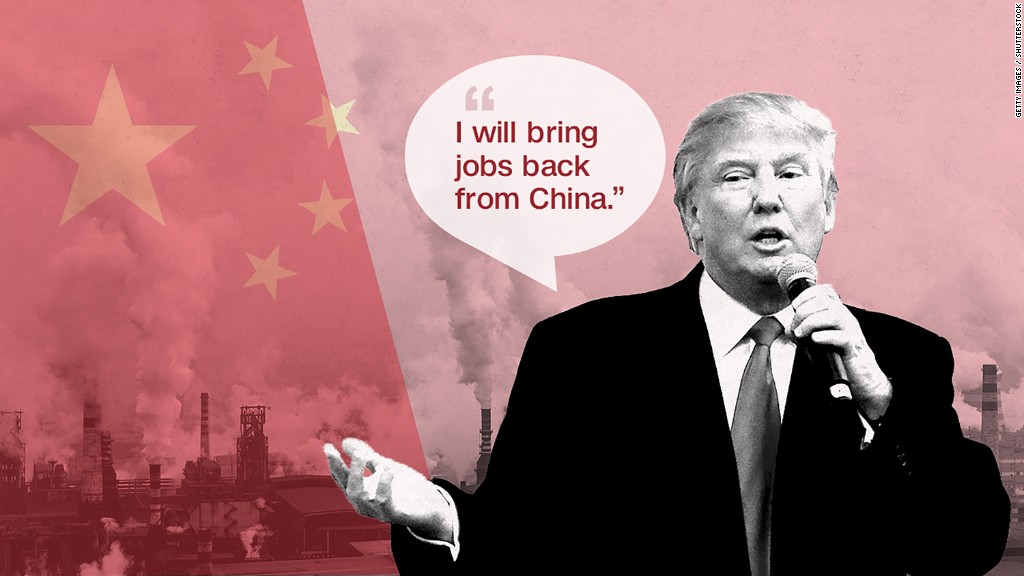 China's huge cash stockpile has taken another hit.
Beijing burned through $69 billion in November as its currency came under pressure following Donald Trump's victory in the U.S. presidential election.
China's foreign currency war chest fell below $3.1 trillion, the lowest level since March 2011, according to official data released Wednesday.
The depleted reserves provide further evidence that Trump is mistaken when he claims China has been keeping its currency, the yuan, artificially low to make exports more competitive. Economists say that was probably true in the past, but the yuan strengthened significantly between 2005 and 2014.
More recently, China has in fact been spending hundreds of billions of dollars to buy its own currency and stop it falling too rapidly.
The Chinese economy has been slowing in recent years after decades of breakneck growth, and huge sums of money have been flowing out of the country, putting pressure on the yuan.
Related: Trump attacks China on trade but misses the mark
Sharp drops in the currency in August 2015 and January 2016 set off panic in global markets.
When money leaves China, it means people are selling yuan for dollars, euros and other currencies. China appears to be trying to balance that by drawing on its reserves of foreign currencies. It's a strategy many countries use, but it can drain "rainy day" reserve funds.
The big decline in China's cash stockpile last month shows that the central bank "had to step up intervention in the face of a surging U.S. dollar and more rapid capital outflows," said Capital Economics in a note.
The drop is the steepest since January, when Beijing went through about $100 billion.
Related: China's currency just hit lows not seen since the financial crisis
Since Trump's election victory, the U.S. dollar has soared against many currencies on expectations of a rate hike by the U.S. Federal Reserve this month and the potential for higher U.S. growth and inflation.
That's helped push the yuan, or renminbi as it's also known, to its lowest levels against the dollar in about eight years. Meanwhile, the amount of money pouring out of China appears to be accelerating, analysts say.
More than $540 billion has left the country this year, nearly 10% higher than during the same period in 2015, according to estimates last month from the Institute of International Finance.
And the momentum has probably intensified since then.
"It seems likely that capital outflows in November were the largest since the panic about the renminbi at the start of the year," the Capital Economics report said.
Still, talk of a new "renminbi crisis" was premature because the big leap in the dollar is unlikely to be repeated in the coming months, making it easier for China to manage its currency's gradual depreciation, the research firm said.